University of Michigan School of Information
Faces of UMSI: Joel Adu-Brimpong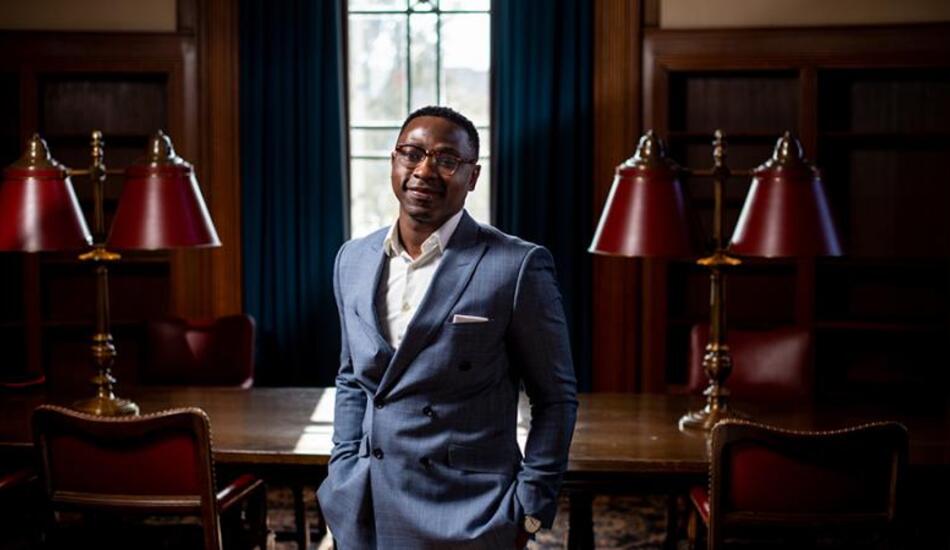 MHI student Joel Adu-Brimpong thought he wanted to be a physician as an undergraduate student. After being introduced to healthcare from a systems perspective, he realized that practicing medicine is not the only way to help people. 
As a high schooler, Joel volunteered for an organization in one of his hometowns, Berrien Springs, Michigan, called Neighbor-to-Neighbor. He organized clothes, appliances and furniture to prepare them for families who had newly immigrated to the United States and needed resources to help them acclimate to Michigan weather and life in the United States more broadly. 
While volunteering, Joel discovered a book called Wellness: Just a State of Mind?Joel started reading it and picked up an interest that stuck: the connection between one's environment, the mind and the body. "I was fascinated by stories upon stories of how people's environment and perceptions of their environment affected their biological and physiological functioning. I began to become really interested in this intersection of our environment, cognition and health," Joel said.
As an undergraduate, Joel studied Biopsychology, Cognition, and Neuroscience at the University of Michigan and engaged in various research opportunities at Michigan and the National Institutes of Health (NIH) to further understand this intersection.
Joel took two graduate courses his senior year, one on health and social policy and the other on community revitalization. In these classes he first heard the phrase "social determinants of health." "This concept gave me the language and framework to describe how our environments and access to resources impacts our health and subsequently the disparities we see in [health] outcomes," Joel said. "What I was learning aligned with many of the things I had seen growing up in Ghana and in southwest Michigan."
After graduating from the University of Michigan, Joel worked for the National Institutes of Health (NIH) as a Post-baccalaureate Research Fellow. He worked with a group of senior leaders to help establish the framework for what became "All of Us," a large-scale health data gathering project that takes a variety of factors, such as biology, lifestyle, and environment, into account. 
Joel also worked with the National Heart, Lung, and Blood Institute within the NIH on a variety of research endeavors, mainly focusing on the impact of social determinants of health on obesity and cardiovascular disease in marginalized communities. Joel worked with Dr. Tiffany Powell-Wiley, who first introduced Joel to the field of health informatics through various data analytic techniques and the use of personal fitness-tracking devices in their research. 
Joel decided to pursue his Master of Health Informatics (MHI) at the University of Michigan because the interdisciplinary nature of the program appealed to his interests. "Problems are not neatly divided into public health or information or engineering," Joel said. "Problems are often cross-disciplinary and I think that our solutions must be also." 
While at UMSI, Joel is developing his leadership skills through participation in programs like the Michigan Ross Leaders Academy, Ross Leadership Crisis Challenge and the Health Informatics Student Organization. "I grew up in communities where I felt we're not always well represented. Or we're not always at the decision-making table," Joel said. "So through undergrad and now in graduate school I've sought to include myself in opportunities that will help me develop my leadership presence to compliment the skills I'm gaining from the traditional school elements."
Joel was a Dow Sustainability Fellow in the 2018-19 school year. Dow Sustainability Fellows are an interdisciplinary group of students who collaborate on a sustainability project. Joel's group worked to understand student perceptions on, and behaviors around, electronic waste recycling on campus. "As people consume technology, more and more how we sustainably dispose of these different technologies at the end of their life cycles will become an extremely important issue," Joel said. "Dow is a place where where I was able to confront this and think more about it. It's something that will affect decision-making going forward." 
In the summer of 2018, Joel worked at the Cleveland Clinic as an Administrative Intern in Digital Health . "I went there because of how innovative Cleveland Clinic is in using technology to drive holistic, patient-centered care, as well as their unique partnership with local businesses to help tackle social determinants of health from a unique angle," Joel said. 
At Cleveland Clinic, Joel learned about emerging technologies to engage patients in their care and helped write a business plan to finance a data aggregator. The data aggregator will compile information from a variety of devices used by patients outside of the doctor's office and integrate this information into electronic health records for improved real-time decision-making by physicians and patients. After Joel left Cleveland Clinic to return to his studies, the business plan was approved and funded. 
Joel aims to continue to work at the intersection of emerging technologies, analytics and social determinants of health to achieve improved population health. He will graduate in May of 2019.
You can do what they're doing! Sign up for our interest list to receive:
Invitations to exclusive information sessions and events 
The opportunity to chat with current students 
More in-depth information about our degree programs
Tips and advice for creating a successful application 
Reminders for important deadlines