University of Michigan School of Information
Faces of UMSI: Chiao-Yin "Joey" Hsiao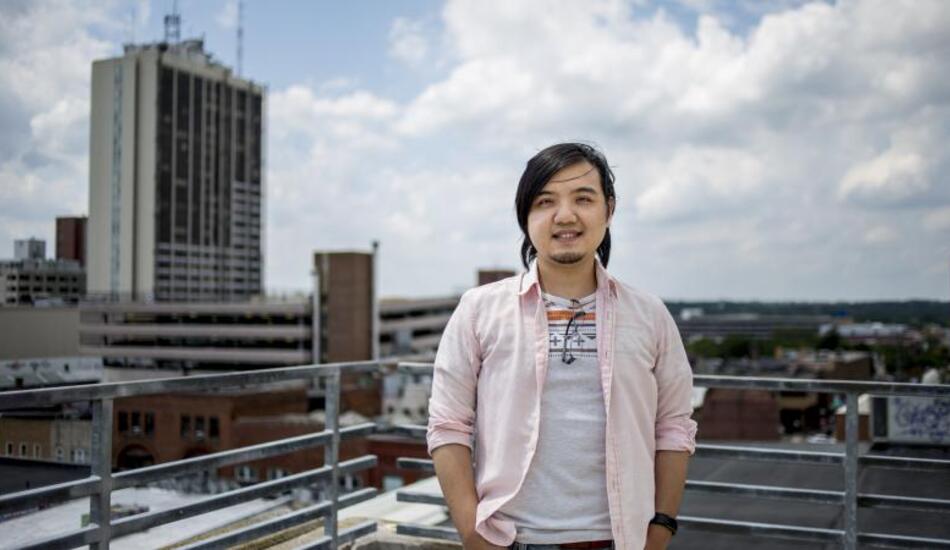 Chiao-Yin "Joey" Hsiao is exploring how social apps can help immigrants transition and meet people in the US.
Human-computer interaction has always interested Chiao-Yin "Joey" Hsiao, but it wasn't until he spent some time living in the United States – far from home -- that he found the focus of his research.
A third-year doctoral student at the University of Michigan School of Information, the Taiwan native came to appreciate what immigrants must feel while adapting to life in Ann Arbor, away from the familiar, away from family and friends.
"I can understand the culture shock. You need to learn new things and to try and feel comfortable in a new place," Joey says. "I had the advantage of being in a doctoral program and being part of a community from the beginning. That's not what it's like for most immigrants. I had no family or a job to worry about."
He also had the advantage of English proficiency; the language was a mandatory course since junior high school.  He earned his bachelor's and master's degrees in computer science from National Taiwan University. Joey is proficient in Chinese and has a limited, working proficiency in Japanese.
Since arriving at UMSI, Hsiao has become part of the Social Innovations Group, advised by Dr. Tawanna Dillahunt, an assistant professor of information in UMSI and an assistant professor of electrical engineering and computer science in the College of Engineering. The interdisciplinary group is comprised of computer scientists, designers, social scientists and business majors who are working to design, build and enhance technologies to solve real-world problems, such as unemployment and technical literacy. The group complements his research efforts.
The focus of his research has evolved from not only his experience in a new country, but also from preliminary research he conducted since arriving at UMSI. Initially, his research focused on how people used location-based social apps to meet people nearby, for social or other reasons. The results of the research highlight that newcomers can benefit from the apps by making new connections to access local information and resources.
"From that research, I took a step forward to immigrants," he says. "How can these social apps help them, I want to know. I want to see the role technology plays in their lives and how technology can help them. I'm interested in how technology can facilitate development of immigrant communities."
He's done some preliminary research but concedes he has a long way to go.  Hsiao solicited immigrants from across the country for an initial study to find out how they used technology to meet people. The study pool was small, but he found most of them used Facebook and other applications to find local resources, attend events or locate language groups.
He's curious to learn what needs have not been satisfied and what other concerns they may have about technology, such as issues of privacy and trust. His plan is to delve deeper into Michigan and the Midwest to get in touch with immigrants, those who have been in the United States less than five years.
Joey applied to doctoral programs at several colleges, but UMSI was his first choice. He was impressed with the school's program and the diversity among students, staff and faculty. He's also thought the environment was right for individual research.
"UMSI was on my dream list," he says.
Joey is not sure where his research will take him or where he will land have he earns his doctorate. Initially, he presumed he'd return to Taiwan and find a job as part of a research faculty at a university. Now, he believes staying in the U.S. and working in academia or research industries would also be a good choice.
"I might not know until the day I graduate," he says, "but I look forward to joining any places that I can continue making social impact."
This student has graduated! This information was accurate at the time of publication.
You can do what they're doing! Sign up for our interest list to receive:
Invitations to exclusive information sessions and events 
The opportunity to chat with current students 
More in-depth information about our degree programs
Tips and advice for creating a successful application 
Reminders for important deadlines