University of Michigan School of Information
Faces of UMSI: Brillie Phan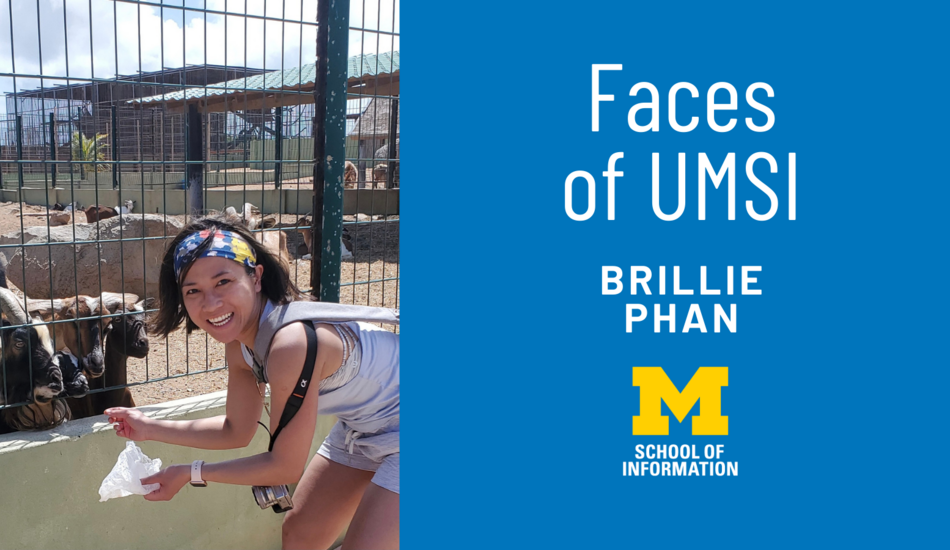 University of Michigan School of Information Master of Applied Data Science student Brillie Phan is only three terms into the program and has already been able to use her new skills in her full-time job. Brillie is a data scientist at Ford Pro, an entity within Ford Motor Company that supports Ford commercial vehicles and services using advanced data and analytics. She heard about the MADS program through UMSI's newsletters and Coursera, and immediately decided to apply.
"The key word that drew me into pursuing MADS is 'applied.' I want to acquire the tools and capabilities in data science to solve practical problems at work and other personal projects that could make a positive impact in the community."
Brillie has succeeded in finding those real world applications for her data science coursework. "I have already applied various visualization techniques acquired from SIADS 521 (Visual Exploration of Data) to build prototyped dashboards at work and received lots of positive feedback," she says. 
She's been able to ask more intelligent questions about the data she sees in the course of her job, and she has used lessons learned in her MADS classes in her client-facing responsibilities, as well.
"One of the most valuable principles I learned from SIADS 501 (Being a Data Scientist) is to spend more time on the 'problem formulation' phase of a project," Brillie says. "I closely interact with the client to discuss their business needs and formulate a problem that will guide the data solutions that I create." 
Brillie also values the other opportunities UMSI students have to use their skills outside of the classroom. For instance, through the ELO Community Corp, she and her team have partnered with BankBlackUSA, a non-profit organization that supports minority-owned banks, to build out a bank rate comparisons tool. As an officer of the Master of Applied Data Science Association (MADSA) student organization, Brillie has been seeking out experiential learning opportunities through UMSI that her fellow students can participate in. 
Another benefit of MADS is the community of faculty and students. Unlike other online courses Brillie has participated in, such as MOOCs, the MADS program provides live interaction and a much smaller cohort of students, making it easier to access the professors. 
Says Brillie, "The best part of it all is that the professors and peers are only one Slack DM away, and you can literally ask them anything." Other students are a great resource for tricky homework problems, and she has found common interests among her classmates and members of the faculty. For instance, Brillie is an amateur mushroom cultivator and is trading mushroom spores with MADS faculty member Chris Brooks.
These connections are part of what makes this program unique. "When you are in the MADS program, not only do you get access to a world-class degree but you also get the network of the broader global U-M community," Brillie says.
Brillie plans to graduate in December 2023.