University of Michigan School of Information
Faces of UMSI: Elizabeth Whittaker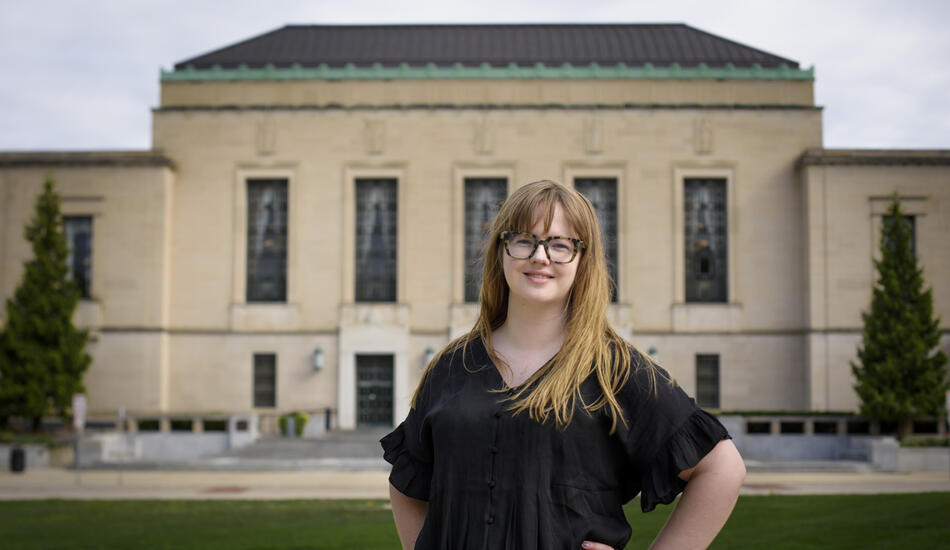 Elizabeth Whittaker studies cyberbullying, online incivility and the connections that exist between human behavior and technology.
PhD student, knitter and "racoon researcher" Elizabeth Whittaker is going to change social media. 
Elizabeth began studying cyberbullying as an undergraduate at Clemson University in South Carolina. A psychology major, she wanted to get research experience to support the career that she envisioned at that time--a psychology professor. She began working with the Social Media Listening Center.
At the Social Media Listening Center Elizabeth had access to a dataset of YouTube comments created in the previous thirty days. Elizabeth and her team scraped this dataset for keywords associated with anger, bullying or animosity. 
Though cyberbullying interested Elizabeth as an undergrad, she wanted to go deeper. "A lot of the time in psychology when you're talking about cyberbullying it's as an extension of in-school bullying," Elizabeth said. "If you look at the comments on a YouTube video that is just not what's happening."
Elizabeth felt her research on cyberbullying was missing something important, the technology element. She discovered the field of information science and decided that it would provide her with the tools she needed to dig deeper into conflict online. "One of the things that really appealed to me about the degree in information science was that it could theoretically have practical implications," Elizabeth said. 
Elizabeth defines herself as a "racoon researcher," meaning, she's interdisciplinary. " I pull from communication, information science, computer science, sociology, psychology, and I use a number of different methods— surveys, interviews and machine learning," Elizabeth said. "I grab what I need from a discipline and use it."  
UMSI attracted Elizabeth because she thought the research being done here was interesting and the students she talked to encouraged her. "One thing that was important to me was the school's atmosphere and how they treat grad students," Elizabeth said.
Now, at UMSI, Elizabeth studies online incivility, which she defines as any communication that would drive a user out of a space. 
Elizabeth conducts research with Libby Hemphill on online hate speech detection algorithms. Definitions of hate speech vary throughout the four detection models they're examining. They test these models on the datasets from Reddit. 
Last summer, Elizabeth remotely interned for the Wikimedia Foundation, the Foundation that supports Wikipedia. She interviewed people involved in a project to increase the amount of biographies of women on Wikipedia, as women are underrepresented on the platform. This undertaking provided Elizabeth with her first experience with interviewing research participants. 
Participants in the research at Wikimedia reported that the policies enacted by Wikipedia itself, particularly the policies about neutral point of view and verifiability, contributed to the gendered harassment that some Wikipedia editors experienced. This harassment would occur on the "talk" pages of Wikipedia articles, webpages where editors can collaborate and settle disputes. "Based on research topic I expected a gendered component would come up, but it wasn't designed to be gendered," Elizabeth said. 
Since moving to the Midwest from the South and starting her PhD, Elizabeth has found a hobby that both keeps her warm and relieves stress: knitting. She's currently working on her first colorwork (multicolor) sweater. After graduation, Elizabeth wouldn't be opposed to working for Ravelry, a knitting social media website that recently made headlines for its updated hate speech terms. Elizabeth hopes to work somewhere where her insights have the power to change user's experiences online for the better. 
In the more-near future, Elizabeth will marry her fiance Chuck in August. "I'm very excited," Elizabeth said. 
As she continues her research at UMSI, Elizabeth's psychology background impacts her interests. She wants to explore the connections that exist between human behavior and technology as she researches online incivility. 
"What really fascinates me is how human behavior shapes technology which shapes human behavior," Elizabeth said. "We're building on this continually and learning interesting new things."
This student has graduated! This information was accurate at the time of publication.