University of Michigan School of Information
Faces of UMSI: Faith Reynolds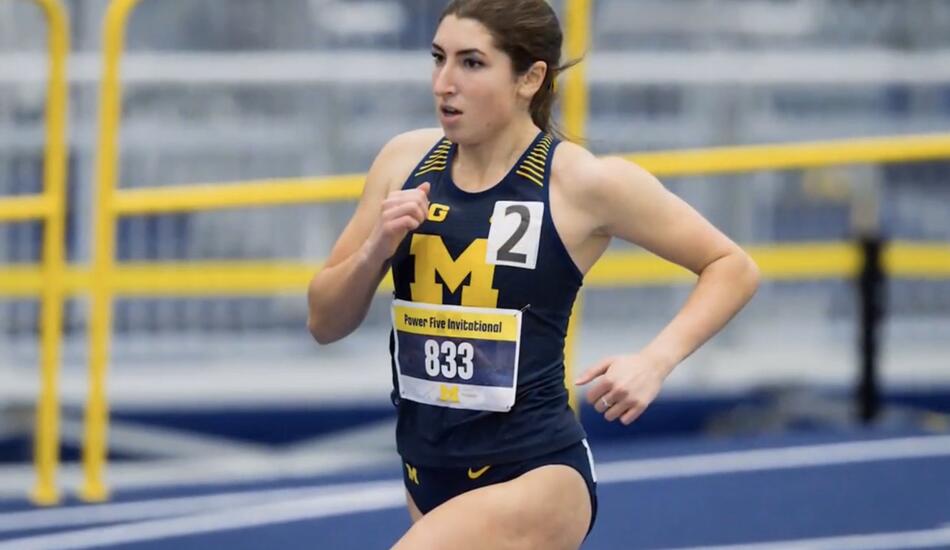 Big Ten Distinguished Scholar Faith Reynolds is on track to an MHI
Graduate student athlete Faith Reynolds has found balance and achieved excellence as both an MHI candidate and a Big-Ten Distinguished Scholar on U-M's cross country and track and field teams. Now, she has some advice for similarly driven students.
Shaping her own ideal educational and athletic experience required counsel, introspection and significant dedication, but Faith's ambition was apparent long before she embarked on her college career.
Growing up in Stony Brook, a hamlet on the northern shore of Long Island, NY, Faith said she was always interested in helping people and serving a greater purpose.
"I always liked medicine and health, and for a while I thought I wanted to be in the fitness industry," she said.
A career in health and fitness seemed like a natural fit for Faith, who had played soccer since childhood and switched to running cross country and track in high school. But when she came to U-M as an undergraduate, the fitness industry didn't feel quite right.
"My freshman year I was considering going to the School of Kinesiology and doing athletic training or something, and then I just realized that that wasn't a big enough scale for me and maybe just a little too focused," she said.
Conversations with her advisor eventually led her to enroll in the School of Public Health's Community and Global Health program in her sophomore year.
"I realized that I could affect a lot more lives if I did something that could be offered to many more people through technology," she said.
At the same time, Faith was growing her career as a student athlete on U-M's cross country and track and field teams.
"I got into Michigan just as a normal student and then walked onto the track team. Competing was something that I just didn't feel like I wanted to leave behind yet," she said.
She admits that as a freshman, she didn't quite know what she was getting herself into ⁠— but she was up for both the physical and mental challenges.
"I knew it was going to be physically demanding, but it wasn't anything I wasn't used to in terms of what you're doing on the daily," she said. "But it was also just how much time you'll dedicate to it in your thoughts. … It's not just those three hours you're there every day, it's 24/7, you're always thinking about the team and what you're doing to contribute."
As she finished up her undergraduate education and began to think about next steps, however, Faith developed an approach that helped her thrive.
"You have to remind yourself that you enjoy it, why you like it and why you're here in the first place," she said. "Why am I at Michigan? Michigan is one of the best schools that I could go to for this degree. And then I want to do something greater with that afterward ⁠— how does athletics fit into that?
"Athletics has definitely enriched my experience at Michigan. No doubt. And then that will amplify my experiences out of college because you've had these sorts of unique experiences not many people have had."
As she fell into a groove as a student athlete, Faith completed an internship at the Institute for Medicaid Innovation in Washington, D.C. during the summer before her senior year that helped her nail down post-grad plans and set her on the MHI path.
"Most of the people I worked with had a Master's in Public Health, and I was still considering whether I wanted to do that," she said. "I realized that it was just not as hands-on as I would have thought or would have liked for my own career.
Faith consulted advisors to help decide whether to start work or continue her education. In the fall of her senior year, Faith said "it all just kind of came together" when she saw a poster for the MHI program. And since she had a fifth year of eligibility as an athlete, returning to U-M for her master's meant she could keep running with her team.
She had high hopes that the MHI program would fill out her public health background and equip her with the hard skills to launch an impactful career in healthcare technology. So far, she said, the curriculum is living up to her expectations.
"I like the versatility," she said. "I like that it's almost exactly what I want to do with healthcare technology but not through the classic public health lens of it, the behavior change stuff. I wanted more of the 'Okay, but how do we do that? How do we build what is on someone's phone?'
As a master's candidate, Faith has found the challenges of the student athlete lifestyle are intensified, but her experience has set her up for success. In 2019, she named a Big-Ten Distinguished Scholar, a top honor for student athletes with GPAs of 3.7 and above.
Set to graduate in spring of 2021, Faith says she can see herself working at the intersection of healthcare technology and insurance.
"There's a lot of opportunity with technology to advance what we already have and improve, because a lot of it is super outdated and hasn't been reassessed because it's so daunting, just the scope of it all," she said.
"But I think the MHI degree sets graduates up really, really well for working anywhere and being able to work with other people with other backgrounds, so you're not just working at a tech startup.
"You can talk to every single person at any one of those organizations with some sort of knowledge and experience behind you. You have that freedom."