University of Michigan School of Information
Faces of UMSI: Lindsay Blackwell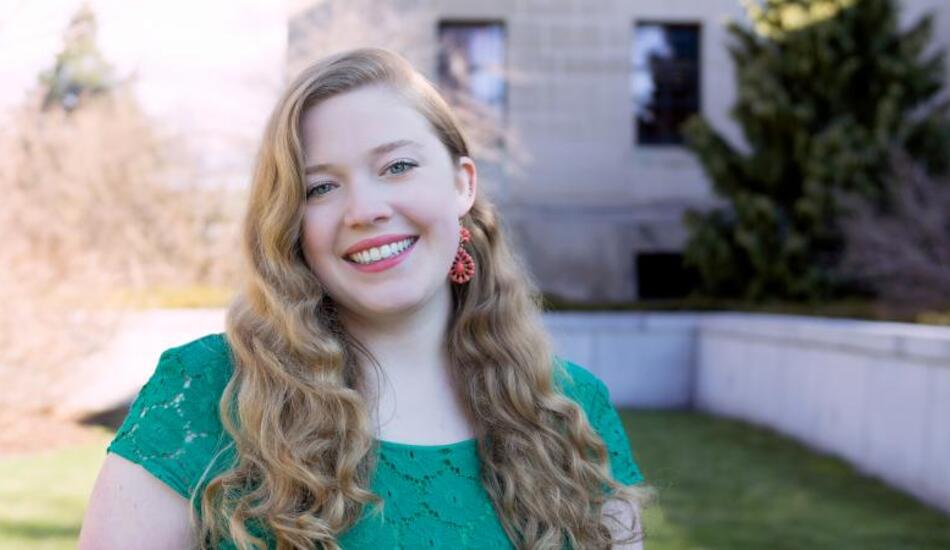 Lindsay Blackwell is looking at how parents and families use social media and what makes online communities supportive or abusive. 
No one who knew Lindsay Blackwell was surprised when she decided to pursue doctoral studies focusing on social media.
The UMSI PhD student, who studied English and linguistics as a U-M undergraduate, wrote her honor's thesis on storytelling practices in instant messenger exchanges. 
After graduating in 2010, however, she had a hard time finding a full-time job, instead waiting tables and interning with the Ann Arbor Symphony Orchestra. When that organization hired her as an administrative assistant, she increasingly took on responsibility for social media marketing there, soon becoming the marketing manager.
In 2011, U-M created a new position, Director of Social Media, and although it was early in her career, Lindsay decided to apply. Over one intensive weekend, she created a website and social media campaign, Dear Lisa Rudgers, ultimately reaching more than 100,000 unique visitors and earning an interview for the position. While she didn't get the job, she did get offers from all over the world and took a position at a marketing firm in Ann Arbor — directing social media strategies for local and national clients. 
The Dear Lisa Rudgers campaign also led to public speaking opportunities for Lindsay, something she enjoyed. She had thought before about lecturing at a university one day, and these experiences made her wonder, "Why am I not doing that now?"
She started looking into iSchools, and a week later, she attended UMSI visiting days. "I just totally fell in love with the program," she says.
Though the application was due in two months and she hadn't yet taken the GRE, she decided to apply to UMSI, figuring she could use what she learned to apply to a wider swath of schools the following year.
Of course, she got in.
Since joining the program, Lindsay has continued to work in social media, relishing the time she has to explore issues in depth.
"In marketing, you're looking at how to make people money. When platforms made changes or new platforms launched, I wanted to take the time to learn how that impacted users. That wasn't always encouraged."
She has collaborated with assistant professor Sarita Schoenebeck and others to look at how parents and families use social media. One of these projects, a study of LGBT parents' social media use, won an Honorable Mention for Best Paper at CHI '16, the top annual conference in human-computer interaction.
Among other things, Lindsay and her coauthors found that LGBT parents become what they call "incidental advocates" simply by posting photos of their families doing ordinary things. "When you're an LGBT parent and you post a photo of your family, sometimes people from your network interpret that as advocacy," she explains, even when that isn't their intention. 
Her work with parents has helped her transition into investigating another interest: online harassment. A current project explores harassment on YouBeMom, a fully anonymous online community of mostly mothers. 
Women in that community can be very supportive, such as when one mother posted recently about her young daughter's diabetes diagnosis and was greeted with support and suggestions, Lindsay says.
"Other times, the community can be very abusive," she adds. "Part of what I'm trying to do with this project is to find out where that line is — and what brings people back to these communities."
Her work on online harassment has earned her a Community of Scholars fellowship with the Institute for Research on Women and Gender. She was one of 12 graduate researchers from across U-M selected for the honor. 
Lindsay, whose other interests include comparing moderation practices across online communities and establishing a taxonomy of online harassment behaviors, hopes to continue her research and teaching as an iSchool faculty member after she graduates. Her advisors are Schoenebeck and UMSI associate professor Cliff Lampe.
To see more recent updates on this student, visit their profile page.
You can do what they're doing! Sign up for our interest list to receive:
Invitations to exclusive information sessions and events 
The opportunity to chat with current students 
More in-depth information about our degree programs
Tips and advice for creating a successful application 
Reminders for important deadlines