University of Michigan School of Information
Faces of UMSI: Matthieu Lienart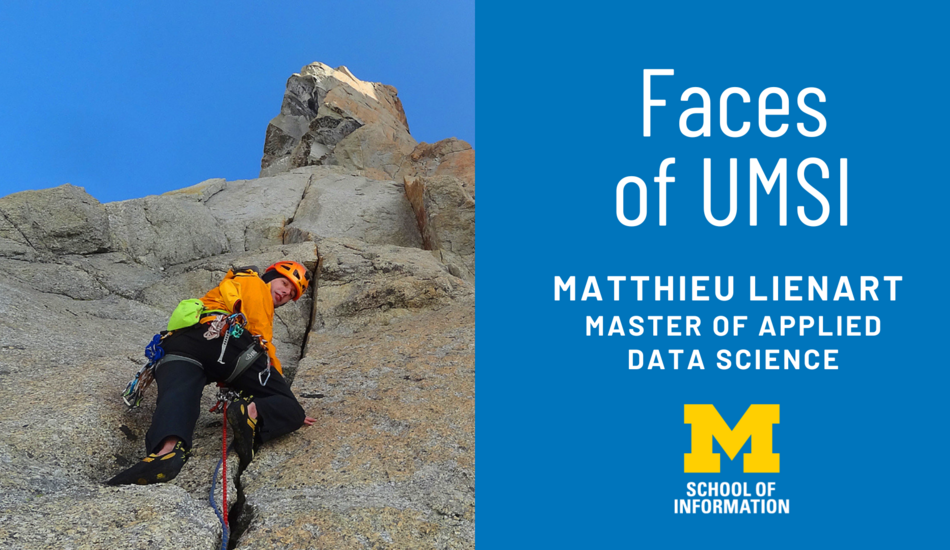 Matthieu Lienart is a Master of Applied Data Science student who currently lives in Switzerland after spending 13 years in Japan. In addition to the MADS program, he works as a cloud engineer for an Amazon Web Services partner, helping customers develop cloud native applications. 
Matthieu is taking one MADS course a month and is planning to graduate in spring 2023. He discusses how he discovered the MADS program, his future ambitions and how he balances a degree program, work and his other continuing education goals.
What made you decide to enroll in the MADS program? From the end of 2017 to joining the MADS program in September 2019, I was following a lot of data science- and machine learning- related courses on Coursera, many of which were from the University of Michigan. At the end of those courses there was a survey that asked if we would be interested in studying at the University of Michigan. If I remember correctly one of the questions was about studying online. I always answered that I was absolutely not interested. But as time passed, I felt that MOOCs were not enough and if I wanted to advance in the data science field, a proper program and degree would be better. I naturally looked into the MADS program.
What is it about Applied Data Science that interests you? How do you plan to use this knowledge? My objective is to combine my cloud and computer science skills with the data science skills I am still learning. Depending on studies, it is said that between 75 to 87% of the data science projects never make it into production. I am mainly interested in working at the crossroad between the two fields in order to industrialize data science processes.
Have you found it easy to connect with peers and instructors? There are plenty of opportunities to get in touch with peers or professors through Slack channels, projects or events organized outside of the courses. Having many other things on my plate I am guilty of not participating as I would like. 
If you're currently employed, how are you balancing school with work and home life? Many of us in the MADS program are juggling many balls at the same time. On top of work and the MADS program I also have other computer science studies, personal cloud or data science projects and a workout program. The game changer for me was to switch work to 80% in early 2021. I am not doing more because of it, but it gives me time to relax and I think it has improved the quality of my learning.
Is there anything about the program that surprised you? Although the MADS program was built from the ground up for people studying online, we are treated like normal on-campus students.