University of Michigan School of Information
Faces of UMSI: Jenny Ney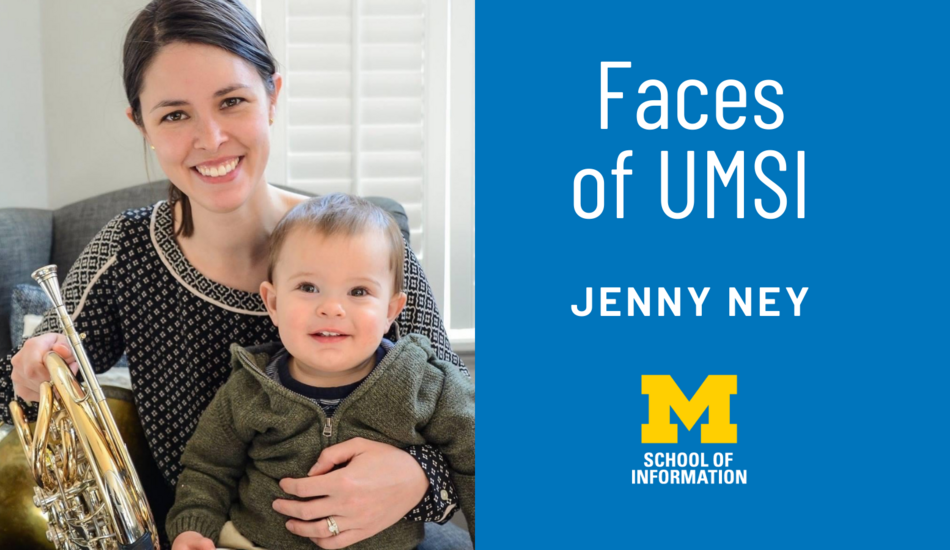 Jenny Ney was a successful freelance classical musician who made her living playing for Broadway shows and in some of New York's most glamorous concert halls. Then the COVID-19 pandemic hit, and the public performance world came to a screeching halt. She realized it was time to start working toward a second career. That's when she found the University of Michigan School of Information's (UMSI) online Master of Applied Data Science (MADS) program. 
A graduate of the Juilliard School, Jenny didn't have a traditional background in data science, but she did have an interest in coding and analytics. Rather than learning from boot camps or Massive Open Online Courses (MOOCs), Jenny decided to look into a degree program to give her a stronger foundation. The MADS program appealed to her because of its connection to the University of Michigan, as well as the flexible nature of the program. MADS students complete courses online and on their own schedule, which was ideal for Jenny, who needed to balance her coursework with her childcare responsibilities.
The online courses Jenny took in preparation for the MADS program also convinced her that this was the right choice.
"I felt the best Coursera courses were from the University of Michigan, which was a good indication of the quality of the MADS degree. I could see that U-M had the capability to create meaningful content in a virtual environment."
Since starting her degree program, Jenny has been in classes with hundreds of students from all over the world. She's been able to build community amongst this group through Slack, study sessions and group projects. 
"I've been impressed by the high level of achievement represented in the student population. I learn a lot from questions, answers and articles other students share on Slack," Jenny says.
Jenny has also had opportunities to grow her data science skills outside of the classroom. She is currently working part-time at Fastest Path to Zero, an interdisciplinary team at University of Michigan that helps communities reach ambitious climate goals. She was also able to take advantage of UMSI's Community Corps program when it was offered virtually in 2021. The Engaged Learning Office (ELO) at UMSI matched her with a student team and a community partner in order to solve a data problem using data collection and visualization. 
When Jenny expressed interest in doing more work with community partners, ELO helped her start a relationship as a student data consultant with an organization at U-M, where she does regression analysis and natural language processing projects.
Jenny came to the MADS program looking for work that would challenge and interest her, and that's what she found: "So far it has exceeded my expectations! I love problem-solving, and applied data science introduces many tools to take real-world issues and create meaningful solutions."
In November 2021, Jenny began a full-time job as a data scientist with Gainwell Technologies. "The opportunity came through a MADS connection, and I was hired based on the training and experience I gained through the program," she says.
She plans to graduate in April 2022.