University of Michigan School of Information
Faces of UMSI: Sylvester Ikpa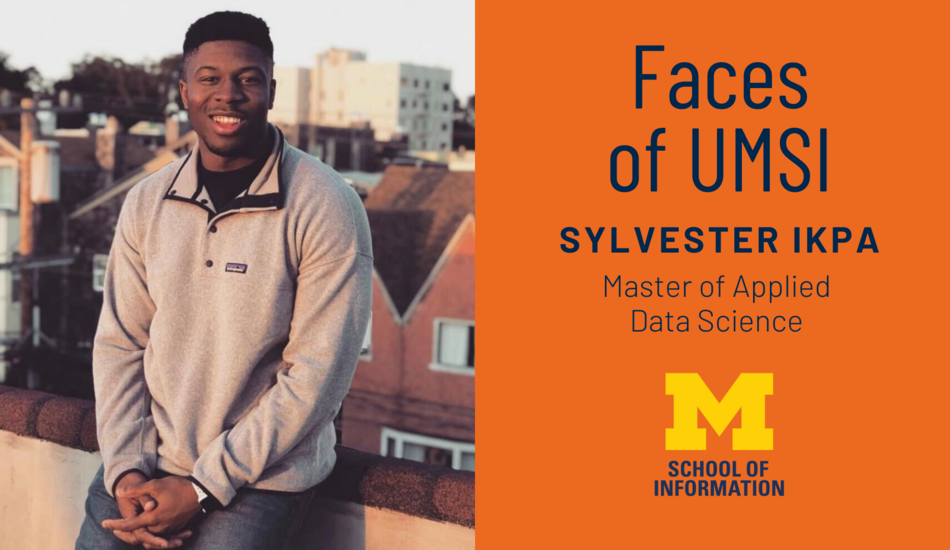 Sylvester Ikpa enrolled in the Master of Applied Data Science program to help him transition from a career in recruiting to a more technical position. He has been able to immediately apply the skills and resources gained from his studies to his role as a senior data scientist at DoorDash.
In this profile, Sylvester discusses finding community in the MADS program and the ways he balanced working and learning full time.
Tell us a little about yourself.
I was raised in the vibrant Los Angeles/Long Beach area, but I currently reside in the Bay Area. Before graduating from the MADS
program, I pursued my undergraduate studies at University of California, Santa Barbara, majoring in sociology with a minor in education.
My professional journey commenced in the field of university and technical recruiting, where I honed my skills in various aspects such as coordination, event planning and sourcing. However, my passion for data science led me to pivot my career trajectory. Presently, I serve as a senior data scientist within the People Analytics team at DoorDash corporate.
In my current role, I leverage the power of data science and analytics to provide valuable insights that shape talent strategies for our esteemed executive leadership team. By analyzing data and employing advanced statistical techniques, I contribute to the development of informed decisions and effective talent management within our organization.
How did you first hear about the MADS program? What made you decide to enroll? 
My close friend and I, both working in recruiting, shared a common desire to transition into more technical roles. To solidify this shift, we dedicated ourselves to extensive online research, reading various resources and engaging in discussions with peers in the field. After a few weeks of thorough exploration, one recommendation stood out among the rest: pursuing a university education. 
The University of Michigan offered a rigorous online program that was both accessible and suited our needs, especially during the peak of the Covid pandemic. Recognizing this as a valuable opportunity, we eagerly enrolled in the program and embraced the challenges of full time school and full time work.
What is it about applied data science that interests you? How do you plan to use this knowledge? 
The ability to apply statistical methods and models within the context of business problems is of paramount importance. In my role, it is essential to utilize the latest technological advancements to make informed decisions regarding our talent.
The MADS program has played a pivotal role in equipping me with a valuable resource and toolkit that I can immediately apply to my work. Beyond that, it has provided me with a framework through which I can effectively ask relevant questions and seek out new information, whether it be from books or online sources. This framework enables me to tackle the challenges I encounter today and prepares me for future problem-solving endeavors.
Have you taken other online courses? How does the MADS program compare? 
Before joining the MADS program, I had already pursued other online courses on platforms like Udemy and DataCamp. However, what sets the MADS program apart is its unique combination of flexibility and support. Not only can students progress through the content at their own pace, but there are also invaluable resources such as office hours, direct communication with faculty and teaching assistants, and a strong sense of camaraderie among students facing challenging problems.
The program's commitment to delivering high-quality content is evident through its exceptional production value and the breadth of materials covered. This ensures that students receive a comprehensive and enriching learning experience.
Were able to cultivate community among your peers and instructors in the program? 
Back in my undergrad days, I quickly figured out the importance of going to office hours, voicing my questions loud and clear (whether it's on Slack or Zoom), and going the extra mile to help others. And guess what? The MADS program totally gets it and embraces all of these things.
They've got awesome office hours where you can directly connect with instructors and get all your doubts cleared up. Plus, they create a virtual space on platforms like Slack and Zoom where we can shoot the breeze, throw out our questions and learn from each other. It's a tight-knit community of learners supporting one another.
But here's the icing on the cake: the program also emphasizes the importance of giving back. They encourage us to share our knowledge and lend a helping hand to our fellow students. It's all about collaboration and growing together. It's not just about individual learning, but also about building an amazing experience within the program.
How did you balance school with work and home life? 
At first, the thought of juggling two to three classes a month while maintaining a full-time work schedule seemed pretty daunting. But I developed a solid strategy to make it work.
Mornings became my power hour for devouring readings and watching videos. Then, during the day, I dedicated a good 2 to 3 hours to tackle the coursework. Weekends were reserved for diving deeper into research, fine-tuning code or wrapping up those pesky papers. And you know what? I did all of this while working remotely from 8 AM to around 5 PM. Yes, it was intense, but I had some tricks up my sleeve.
I made sure to build breaks and rewards into my routine to avoid being overwhelmed. These little moments of respite kept me focused and prevented school and work from taking over my life. Taking these breaks allowed me to recharge and stay motivated to tackle the tasks at hand. It was all about finding that balance and staying in the moment.
Having those rewards and breaks sprinkled throughout the day was a game-changer. It helped me keep my sanity intact and ensured that both school and work didn't consume me entirely. It's all about finding what works for you and making it happen.
Are there any projects (either at work or other activities) where you were able to apply or benefited from what you've learned in your MADS courses? 
My day-to-day job presents a wide range of challenges, and the MADS program's content is a treasure trove of resources that I can leverage. Although the program didn't explicitly cover evaluating survey data, it delved into other valuable areas such as Natural Language Processing, correlation analysis (Pearson, Spearman, and Kendall), and Lasso regression. Surprisingly enough, all these techniques come in handy when analyzing employee survey data.
In fact, I even took it a step further and created a neural network using deep learning techniques. This neural network was able to evaluate thousands of written feedback responses and classify them as either constructive or casual. The MADS program equipped me with the framework to approach such problems and come up with innovative solutions.
The specific courses that played a significant role while analyzing survey data were Deep Learning, Supervised & Unsupervised Machine Learning, and Milestone 1. Each of these courses provided me with invaluable knowledge and tools to tackle real-world challenges head-on. It's amazing how the program's content can be applied and extended to solve a variety of problems in my job.
Is there anything about the MADS program that has surprised you? 
I was pleasantly surprised by the wealth of resources and papers available through the MADS program. I had the opportunity to dive into numerous papers that were closely related to the work I do, and it made a significant impact on my problem-solving approach at work.
Being able to explore and absorb these papers allowed me to stay up-to-date with the latest advancements and best practices in my field. It helped me refine my strategies and tackle different problems with a well-informed perspective. The access to such valuable resources was a game-changer, providing me with the necessary insights to drive success in my role.
The MADS program truly exceeded my expectations in terms of the wealth of knowledge and research materials it provided. I am grateful for the opportunity to explore adjacent papers and incorporate their findings into my work, ultimately enhancing my ability to address challenges effectively.
Can you tell us something unexpected about you? 
Back in the day, I was all about competitive Call of Duty and dreamed of going pro. I spent countless hours battling it out on GameBattles, taking part in local and regional tournaments. When I first started, my jam was Search and Destroy. I actually climbed the ranks and reached the top 32 players on GameBattles at one point!
Playing competitive Call of Duty was no joke. It required serious dedication, teamwork and lightning-fast decision-making. But man, it was an adrenaline rush. The thrill of competing and pushing myself to be the best was something else.
Although my journey may have taken different turns since then, the skills and lessons I learned during my Call of Duty days still stick with me. The determination, resilience and ability to perform under pressure have come in handy in all sorts of situations outside of gaming. It's crazy how gaming can shape you and teach you skills that extend far beyond the virtual world.