University of Michigan School of Information
Faces of UMSI: Wenjing (Carrie) Xu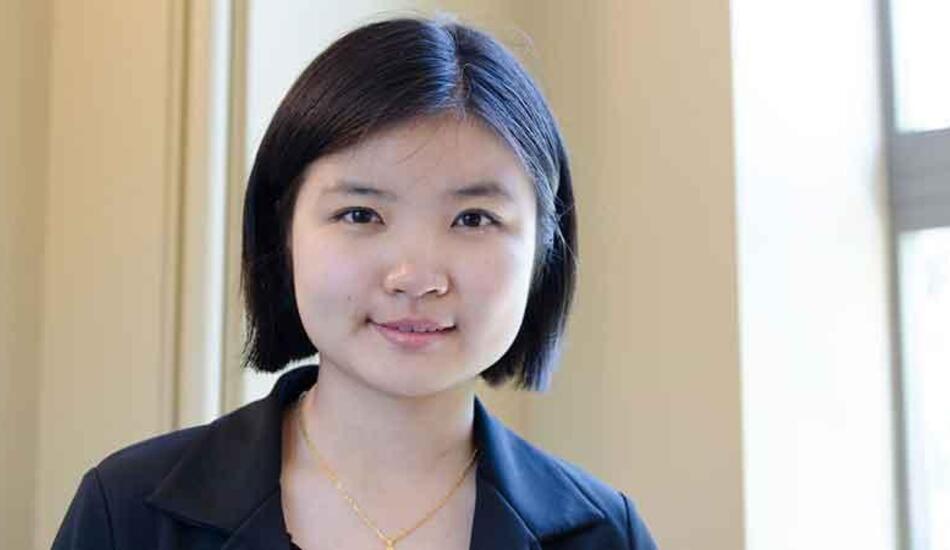 Wenjing (Carrie) Xu is the first doctoral student to be enrolled in both UMSI and the Department of Economics. Her interdisciplinary research combines both fields to understand human decision making.
"I use experiments to study social networks and social influence," Carrie said. She was drawn to UMSI by professor Yan Chen and assistant professor Erin Krupka's work in those areas as well as behavioral economics and mechanism design.
Carrie's recent research involves looking at how incentives facilitate coordination in large networks. "Whether we look at our work, our social or civic lives, we are in large and connected groups that often have to make tacitly coordinated decisions," she says. "The larger the network, the more difficult it is to coordinate." Using a carrot-and-stick approach, she says, "We discuss whether we can change the pecuniary payoffs to encourage people to coordinate on the desired actions. We provide people with the carrot to take the risky, but welfare-maximizing action and we use the stick to punish people when they take the conservative and inefficient action. The carrot-and-stick approach is intended to reduce the strategic uncertainty and risk of taking the desirable action."
Carrie is also interested in social networks. Together with Krupka and Stephen Leider at the Ross School of Business, she studies the dynamics of U-M first year students' social networks and behaviors. Research questions include how U-M first year students' behaviors are influenced by their friends and how they choose friends based on their behavior and their friends' behaviors. "We measure people's behaviors and economic preferences, such as willingness to take risks and how generous they are to other people," Carrie said. "We're measuring multiple times over a year to see the changes in social networks and behaviors. We are interested whether they add friends whose behaviors are similar to theirs and if they adopt their friends' behaviors. This study will allow us to understand how people form social networks and adapt to other people, in particular new friends' behaviors in a new environment. It also sheds light on relevant policy suggestions for helping people transition to a new stage of life."
A native of China, Carrie also speaks English, German and Cantonese. She became a foreign exchange student at the University of Mannheim, Germany to broaden her horizons and take on new adventures. "I wanted to experience a totally different culture," she said. "I also used the exchange student experience as a challenge for myself to see if I would enjoy studying abroad. It was so amazing that it motivated me to come to the U.S. for my graduate studies. I made so many good friends and we all had this plan to travel around the world to each other's country."
Carrie keeps in contact with the friends she made in Germany and recently met up with her former roommate during a visit to New York. She has been a Facebook pen-pal with her best German friend for over four years. "I'm still taking German classes now on campus to keep up my vocabulary," she said. "I wish I could learn Spanish later. Two of my best friends that I made in Germany are Spanish."
Carrie has a BA in economics with minor in mathematics from Shanghai Jiao Tong University in China and hopes to graduate from UMSI in 2016. "I wish I could get an academic job or work in a research institute," Carrie says. "The world and human behaviors are so fascinating to study!"
This student has graduated! This information was accurate at the time of publication.
Next year, your profile could be here! Sign up for our interest list to receive:
Invitations to exclusive information sessions and events 
The opportunity to chat with current students 
More in-depth information about our degree programs
Tips and advice for creating a successful application 
Reminders for important deadlines