University of Michigan School of Information
Faces of UMSI: Eric Pfeifer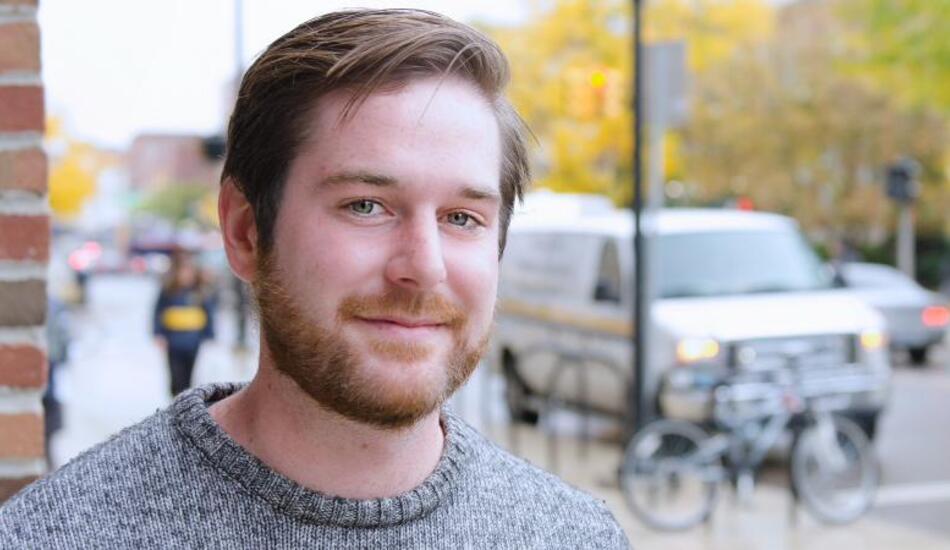 From helping his family with community service projects at a young age to spending a year in Beijing as an undergrad to living in Tanzania as a Peace Corps volunteer, Eric Pfeifer has taken a bit of a circuitous path on his way to the MHI program. However, the University of Michigan has always been on his radar. "It's an institution that has a reputation for recognizing community service. It has a strong relationship with Peace Corps volunteers (PCV) through the Paul D. Coverdell Fellows program. For me to end up here, it felt like an alignment of values." [The Paul D. Coverdell Fellows program offers financial support to those who have served in the Peace Corps prior to enrolling in UMSI's MSI or MHI program.]
Eric's dad is the one he credits with nurturing his desire to do good. "Every year he ran this event called Christmas in April where volunteers helped fix up someone's house. Even when I was too young to lift a hammer, it was my 'job' to sit and talk with people."  While he might not have recognized it early on, these experiences were shaping his belief system. "It made me cognizant of the fact that some people need help. I sort of incorporated this into my world view even though I didn't take that on too much until I got this urge to do Peace Corps."
While attending Xavier University, Eric did a year abroad in Beijing and then visited rural China. "I loved the experience of practicing my Chinese, visiting different villages; I really connected with that setting and I was looking for something similar in the Peace Corps—it really appealed to me to think I could spend two years in that type of immersive setting." He likes to say that he went for the adventure and stayed for the service.
While living in Tanzania as a PCV, Eric took on the public health challenge of a lack of water. His village was in an arid region that only received water three months of the year. Because of his ingenuity and persistence, he oversaw the construction of water tanks by a team of unemployed kids who could build them and also make money in the process. "I very much enjoyed being involved in every step of this venture from figuring out how to use a soil brick press to selling this concept to families." 
After the Peace Corps, Eric worked as an analyst for the Department of Housing and Urban Development. It was that experience that triggered his desire to attend graduate school. "Government work was bureaucratic and not very satisfying, especially compared to what I was doing in Tanzania. I didn't see myself staying there for long. However, because of the work I did with the Ryan White Program, an arm of the Department of Health and Human Services, I knew that I needed to learn a lot more about health information technology [HIT] as an issue." Even though the government job wasn't his life calling, he believes it gave him the kick in the pants he needed to delve into HIT. "I discovered the Coverdell program after recognizing that grad school would be in the near future. I knew that I wanted a grad program that would offer technical skills, find value in my Peace Corps experience and have an emphasis on serving others."
"I chose the U-M MHI program because it had the most targeted view of what's going on in this field." Eric felt that the school had a solid grasp of what health informatics looks like and that he could thrive in the work environment. "I knew this degree would prepare me for the start-up atmosphere and give me the tools I needed to tackle these big health care issues head on." 
"My first year here I worked as a research assistant under Julia Adler-Milstein and she's been a more-than-able mentor for everything I've wanted to do. I've been very pleased with how much time the teachers have afforded to me, especially within this HI program. It's like they've assembled an all-star cast of leaders in every aspect of this field."
After receiving his degree, he hopes to work for a health care-related start-up and eventually start his own company delving into analytics. "I'm very interested in how we determine when and where health care should be provided. That's why I'm at U of M. This program is ideal for learning those skills."
Eric always seems to be pursuing an opportunity to advance himself and learn more. When he's not doing research or studying for classes, he's looking into programs like Innovation in Action, Innovation Trek or offerings from the Zell Lurie Institute at the Ross School of Business. Thankfully having recently acquired a car has opened up more of the city to him. "There are all these cool parks within a 10-minute drive of campus. It's really made me appreciate this town when you can go biking along the Huron River. It's hard to do but I try to remind myself to get out of the classroom and appreciate what Ann Arbor has to offer."
For more information on the Paul D. Coverdell Fellows program that offers financial support to those who have served in the Peace Corps, click here.
Next year, your profile could be here! Sign up for our interest list to receive:
Invitations to exclusive information sessions and events 
The opportunity to chat with current students 
More in-depth information about our degree programs
Tips and advice for creating a successful application 
Reminders for important deadlines