University of Michigan School of Information
Faces of UMSI: Jean Hardy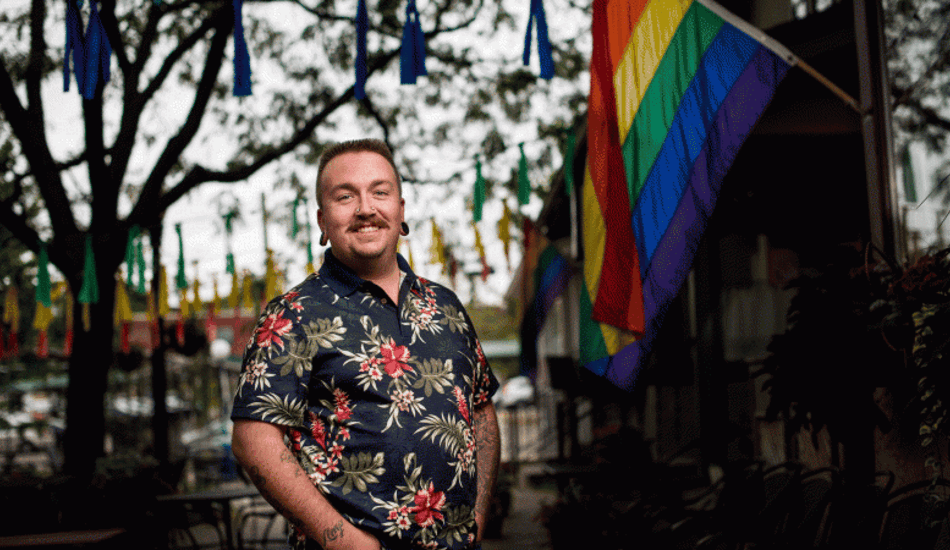 Jean Hardy is exploring how the LGBT community uses social media in rural areas.
While pursuing fieldwork for his dissertation in Michigan's Upper Peninsula last summer, Jean Hardy stumbled upon another research topic that may send him in a new direction.
Hardy, who was doing research on how LGBT people in rural regions use social media, noticed "little state offices" scattered across Michigan's remote Upper. The offices, Michigan Works!, offer training, education, career and job search assistance and are located throughout the state. 
"It got me thinking about how the state supports technology education and infrastructure in rural areas of the state," he says.
Jean, a third-year doctoral student at the University of Michigan School of Information, now finds himself at a dissertation crossroads: Continue exploring the use of social media by the LGBT community in rural areas or pursue research on how the state is using technology in rural Michigan.
At this juncture, Jean, who was born in the Upper Peninsula, is undecided but still researching – in both areas.
He is living in the Upper Peninsula again – in Manistique – and attends events and meetings to interview members of the LGBT community, looking to answer some big-picture questions, such as, 'What would social technology look like if they were designed for people living in rural areas?'
Exploring LGBT issues is not new to Jean, who identifies as a gay man and has been a part of LGBT community organizing his entire adult life.
For his master's thesis at UMSI, Jean researched how gay men in rural areas used social dating apps, such as Grindr and SCRUFF, to meet men and engage in the community. The title of his thesis was "Finding Community, Finding Sex: Navigating disclosure, geography, and privacy in rural use of a social technology for gay men."
Most social dating apps, he says, are designed for people living urban and suburban areas. Those living in rural areas often have to travel farther distances to find community and can be misled by how geography and distance are flattened by the interface of dating apps. This thesis was turned into a publication for the annual Computer Supported Cooperative Work and Social Computing conference in 2017, receiving an honorable mention for best paper.
"I've been continuing to do research on social media in general," he says. 
Still, he's intrigued by how technology works for rural residents (and often doesn't work).
"I think what is going on is the state is pumping a lot of money into broadband infrastructure and job creation but not addressing the root differences – access to technology and education," Jean says. "Rural education is drastically underfunded. I guess what I'm thinking is how the state is approaching technology in a particular way – is it addressing technology as it could or should?"
He plans to start recruiting and interviewing small business owners and entrepreneurs in the Upper "for a sort of preliminary study about how these folks actually learn about technology and opportunities related to business development online."
Although Jean was born in the Upper Peninsula, he spent most of his adolescence growing up in the exurbs of Detroit and suburbs of Nashville, while maintaining close connections to his family and background as a Yooper. After dropping out of college, he took some time off and moved across the country to Seattle. While in Seattle, Jean enrolled in night school, earning his bachelor's degree in English literature and theory, graduating cum laude, from the University of Washington.
Though he considered other universities for his master's degree, he ultimately chose UMSI at the urging of a friend – a UMSI alum – who was keenly aware of Jean's passions. He decided to continue at UMSI for his doctorate because of "a combination of the advising situation and also getting the Rackham Merit Fellowship," which, he says, covers most of his financial needs and means he has the opportunity to focus a majority of his time at UMSI on his own research. 
 "These days I spend a lot of time driving," Jean says, noting the distances between events and meeting in the communities in the Upper Peninsula. "I'm basically all over the map."
This student has graduated! This information was accurate at the time of publication.
Next year, your profile could be here! Sign up for our interest list to receive:
Invitations to exclusive information sessions and events 
The opportunity to chat with current students 
More in-depth information about our degree programs
Tips and advice for creating a successful application 
Reminders for important deadlines