University of Michigan School of Information
Faces of UMSI: Nithya Rajendran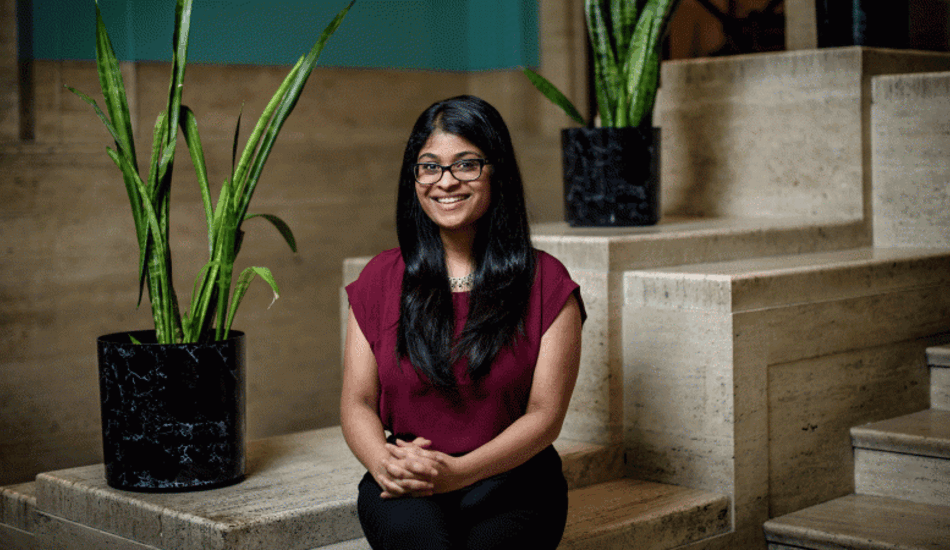 After graduating from the University of Georgia with a bachelor's degree in health promotion, Nithya Rajendran worked as a Health Educator at JJP Internal Medicine Clinic as "they were transitioning from paper to electronic records and implementing new technology." That's when she realized the role of tech in healthcare. 
Next, she applied to the University of Michigan master's degree in health informatics. "I wanted to challenge myself and come to a school that really values education, specifically in public health and information sciences." She says the MHI program "is one of very few, if not the only, health informatics program housed in two top schools… I'm getting an education from two different schools that can offer me unique types of coursework adding value to what I want to learn." 
Another reason she chose U of M? The summer internship program. "A lot of health informatics programs are more research oriented, but Michigan molds you to become a professional in the corporate world." 
At Kaiser Permanente's Health Innovation Studio in California, Nithya worked as a Consultant Intern in Virtual Care. The internship "gave me an amazing opportunity" to develop a mobile app for type two diabetics "that was great because I got to go into the field, talk to patients that have diabetes, go to these classes and understand what kinds of resources are available to them, go to the studio to work with designers, work with data scientists, engineers, and build an app patients can use at home, on their phone or their desktop." Ultimately, the internship helped her move forward with projects she's working on this year, and "it helped me solidify where I wanted to work."
Nithya is Health Informatics Chair for the Public Heath Student Assembly, a Health Informatics Society student member and participating in the College of Engineering's Multidisciplinary Design Program (MDP) as Engineering Development Team Manager for Stryker, a company that develops medical instruments. "Health informatics is so multidisciplinary that it's important to take classes in different schools. Michigan gives you that opportunity." Along with her work for the MDP, Nithya is a Research Assistant for the University of Michigan's Department of Anesthesiology.
In all her efforts, Nithya strives to improve consumer facing technology, health literacy, and healthcare accessibility. When she visited family in India, she learned that "People in India, in rural communities, don't have access to healthcare… You go to villages and they don't even have access to clean hospitals, there's no roof, and there's maybe one physician or nurse that's in and out."  
In 2013, Nithya worked as a health services intern at the Leonard Cheshire Disability Home (LCDH) in Tamil Nadu, India. The LCDH, a home for elderly and disabled individuals, executed a medical outreach project designed to provide quality health services to residents. The organization partnered with the PSG College of Nursing and Social Work to provide physical exams, clinical laboratory services, counseling, speech therapy and physical therapy. "You're looking at patients in the Cheshire Home that are fifty plus and have never seen a doctor." Many patients had difficulty communicating and didn't know their family's health history. "Everyone deserves to have an identity," said Nithya, "to have their health records stored, and available anywhere so they can be treated."
Nithya saw potential for tech lessons at the LCDH. "Providing these patients with something as simple as a website to visit" would allow them to foster connections and learn about their health conditions. The rise of telemedicine and consumer technologies like Fitbit and apps that help patients with pain, nutrition and fitness management mean "there's so much potential to give people power and motivation to be healthier." Not to mention, "with data and technology, not only are patients more knowledgeable, but they're giving physicians more knowledge" on how to treat them. "Evidence based medicine and predictive analytics are two aspects of Health Informatics that will change healthcare."
After graduating with her MHI, Nithya wants to work with consumer technologies, in product development for a company or innovation lab. Her priorities are "making healthcare affordable and accessible" whether that means creating healthcare products for patients, or using what she's learned to help alleviate healthcare crises around the world.
Next year, your profile could be here! Sign up for our interest list to receive:
Invitations to exclusive information sessions and events 
The opportunity to chat with current students 
More in-depth information about our degree programs
Tips and advice for creating a successful application 
Reminders for important deadlines