University of Michigan School of Information
Faces of UMSI: Tawny Apsley and Michelle Bochinski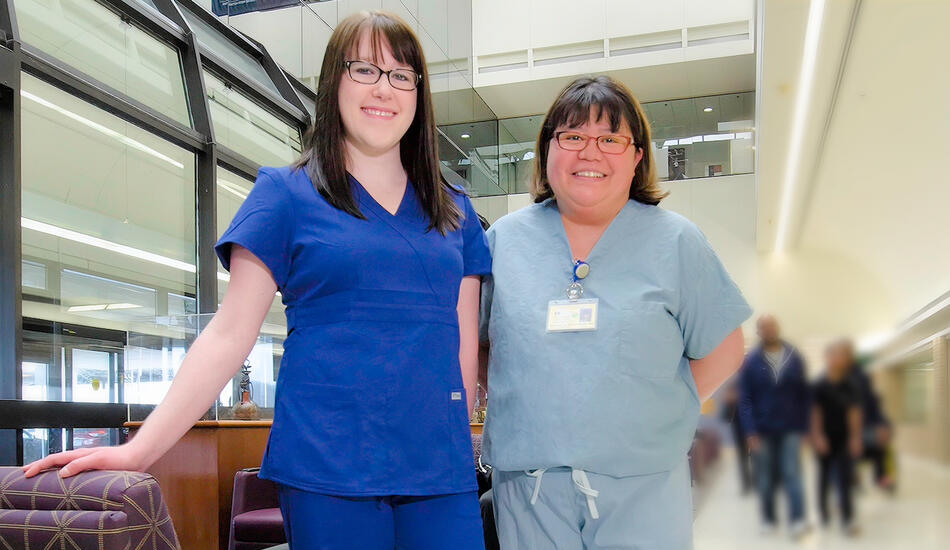 Helping fellow nurses
Tawny Apsley graduated from the School of Nursing at the University of Michigan in 2013 and began working in the U-M health system that fall. A registered nurse in U-M hospital's inpatient adult rehabilitation unit, she was eventually promoted to charge nurse, with more managerial responsibilities such as assigning nurses to patients.
Even though she held a four-year degree, Tawny always knew she wanted to earn an advanced degree, though she wasn't sure what it should be. She considered becoming a nurse practitioner or a nurse-midwife. She became intrigued by a new program being offered by the School of Information (UMSI) and the School of Public Health, a master of health informatics.
"I was the tech person on the floor, the one people would come to with their computer questions," she says. "When I found out about the MHI program, it seemed to be the one I was looking for." She investigated and ended up applying, beginning her studies in fall 2015. "I worried a little that I might not have the necessary technical background, but that hasn't been a problem," she says.
Tawny remembers working the night that UMHS switched over to MiChart, an electronic health record (EHR) system. "Everything stopped for five hours while the hospital made the transition from paper to pixels," she said.  Right away, Tawny saw visible, beneficial changes to patient care as a result of that information upgrade, such as the fact that now prescribed meds would carry a barcode that the nurse could scan to make sure they had the right prescription.
One year into the two-year program, Tawny is enthusiastic about the new career opportunities open to her and the chance to have a real impact in the health care field.
"This program is a great option for someone who wants to work in the caring field, but not necessarily at a patient's bedside," she says. "In health informatics, you can have a global impact on the nursing field, not only helping patients but also helping your fellow nurses. It's a way to keep your hand in nursing, but take that experience to another field and have an impact there."
This summer, she will be interning at a startup in San Mateo, CA, that designs patient portals for lab results that include an educational component. When a patient logs in to get their cholesterol count, for example, they will receive information on cholesterol and why it matters.
Her emphasis now is on user experience, and she finds it very helpful to have a clinician's eyes on the process. "As a nurse myself, I know better than an outsider how nurses work, and what they need. Being a user of the system gives me a valuable perspective on how to improve the user experience.
"As a nurse with a master of health informatics, I can have a say in policy making, in designing solutions and providing a better user experience for other nurses and patients. I'm ecstatic that I decided to pursue this program."
Nurses know data
MHI student Michelle Bochinski worked as a nurse "in the trenches" for 20 years before a call for volunteers took her career in a new direction.
After graduating with a BSN in the Philippines, where she's from, she had moved to Michigan, working at University of Michigan Health System in trauma-burn, surgical acute care, the pediatric ICU and, for 14 years, the pediatric operating room at Mott Children's Hospital.
In 2014 as UMHS prepared to implement MiChart, Michelle volunteered to train other nurses in the operating room and post-anesthesia care units how to use the system.
While training for her new role, Michelle had the opportunity to meet the system's developers and started asking questions. "I asked, 'Why can't we have this button cascade to this button? Because that's how my workflow is.'"
When the developers told her that was just how the system was designed, she became curious about what was behind it and started looking into master's programs.
Wanting to stay in Michigan, Michelle first considered an MSN from the U-M School of Nursing, then decided to have a look at other programs the university offered. That's when she learned about the MHI degree and decided to pursue it.
After all, she says, nurses already deal with data constantly, from documenting vital signs to barcoding medications. "As nurses, we are in the trenches of all of this. We integrate data, we analyze data, it's incorporated into our workflow. We're surrounded by it."
This is more important than ever in today's healthcare system, she adds, where nurses must combine healthcare skills with technical and analytical skills in what she calls "the trifecta." "If you have all these three skills, you have leverage."
She's able to balance another trifecta—family, part-time work and full-time school—by being methodical and organized, she adds.
As her first year in the program ends, Michelle is preparing for her internship at UMHS Learning Health Sciences. She'll be working with research analyst and UMSI PhD student Allen Flynn on a digital learning health system designed to make the path from research to practice more iterative and ongoing. She'll also continue to work part time in her capacity as EHR specialist.
Having seen firsthand the transition from paper charting to electronic, she says, "I feel like I have been working in healthcare informatics since before the field existed."
You can do what they're doing! Sign up for our interest list to receive:
Invitations to exclusive information sessions and events 
The opportunity to chat with current students 
More in-depth information about our degree programs
Tips and advice for creating a successful application 
Reminders for important deadlines