University of Michigan School of Information
Faces of UMSI: Megh Marathe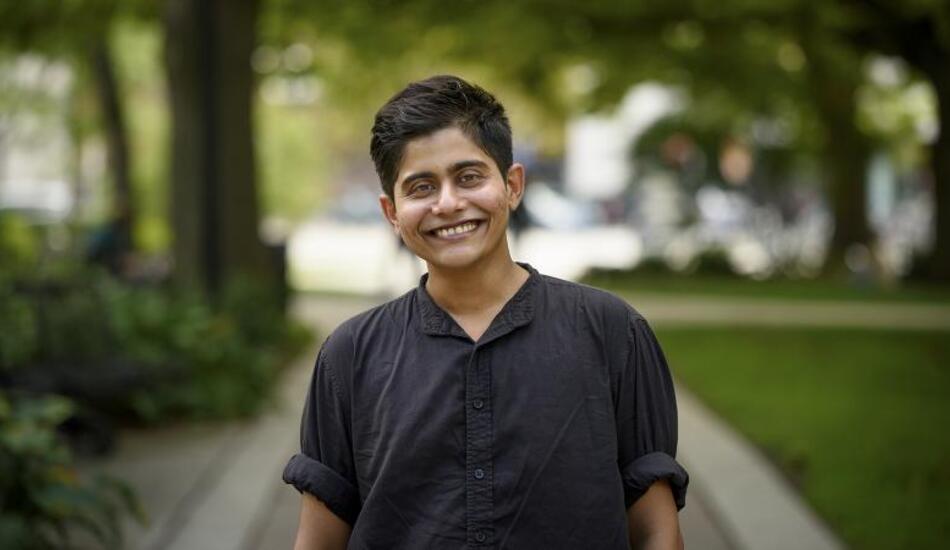 Megh Marathe has not one but three areas of research interest as the India native pursues a doctorate at the University of Michigan School of Information.
Megh, who identifies as non-binary, is particularly interested in the experience of time and how disruptions such as an epileptic seizure can affect perception of time. It's something the third-year doctoral student has experienced first-hand.
"I have epilepsy myself," he explains. "I have experienced seizures and moments of disruption in my life. Time has always interested me. I was recently hospitalized for a bad episode so that's when I really started thinking about it as a research topic.
"I thought it was interesting enough to study in detail," he adds. "There is this loss of continuity in life that others who don't have such episodic issues don't go through."
He's also interested in studying accountability in grievance redress for e-governance systems in socio-economically developing contexts. "I want to know how these systems operate and how they are used by people. What kind of response do people get when they file a complaint or a grievance?"
His last area of interest also is focused on time. He's interested in using applied natural language processing to answer social science questions, especially on social media.
"With epilepsy, for example, I'm interested in how online communities of people with epilepsy come together to construct notions of time," he says.
A native of Mumbai, Megh earned a bachelor's degree in computer engineering from the University of Mumbai, and master's in computer science from the University of Toronto. He worked as a software engineer in India before pursuing a doctorate.
"I grew up in a family of engineers and so I think engineering in some way was chosen already," he says. "I was also interested in computers. I grew up around them. In the early 90s, the Internet was just starting to come into India. It was an interesting time."
He chose UMSI for several reasons after considering other American universities. 
"I chose UMSI because of my background in computer science and I was interested in answering social science and research questions. I thought UMSI was a good fit," he says. "There were people I wanted to work with, including (associate professors) Joyojeet Pal and Kentaro Toyama. I met them both before coming here. I like the fact that there are people who are engaged in different types of research."
Megh hasn't quite decided on a career path but believes it will be research focused.
"I really enjoyed my time in the software industry," says Megh, whose passions include reading and attending jazz and Indian classical concerts. "Ideally, I'd like to go back to India, to Bombay. We'll see."
A big city person – consider his upbringing in Bombay and his graduate school time in Toronto – Megh says he's gotten used to smaller-town life in Ann Arbor.
 "Ann Arbor is quite small for me in comparison," he says. "I like walking around downtown. I like the independent bookstores and coffee shops, which I really appreciate, and the odd restaurant. But I do miss the infrastructure of the big city."
To see more recent updates on this student, visit their profile page.
You can do what they're doing! Sign up for our interest list to receive:
Invitations to exclusive information sessions and events 
The opportunity to chat with current students 
More in-depth information about our degree programs
Tips and advice for creating a successful application 
Reminders for important deadlines