University of Michigan School of Information
The Gaming Business and the Future of Esports: A Conversation with Activision Blizzard's Head of Strategic Initiatives Jason Hahn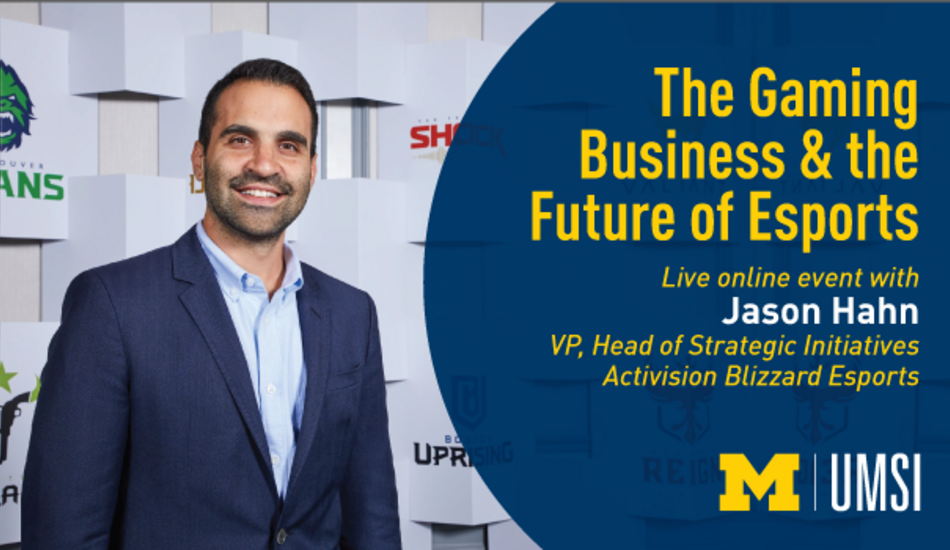 10/28/2020, 07:00 pm
Online
Watch on YouTube Live:
https://youtu.be/hggE6TNtRII

Jason is the Head of Strategic Initiatives for Activision Blizzard's Esports division, a leading gaming company that owns and operates the Call of Duty League, Overwatch League, and other Blizzard Esports programs. An alumnus of the University Michigan Ross of School of Business, Jason manages strategy, planning, business development and analytics for the Esports division, where he works to build growth strategies and execute new business opportunities in the world of esports. Jason will explore the current state of the esports business, its future and the roles that colleges and universities may play in helping to shape this space.

Moderated by Barry Fishman, Arthur F. Thurnau Professor of Learning Technologies at the University of Michigan School of Information and School of Education.
This event is sponsored by the School of Information with support from the William Warner Bishop Lectureship Fund and the Martha Boaz Lectureship Fund.