University of Michigan School of Information
SBEE Seminar Series: Johanna Mollerstrom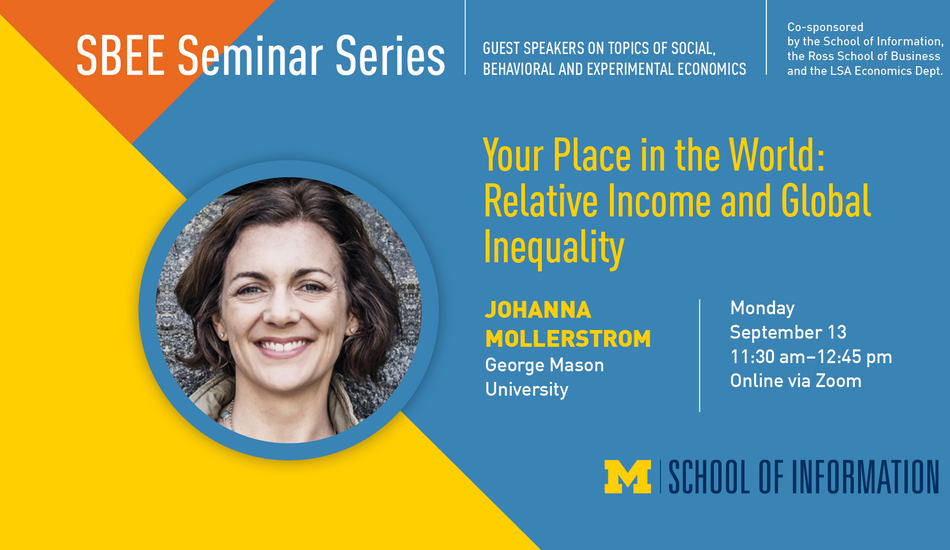 09/13/2021, 11:30 am - 12:45 pm
Online
Your Place in the World: Relative Income and Global Inequality
Abstract: 
There is abundant evidence on individual preferences for policies that reduce national inequality, but only little evidence on preferences for policies addressing global inequality. To investigate the latter, we conduct a two-year, face-to-face survey experiment on a representative sample of Germans. We measure how individuals form perceptions of their ranks in the national and global income distributions, and how those perceptions relate to their national and global policy preferences. We find that Germans systematically underestimate their true place in the world's income distribution, but that correcting those misperceptions does not affect their support for policies related to global inequality.
Speaker bio: 
Johanna Mollerstrom is Associate Professor of Economics (with tenure) at the Interdisciplinary Center for Economics Science (ICES) and the Economics Department at George Mason University in Arlington, VA.
Her research focuses on behavioral, experimental and public economics. She received my PhD from the Economics Department at Harvard University in 2013.
Additional affiliations: The Mercatus Center (Arlington, VA), the Research Institute of Industrial Economics (Stockholm, Sweden) and the German Institute for Economic Research (Berlin, Germany).
For information on how to watch this lecture and sign up for the SBEE mailing list to receive notice of upcoming events, please visit the SBEE website: https://umbee.github.io/SBEE_Seminars