University of Michigan School of Information
SBEE Seminar Series: M. Kathleen Ngangoué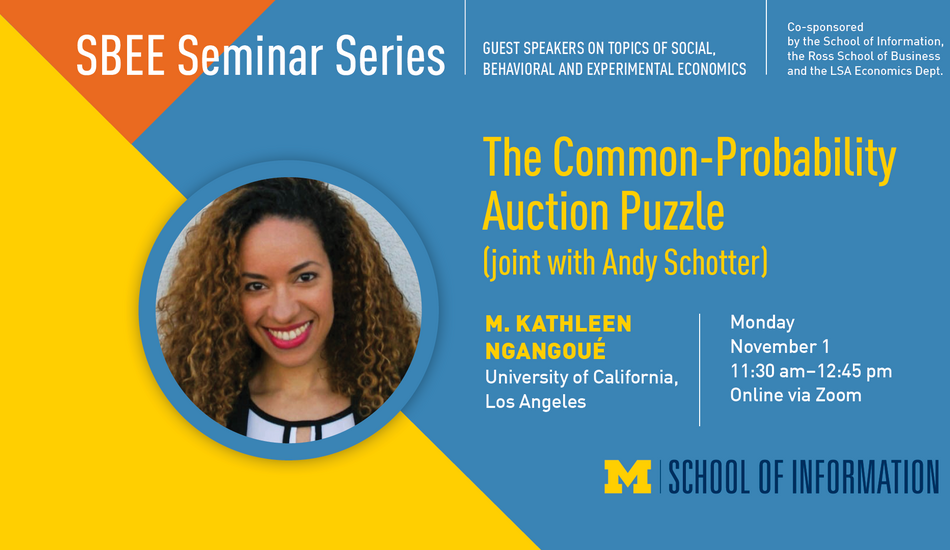 11/01/2021, 11:30 am - 10/01/2021, 12:45 pm
Online
The Common-Probability Auction Puzzle (joint with Andy Schotter) 
Abstract: 
This paper presents a puzzle in the behavior of experimental subjects in what Ngangoué calls common-probability auctions. In common-value auctions, uncertainty is defined over values, while in common-probability auctions, uncertainty is defined over probabilities. Ngangoué finds that in contrast to the substantial overbidding found in common-value auctions, bidding in strategically equivalent common-probability auctions is consistent with Nash-equilibrium. This difference between the two uncertain environments originates in subjects' strategic valuations of the object.
Speaker bio: 
Kathleen Ngangoué's main areas of study are experimental, behavioral and information economics. Her research focuses on belief formation and decision making under uncertainty, and draws insights from psychology and neuroeconomics. "It's fascinating how people sometimes excel at intuitively solving complex problems, while sometimes failing to make simple economic decisions," she says. 
Ngangoué is particularly interested in the interaction between markets and bounded rationality or non-standard preferences. In her most recent work, she analyzes why people make different decisions when uncertainty is defined over different objects. "For instance, my co-author and I find that, in auctions, bidders stop overbidding when uncertainty is defined over probabilities rather than over values," Ngangoué says. "This is because their ability to reason strategically differs when they reflect about probabilities. Similar differences are observed when people reflect about time: How they prefer to resolve uncertainty over time depends on what is uncertain. That is, people react very differently to various objects of uncertainties, even if they shouldn't."
Raised in the Republic of the Congo and in Germany, Ngangoué joined the UCLA Anderson School of Management from New York University, where she was a visiting assistant professor of economics at the Center for Experimental Social Science. Before that, she was a visiting fellow at University College London, and obtained her Ph.D. at Humboldt-Universität zu Berlin. As a member of the research committee of the Pan-African Research Council, she also seeks to promote African research excellence.
To watch this lecture and receive notice of upcoming events, sign up for the SBEE mailing list via the fall 2021 SBEE Seminar Series schedule.