University of Michigan School of Information
SBEE Seminar Series: Saurabh Bhargava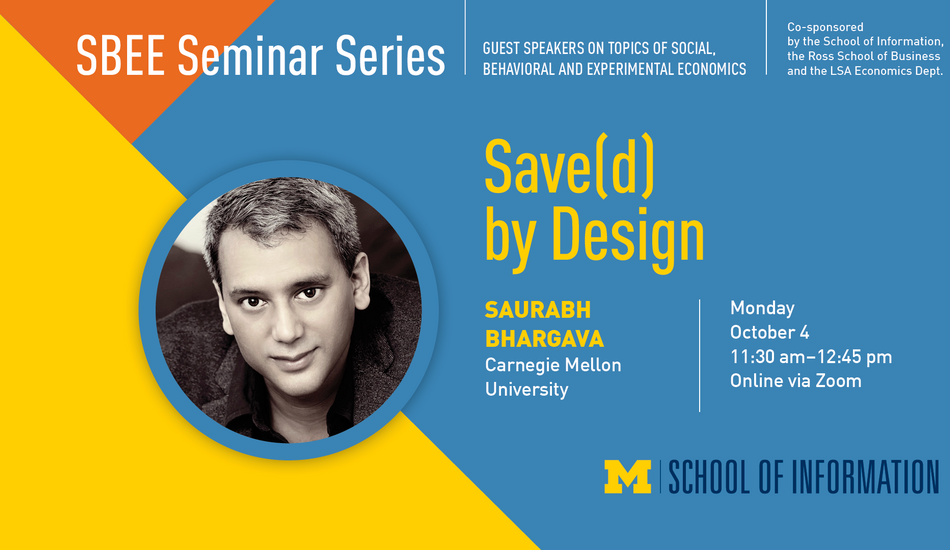 10/04/2021, 11:30 am - 12:45 pm
Online
Save(d) by Design
Abstract: 
Professor Bhargava will begin by presenting novel administrative evidence from 840 401(k) plans with automatic enrollment (AE) indicating that the risk of retirement insecurity extends to a significant share of actual enrollees. Hypothesizing that this risk is materially affected by the initial decision to enroll at the default rate or to personalize enrollment at a higher rate, he investigates the sensitivity of initial enrollment to non-economic features of digital design that increasingly shape plan engagement. Specifically, he describes three large-scale field experiments, administered across 500 AE plans, that vary the psychological design (i.e., color, layout, phrasing, informational salience) of the digital interface from which employees decide to confirm, personalize or decline enrollment. The field studies, supplemented by hypothetical choice experiments and a survey of hundreds of plan administrators, yield four findings. First, he shows that modest changes to the psychological design of the interface result in sizable increases in personalized enrollment, full match take-up and average contributions —equivalent to those predicted from a 68 to 74 percent increase in the modal match.
Second, he shows that marginal personalized enrollees appear to increase their initial contributions substantially and to an extent equivalent to inframarginal counterparts, implying potentially significant welfare gains due to design.
Third, lab evidence indicates that design does not affect enrollment through standard economic channels of preferences/beliefs or often-cited behavioral frictions (inattention, confusion, distrust) and suggests instead that enrollment may emerge from a non-deliberative process in which design shifts affective appraisals.
Finally, an industry survey shows that most plan administrators underestimate the potency of design and cannot identify optimal design elements. The findings raise new concerns about the retirement preparedness of 401(k) enrollees, highlight the potentially profound, and largely unrecognized, influence of digital design on financial decisions such as savings, and challenge basic economic assumptions underlying prevailing approaches to consumer protection and welfare analyses.
Speaker bio: 
Saurabh Bhargava is an Associate Professor of Economics at Carnegie Mellon University, an academic affiliate of the Jameel Poverty Action Lab at MIT and the Center for Health Incentives and Behavioral Economics at the University of Pennsylvania, and the Founder and Co-Director of the BEDR Policy Lab. Dr. Bhargava's primary research area of behavioral economics broadly explores decision-making, and optimal policy design, in the contexts of health insurance, retirement savings, program take-up, unemployment, medical adherence and employee reward programs. Dr. Bhargava's work has been published in journals such as JAMA, The Quarterly Journal of Economics, The American Economic Review, Psychological Science and NEJM Catalyst and has received coverage from media outlets including The New York Times, Wall Street Journal, Vox, Bloomberg, BBC News, CNBC, Barron's, NPR and Politico. He has also published in the Harvard Business Review and The Wall Street Journal. Formerly, he was a Visiting Scholar at the Russell Sage Foundation and an adjunct faculty at the Booth School of Business at the University of Chicago. Prior to starting his academic career, he worked at Mckinsey & Co. He holds an AB degree from Harvard University and a PhD in Economics from UC Berkeley. 
For information on how to watch this lecture and sign up for the SBEE mailing list to receive notice of upcoming events, please visit the SBEE website: https://umbee.github.io/SBEE_Seminars