University of Michigan School of Information
2020-2021 Outstanding Graduate Student Instructors announced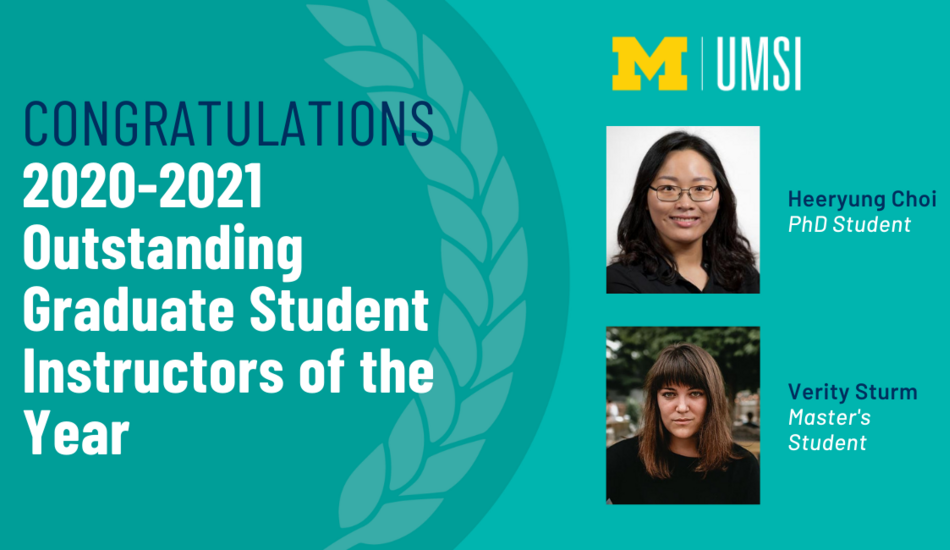 Wednesday, 07/28/2021
Heeryung Choi and Verity Sturm have been selected as recipients of the School of Information's 2020-2021 Outstanding Graduate Student Instructor of the Year awards. The annual award recognizes overall exemplary performance as a GSI, including dedication, enthusiasm, communication and instructional skills. Recipients are selected based on nominations and course evaluations. The honors were announced Tuesday by UMSI Senior Associate Dean for Academic Affairs Elizabeth Yakel.
Heeryung Choi was named as the doctoral student recipient of the award. She taught SIADS (MADS) 505: Data Manipulation. Her nominators highlighted her attention and engagement with the students, expertise in the subject matter, and ability to help the students to increase their understanding of the material by asking guiding questions rather than providing answers. They also cited her commitment to DEI values and principles. In the wake of national anti-Asian violence, she gave voice to the needs of the university Asian-Pacific community and provided concrete ways that university students and faculty could act inclusively and equitably, demonstrating a commitment to students' well-being beyond the classroom.   
The master's student recipient of the Outstanding Graduate Student Instructor of the Year Award is Verity Sturm, who was a GSI in the Bachelor of Science in Information course SI 310: Information Environments and Work. Her nominators noted that in one of the most difficult semesters for students and faculty alike due to COVID-19, Verity remained positive and supportive. One commented, "Fall 2020 was tough but Verity was tougher." She also provided both academic and professional support for students, inviting guests to sections for "Career Talks," performing regular wellness checks, and making the class content easy to understand. Her nominators said she wanted students to learn, not just get a grade.
Read more about Heeryung Choi.
Read more about Verity Sturm.