University of Michigan School of Information
2021 Student Exposition award recipients announced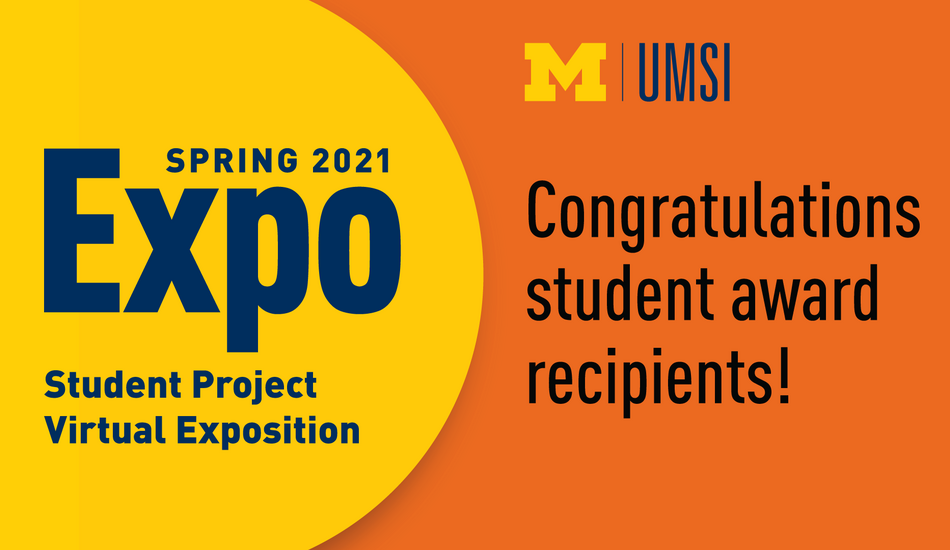 Wednesday, 05/12/2021
On April 16, more than 200 students and nearly 150 guests came together online for the Spring Student Exposition which celebrated student work at the University of Michigan School of Information during the 2020-21 academic year.
Despite challenging circumstances created by the pandemic, the student's efforts highlighted the perseverance and talents of the UMSI community. 
Jennie Scheerer, UMSI's external engagement coordinator, noted: "Students presented over 75 projects on a variety of information topics from client-based courses, internships, and independent experiences. We were happy to host guests from across the country and the world through this virtual environment."
Twelve projects received awards and recognition for their exemplary impact.
---
Gale, A Cengage Company Best Project award
First Place: Capstone Project: Appropriate Technology Collaborative (Yasmeen Shakour, Sarah Higuchi-Crowell, Jesse Bruner, Nathan LaMoreaux) SI 487: User Experience Final Project 
Students partnered with the Appropriate Technology Collaborative to improve their website to better serve the needs of the organization and its users. The project focused on increasing content engagement and donations.
Honorable Mention: Interactive Digital Adaptation for Disaster Response (Rebecca Parada, Tae Won Kang, Elena Fang, Grace Nydam) SI 487: User Experience Final Project 
The team worked with the Michigan Institute for Clinical & Health Research (MICHR) to develop technology that connects research teams at University of Michigan, so they can mobilize effectively and rapidly to respond to natural disasters.
---
Comerica BSI Final Project award 
First Place: Cloud Account Fraud Prevention (Soomin Kim, Laura Li, Alice Shih, Helen Song) SI 487: User Experience Final Project 
There is no current way to monitor or report fraudulent activity on enterprise level cloud accounts. The students researched IBM cloud software and interviewed users in an effort to develop an effective option for cloud account owners to monitor and report fraud without disrupting their accounts.
Honorable Mention: City of Gainesville (Rea Parocaran, Harrison McCabe, Eldon Tsoi, Chris Pena) SI 485: Information Analytics Final Project
Students worked with the City of Gainesville, Florida to create a well-being index based on Maslow's Hierarchy of Needs that measured the livability and social well-being standards in each of Gainesville's neighborhoods.
---
UMSI Office of DEI Diversity, Equity, and Inclusion award 
First Place: CHAI – website redesign to increase inclusive health care access for LGBTQIA+ youth (Christian Paneda) Independent Project 
Christian Paneda partnered with the Community Health Access Initiative (CHAI) to redesign their website with the goal of increasing access to inclusive and affirming health care services for LGBTQIA+ youth.
Honorable Mention: Health Impact of Chest Binding In Transgender Individuals (Rachel Waltzer, Jane Mintz, Grace Knitter, Caitlin Beach) SI 485: Information Analytics Final Project 
This project investigated daily surveys from 25 transmasculine participants about their chest binding practices and the physical or mental binding-related impacts experienced. It used data analysis and visualization to understand what binding practices are associated with the fewest negative symptoms.
---
Innovation and Entrepreneurship Award 
First Place: SI 487 UX Capstone: Polaris (Michael Barsky, Sharon Lin, Colton Joyce, Claire Wenrick) SI 487: User Experience Final Project
Students worked with automotive company Polaris to improve the usability of their website's "Build and Price Tool." The goal of the project was to increase user's website exploration and form submissions.
Honorable Mention: NASA SUITS ARToolkit Interface for Astronauts (Esther Tang, Hope Mao, Nigel Lu) Collaborative Lab for Advancing Work in Space 
The team developed an augmented reality (AR) informatics display system to enhance the safety and efficiency of NASA's extravehicular activity (EVA) missions. The project helps support NASA's goal of landing astronauts safely on the Moon by 2024.
---
Community Engagement Award
First Place: BankBlack USA Minority Owned Bank Dashboard - The COWRIE Initiative in partnership with Poverty Solutions (Dominique Roitman, Ian Mulhern, Kallen Cohane, Kristofer Siimar) SI 485: Information Analytics Final Project 
The group sought to bridge the information gaps between bank users and their understanding of the benefits of working with banks and credit unions that are majority governed by people of color, known as MDIs and community development financial institutions (CDFIs), private financial institutions assisting low-income and minority clients. The goal of the project was to convince users to switch to a black-owned financial institution.
Honorable Mention: Local Government Cybersecurity: Analyzing How Michigan Localities Cope with Digital Threats (Marilu Duque) Master's Thesis Option Program 
Marilu's project looked at the increasing cyber threats to local governments that leave millions of residents at risk in Michigan. Her research uncovered the specific challenges facing local governments and proposed changes to the current cybersecurity structure through increased public relations and resource accessibility.
---
Faculty Choice Award 
First Place: Developing a Museum Digital Preservation Policy and Plan (Emmeline Kaser, Shelby Long) SI 699: Libraries and Archives 
The group worked with the Swedish American Museum in Chicago to create a digital preservation policy and develop a plan based on the National Digital Stewardship Alliance's Levels of Preservation Policy.
Honorable Mention: Major Life Transitions, Identity Change, and Social Media (Shanley Corvite) Independent Projects 
This project looked at the intersection of major life transitions and identity. It investigated the ways in which people chose to use social media platforms to cope or document these major life transitions.
- Kate Cammell, UMSI News