University of Michigan School of Information
Ackerman: Can HCI help build a democratic internet?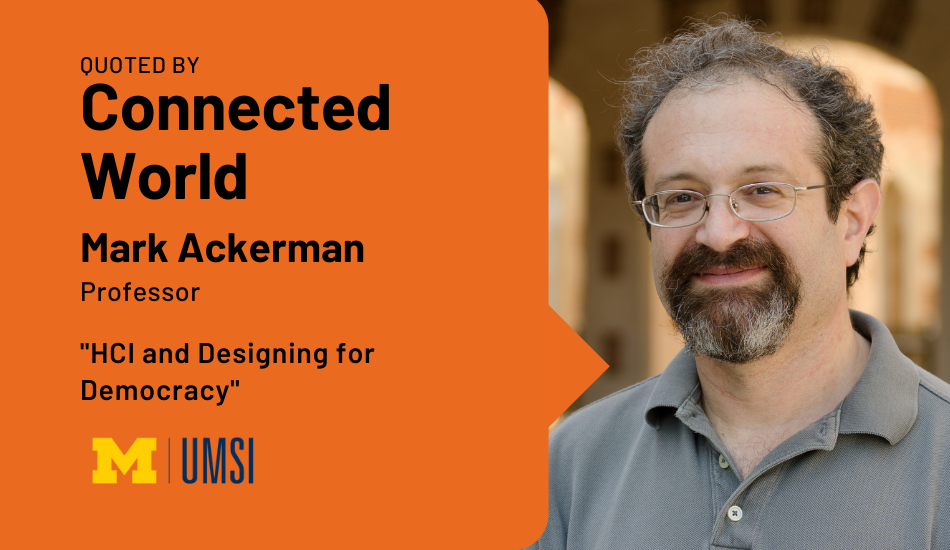 Wednesday, 04/13/2022
The ubiquitous availability of the internet has the promise of connecting people to their communities and across borders. It has the power to create social change, but it can also be used for darker motivations like upending the balance of power and stifling the free exchange of ideas. 
In a new article in Connected World, a media outlet that explores digital innovations, researchers weigh in on the possibility of creating a democratic internet. How does our current internet foster and hinder democracy?
Professor Mark Ackerman, an expert in human computer interaction (HCI) at the University of Michigan School of Information, provides insight on the internet's ability to both bring people together and sow disinformation. 
"The internet can bring more information to people, make them better citizens, and allow people to exchange ideas," says Ackerman. "It can also sow dissention, give people misinformation, allow people to engage in vitriolic debates, and create what appear to be information bubbles."
Ackerman adds that human-computer interaction (HCI) could be used in iterative ways, improving things as time goes on. "The solution may be to consider socio-technical solutions to these problems," he says. "How might a democratic society be able to use regulation to correct flaws without straight-jacketing innovation—that's an important question as we move forward."
Mark Ackerman is the George Herbert Mead Collegiate Professor of Human-Computer Interaction, Professor of Information, School of Information, Professor of Electrical Engineering and Computer Science, College of Engineering and Professor of Learning Health Sciences, Medical School at the University of Michigan.
Read more about "HCI and Designing for Democracy" at ConnectWorld.com.
Learn more about Professor Mark Ackerman.
People featured in this story
George Herbert Mead Collegiate Professor of Human-Computer Interaction, Professor of Information, School of Information, Professor of Electrical Engineering and Computer Science, College of Engineering and Professor of Learning Health Sciences, Medical School