University of Michigan School of Information
Allen Flynn mixes information and pharmacy expertise to create a fitting prescription for MHI Director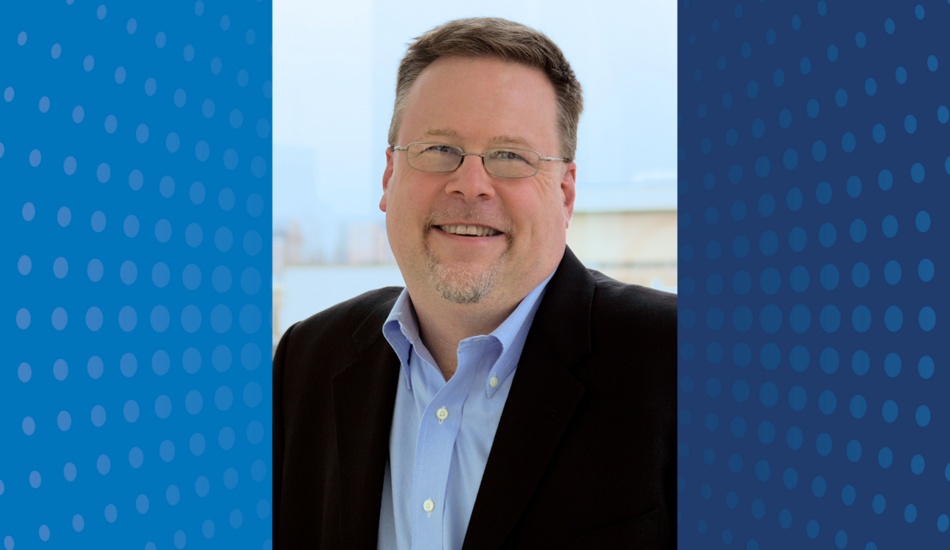 Wednesday, 02/23/2022
Mix pharmacy practice expertise with information science and you get a fitting formula for the new Director of the Masters of Health Informatics program at the University of Michigan.
Allen Flynn has a PharmD from U-M College of Pharmacy and a PhD from the School of Information (UMSI). His research covers multiple areas in the health informatics field, including medication prescription analytics, as well as the management of health IT systems as a whole. He began his term as director on January 1, 2022. 
The Master of Health Informatics degree is a two-year, multidisciplinary program that prepares professionals to work at the intersection of consumer health and wellness, clinical care, information technology and data analytics. It is a highly collaborative program offered by UMSI, the School of Public Health, and the Medical School.
U-M's consumer-health oriented MHI program, one of the first of its kind in the United States, has been highly successful in preparing students for careers in healthcare, consulting, technology and beyond. 
Such an interdisciplinary program requires someone who understands health research, but also has a deep knowledge of how technology and information can be leveraged to improve health outcomes. Allen Flynn, with his unique academic and practice experience, is an ideal fit.
A mix of pharmacy and computer science
Flynn's interest in the pharmaceutical sciences and pharmacy practice is a family trait. His father Gordon Flynn, was a research pharmacist who worked first in industry before teaching at the College of Pharmacy at U-M. Rather than follow his father's path straight away, Flynn tested the academic waters in various STEM fields, including natural resources and computer science. 
After a start at U-M's School of Natural Resources followed by a couple of years at Washtenaw Community College and Eastern Michigan University, Flynn decided to apply to the U-M College of Pharmacy, where he graduated in 1993. He and his father overlapped at times, and while that could spell problems for some families, the Flynns managed it well. 
"He and I have a very good relationship— it was not a personal problem," says Allen Flynn. But it did create some work for the elder Flynn, including making sure he had an outside grader review Allen's work. "He's very meticulous; he dotted all the i's and crossed all the t's," says the younger Flynn, adding that as a pharmacy student he worked hard to avoid getting a C or lower grade on his father's exam to avoid creating everlasting family lore at his expense. 
 While pharmacy was always in the picture, it was not Flynn's only career interest. He has a deep appreciation for computer science that started when he was a teen. He took an advanced placement computer science class in high school, and various classes in his pre-pharmacy college days. 
"I came into pharmacy school knowing that I wanted to somehow meld pharmacy and what at the time would have been called computerization," Flynn says, adding that the field would later be called informatics. He just had to wait a few more years for his interests to become a bit more mainstream.
After graduating from pharmacy school, Flynn couldn't shake his interest in computer science. He ended up taking a job in Ann Arbor where he worked on internet networking infrastructure. 
"I was at a computer terminal, and I was troubleshooting technical equipment," he recalls. "I was surrounded by engineers and learned that engineers tend to think differently about how to solve problems than most pharmacists do." 
Flynn says the experience was "extraordinary" and allowed him to see infrastructure and work closely with engineers– something very few pharmacists would ever get to experience. 
After a few years, Flynn decided to return to pharmacy practice. Through his contacts at U-M, he heard about a job at St. Joseph Mercy Health System. "It just so happened that they were looking for a pharmacist who could work with IT systems." He spent a year brushing up on his pharmacy training, passed his competency tests, and was hired for the position.
Over the next few years, Flynn worked for St. Joseph's and U-M hospitals, working both as a pharmacist and also an IT expert. He eventually became a manager, where he and his colleagues worked to improve U-M Hospital's electronic records. 
When a change in hospital software was looming, Flynn revisited his interests in health informatics. He decided that was the time to pursue his dream of developing more advanced medication use systems, and he was accepted into the doctoral program for information science at UMSI. Flynn graduated in 2018, and has been an assistant professor in the Department of Learning Health Sciences at Michigan Medical School.
Improving Health Outcomes
Flynn describes his research interests as a focus on medication use information. "I work on how we can make better use of the knowledge and information that we have about medications," he says. "The fact is that, systematically, we don't do a great job in the U.S. with organizing and applying available medication information. There are many avoidable mistakes that get made." 
From patients using multiple pharmacies, to suboptimal drug therapies, to antibiotic resistance, to misunderstanding the dangers of opioids Flynn notes the problems with medications are broad, but that "a lot of our challenges are information-related."
He explains the challenges are a product of real world limits on time and energy of the healthcare system. "Well-meaning, well-trained people are trying to help other people in need, but when you get 15 minutes with your primary care provider, multiple complex issues cannot be fully vetted and addressed in such a short amount of time."
And it's not just short office visits that can hamper optimal health care. Flynn says that patient information in healthcare is very fragmented. "You go to different places, they collect data about you, and they may keep it to themselves," says Flynn. "It becomes very difficult to see the whole picture of one person's health and wellness journey – almost impossible."
Countries with nationalized health care systems sometimes do better at minimizing health data fragmentation, but the United States struggles to overcome this problem. While creating better centralized medication records is technically possible, Flynn says there are critical issues of policy, privacy and public buy-in that remain to be solved. 
"If that sounds to you like the major themes addressed by the School of Information — themes of people, process and technology — it is," he says. 
Leading in Health Informatics 
Before becoming the director of MHI, Flynn taught an introduction to health informatics course that is a program requirement. Along the way, he has seen a wide array of students, including those with a clinical background and those who come to the program from other disciplines. 
"Some other informatics programs around the country are primarily intended for clinicians," he explains, adding that the MHI program does a great job of shaping students for a career in the health and information domain. 
"When you get into health informatics, there's a lot of ground to cover," he says. "One of the big challenges is for students to get a comprehensive overview, to see the field for what it is today, and to appreciate how it's changing."
Flynn wants students to look at consumer wellness and healthcare and identify areas where practices might be antiquated or slow— then come up with ways to improve how health and wellness systems function and eliminate waste. He points to his own labor of love, a website called rxology.org, where he discusses issues in medication prescription review.
"I'm super positive about the program and what we're doing here," says Flynn, adding that he is delighted and honored to take the reins as director of the MHI program. 
When I look back and see all the students I worked with and met as a graduate student, instructor, and then as faculty, and I started seeing what careers they are having — it's quite extraordinary," Flynn says, adding that graduates are going out into the world doing amazing and important work. 
"I'm super proud looking at that record, and just having a tiny hand in making that happen," he says. "It's a great thing."

— Sarah Derouin, UMSI public relations specialist
Topics
People featured in this story
Assistant Professor of Learning Health Sciences, Medical School and Clinical Assistant Professor of Information, School of Information