University of Michigan School of Information
Amna Batool earns Global Islamic Studies Center Graduate Student Fellowship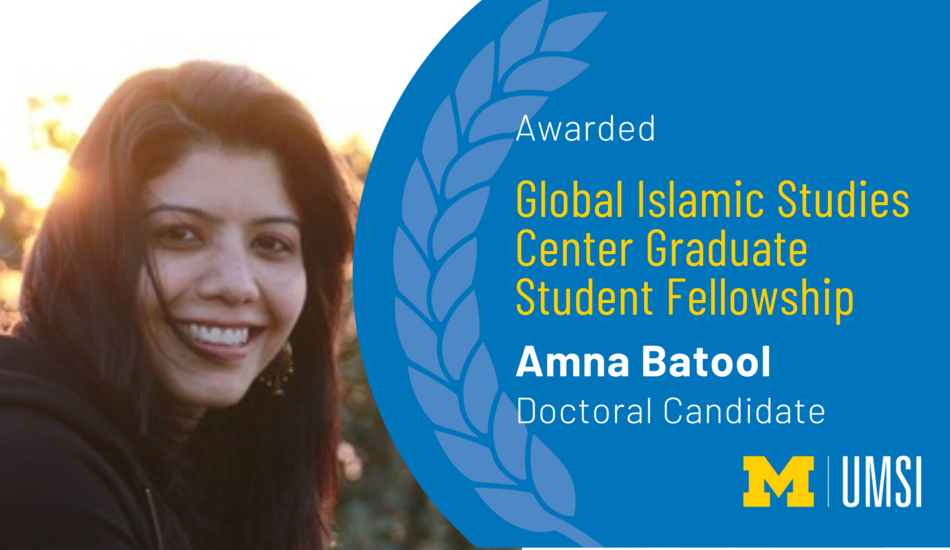 Tuesday, 06/06/2023
University of Michigan School of Information PhD candidate Amna Batool has earned a 2023 graduate student fellowship from the Global Islamic Studies Center at U-M. 
Batool's research is focused on protecting women's privacy on social media in South Asian communities. Her goal is to research and find solutions to online harassment that can sometimes lead to domestic violence, and in extreme cases, honor killings. 
Batool's interest in this field began while she was working with Google's Next Billion User Initiative Team and researching the gender gap in technology in South Asia. Batool and her team discovered one issue holding women back from engaging with technology is online harassment. 
"It is crucial to emphasize the repercussions of utilizing designs that predominantly cater to the Western world while neglecting the cultural sensitivities and unique challenges faced by conservative, religious and honor-driven communities like ours," she says. "So, I made the decision to dive into this problem as the main focus of my research." 
Batool is currently in Pakistan conducting field research for her dissertation. Her goals are twofold: Work with on-the-ground organizations actively addressing this issue and research culturally-sensitive technologies that empower women to dismantle the mechanisms of threat and power employed by abusers.
"One approach is to simplify the process of identifying and removing any pictures uploaded by perpetrators on social media platforms without the victim's consent," Batool says. "Providing intuitive and user-friendly tools for this purpose, like the STOPNCII platform, can be effective. However, it's important to acknowledge that victims' limited literacy, traumatic circumstances, and lack of awareness may hinder their utilization of resources like this."
The Global Islamic Studies Center graduate student fellowship supports students pursuing research topics in Islam and Muslim communities. Funds can be used for travel and research activities. 
Batool's research advisor is professor Kentaro Toyama. She is expected to graduate next April. 
RELATED
Read more about Batool's research and background by visiting her UMSI profile. 
People featured in this story