University of Michigan School of Information
Andalibi: Online communities help pregnant people with questions, but more inclusivity is needed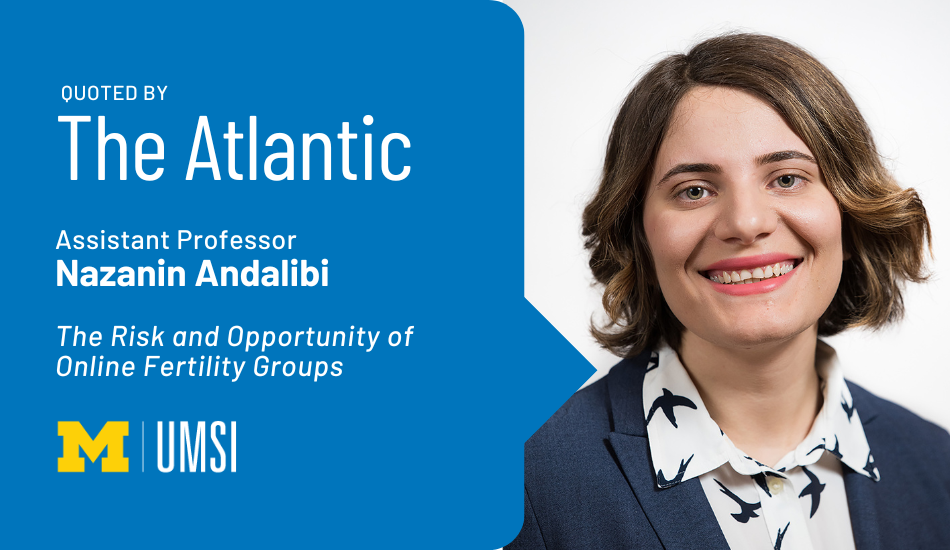 Tuesday, 08/09/2022
Assistant professor Nazanin Andalibi tells The Atlantic that online groups can be a good way for people who have been historically ignored by medical professionals to compare notes. It can be especially helpful for people who are newly pregnant. 
"I've also seen the example where people wouldn't really know how to advocate for themselves in these settings," Andalibi told me. "Especially first-time pregnant people, not knowing what to ask even, or what they should even be looking for … So these spaces then— in addition to the emotional support — end up providing very crucial information."
However, these groups can also feel exclusionary to some. "The kinds of Facebook groups dedicated to experiences of pregnancy-loss support, they tend to be very heteronormative and cisnormative," Andalibi says. 
In these groups, she adds that an LGBTQ person might have to "sometimes even defend the choice to want to be a parent."
RELATED:
Read "The Risk and Opportunity of Online Fertility Groups" on theatlantic.com.
Learn more about assistant professor Nazanin Andalibi, including her research on LGBTQ persons' use of online spaces for pregnancy and pregnancy loss.
People featured in this story
Assistant Professor of Information, School of Information and Assistant Professor of Digital Studies Institute, College of Literature, Science, and the Arts