University of Michigan School of Information
Bradley Thompson on earning Master of Applied Data Science at 60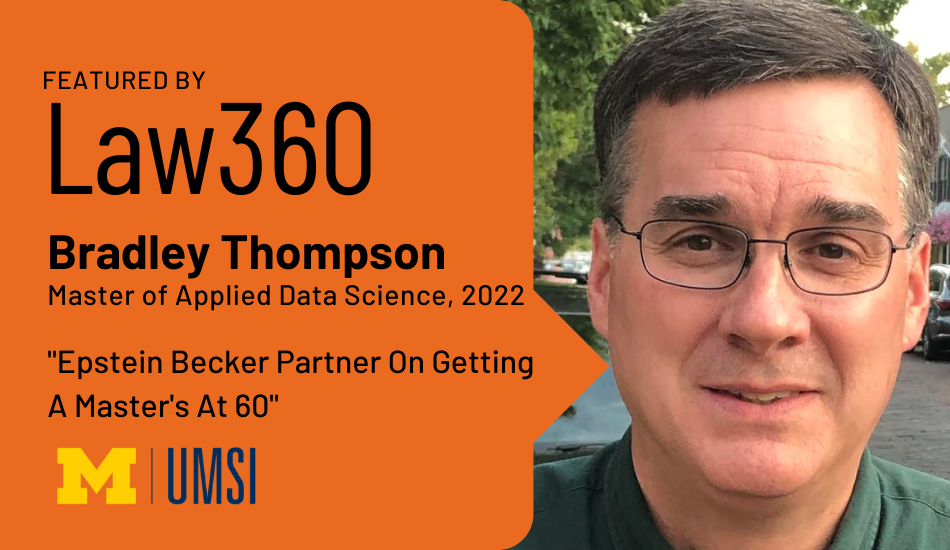 Friday, 06/10/2022
Bradley Thompson is a member of Epstein Becker Green law firm, where he leads an initiative to serve the legal needs of clients that develop or use artificial intelligence (AI) tools. When he wanted to strengthen his understanding of machine learning algorithms, he enrolled in the University of Michigan School of Information's fully online Master of Applied Data Science (MADS) program. 
As part of that curriculum, Thompson studied foundational elements of AI including math, statistics and the Python programming language. 
Thompson finished the MADS program in February 2022 and graduated with a 4.0 GPA, having successfully balanced data science coursework with his law practice since enrolling in 2019. Law360 (subscription required) interviewed him about his experience earning his degree online as an established lawyer and grandparent. 
Read an excerpt, "Bradley Merrill Thompson Featured in 'Epstein Becker Partner on Getting a Master's at 60,'" at ebglaw.com.
RELATED:
Learn more about Bradley Thompson in his Faces of UMSI profile.