University of Michigan School of Information
BSI expo showcases first class projects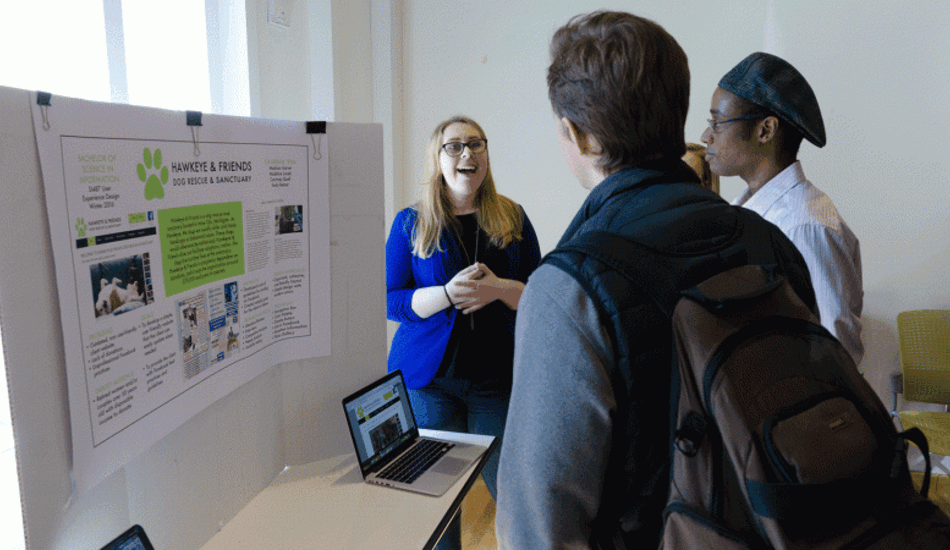 Thursday, 04/14/2016
Fifteen student teams showed off work in user experience and information analytics at the first BSI Project Exposition on Wednesday, April 13, 2016.
The work was done as part of BSI final project courses SI 485 (Information Analytics) and SI 487 (User Experience), taught by professors Kevyn Collins-Thompson and Mark Ackerman.
Senior Madison Garver (in above photo, left) worked on Hawkeye and Friends for SI 487. Her group helped the owner of a dog sanctuary, Hawkeye and Friends Dog Rescue and Sanctuary, by creating a social media plan and revamping his website for better user experience.
After studying everything from design to human-computer interaction to social elements, she said, "we were kind of able to take everything we learned and put it together."
For SI 485, Cassidy Cohen worked with her group to improve ART 2.0, a tool created by the Office of Digital Education and Innovation to visualize data on U-M courses.
"Every year after each semester, students complete course evaluations, and there's a lot of data that's generated," Cohen explained.
The team's goal was to make this data more usable for students and instructors by extracting adjectives on six aspects of a course and using them to create word clouds. "The size of the word is linked to the frequency of the word appearing in the comments," while the color indicated whether the adjectives were positive or negative, team member Ellery Faller said.
The students presenting at the BSI Expo are members of the program's first class, something UMSI interim dean Thomas Finholt noted.
"It's not often at U-M that you can be the first of anything, but you truly are the first generation of BSIs," he told them.
- UMSI News Service