University of Michigan School of Information
Can online grocery delivery services address 'food deserts'?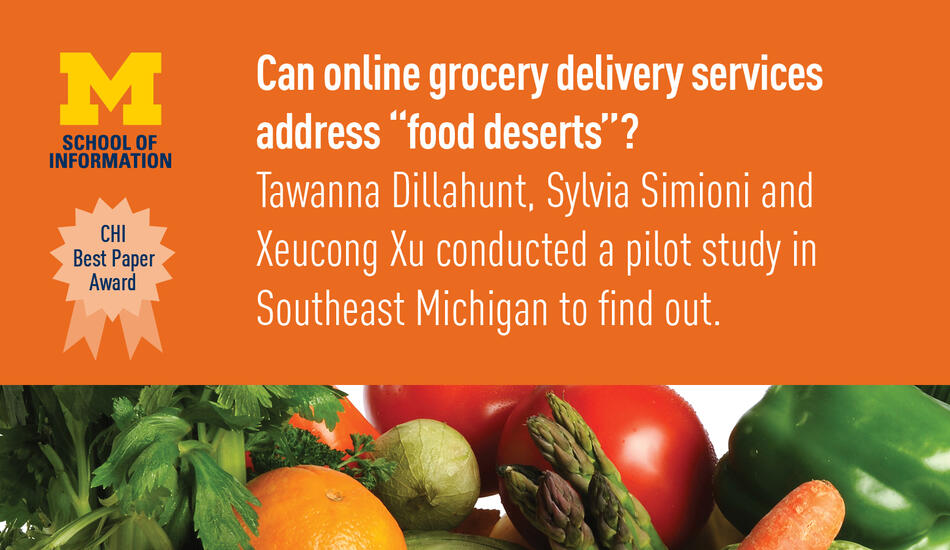 Monday, 04/15/2019
For families in transportation-scarce and often low-income areas, there are usually many barriers to fresh, healthy food.  In these areas, known as food deserts, grocery stores and farmers' markets are more than a mile away, and residents often do not have transportation to reach them.
Instead, many rely on what they can get within walking distance or a short bus ride. Dollar stores outnumber grocery stores in many of these communities. The food they sell is rarely nutritious. 
"Looking at previous research, we see high rates of obesity in food deserts because people do not have access to healthy food," says Tawanna Dillahunt, assistant professor of information at the University of Michigan School of Information.
What if the solution is as simple as using an online grocery delivery service?
The first question Dillahunt and her research team wanted to answer is: Are online grocery store delivery services a feasible option for people in areas that suffer from having few transportation options? 
"The second, equally important question is whether having access to healthier food would lead to healthier food choices," says Dillahunt.
The answers? "Possibly ..."
The study
The team, which included Sylvia Simioni, currently a first-year Ph.D. student at UMSI, and Xeucong Xu, a graduating senior in LSA,  conducted a small-scale, one-month pilot study of twenty shoppers in low-income areas in southeastern Michigan using Shipt, a service connected with Target and regional grocery store Meijer. 
Ten participants agreed to use the delivery service for a month. The remaining ten participants turned over their last month's worth of grocery receipts to compare food purchases with the orders from the Shipt participants. 
Dillahunt says they immediately faced issues with methods of payment. 
Several people in the study use Supplemental Nutrition Assistance Program (SNAP) benefits and Electronic Benefits Transfer (EBT) payments. Most online grocery stores do not accept these types of payments. Some participants also did not have access to credit cards, which were required to set up the accounts. 
"As researchers, there are a lot of things we have to take into account for populations who don't have access to resources," explains Dillahunt. "In this case, we onboarded the participants who used the Shipt service, creating profiles for them and using our credit card to connect them to the service and start them with a purchase balance."
Results
In interviews, users in the grocery delivery service group reported being happy with the experience and said they would be interested in continuing to use the service, citing convenience, service reliability and quality. 
Some noted that prices seemed higher online, which might dissuade them from using the service in the future.
Study limitations prevented the researchers from conducting a statistical comparison of their results; however, descriptive statistics suggest that those in the Shipt group purchased  a higher percentage of healthier foods than non-healthy foods; non-Shipt participants purchased more unhealthy items than healthy.  
"This was a surprise from the study," says Dillahunt. "We can't be sure if this was a function of having healthier food accessible, or if people are more selective when purchasing online. It's possible that this type of shopping removes impulsive shopping habits, especially for those with children, and people are less likely to buy sweet cereals, for instance."
More research in this area is needed, Dillahunt says, especially as this study was limited in scope. But even with its size limitations, this study was able to show that an affordable grocery delivery model could serve as a solution for improving access to healthy foods in low-resource communities, presuming accommodations could be made to accept payments other than credit cards.
"I've been talking to some community partners about how we could use and improve this model," says Dillahunt. "One idea is to have non-profits serve as a hub to provide access to these delivery services. What if a community center could aggregate orders, have the groceries delivered to a central neighborhood spot, and accept cash payments from community members?"
"Online Grocery Delivery Services: An Opportunity to Address Food Disparities in Transportation-scarce Areas" received a Best Paper award at the ACM CHI 2019 conference.
Best Paper awards go to the top one percent of accepted papers at CHI, the top international conference on Human-Computer Interaction. The authors will present their paper on Monday, May 6, at 4 pm at the 2019 CHI conference in Glasgow, Scotland.
- Jessica Webster, UMSI PR Specialist
People featured in this story
Associate Professor of Information, School of Information and Associate Professor of Electrical Engineering and Computer Science, College of Engineering