University of Michigan School of Information
Design Clinic teams present projects, win cash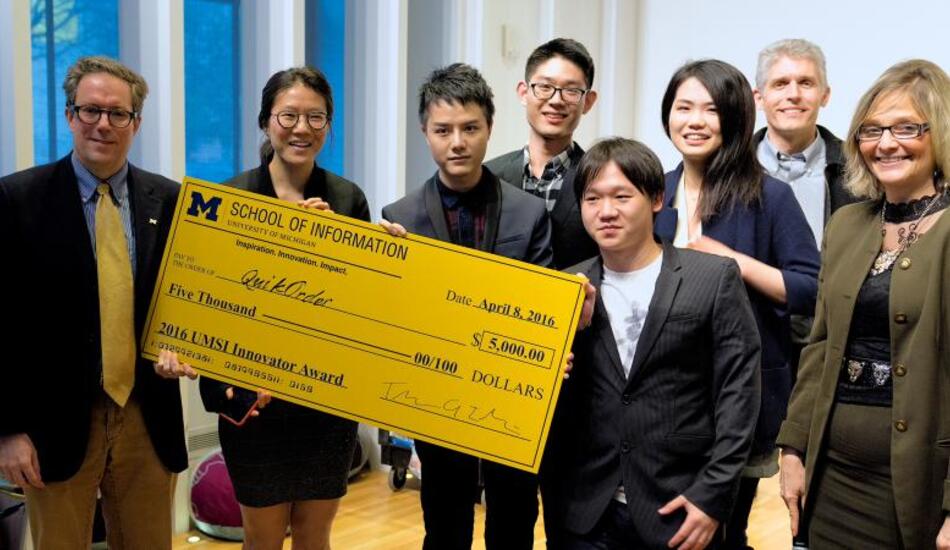 Tuesday, 04/12/2016
Five students worked together to revamp an online ordering system, winning the $5000 grand prize for their project at the University of Michigan Design Clinic final presentations in April.
The UMSI Design Clinic, which opened in 2015, pairs teams of graduate and undergraduate students with outside clients, providing consultation services on user interface and interaction design, usability testing, website architecture, content development, social media marketing, customer discovery and user research. Clients, which include businesses and other organizations, are then free to implement student recommendations.
Eleven teams from Design Clinic's fall and winter semesters took part in this year's presentations. Judges heard five-minute presentations and questioned teams to determine the winners. The judges were Andrea Barbarin, attorney and UMSI PhD candidate; Dr. Joyce Lee, physician, designer and associate professor at the U-M Medical School; Scott Showalter, user interface designer; and Danny Wu, UMSI PhD candidate and software engineer.
The winning team worked with their client, Quik Order, which creates ordering systems for businesses including Pizza Hut. Team members created an interaction map to track inefficient user flows, compared the system with other platforms, conducted user research and created paper prototypes and wireframes to help the company improve its product. 
Second place and $1000 went to the Computer Science Experts Group (CSEG) team, which conducted research to design from scratch a user interface for a simulation software tool that helps automotive engineers meet fuel standards.
Two teams, Origin and Smart Pills, tied for third place, winning $500 each.
The prizes were funded by a gift from UMSI alumnus Jerry Miller (AMLS '86, PhD '95), who wanted to recognize students for innovative thinking and problem solving.
Students said they enjoyed both the opportunity to apply classroom learning and the friendships and professional collaboration that grew from the projects. 
"The Design Clinic has supported us students in leading largely self-directed client projects, providing us with the opportunities to express professional autonomy and creative freedom all within a safe, collaborative environment," Quik Order team member Isabel Gao said. "It has been exceedingly rewarding to be able to put the skills we learn in the classroom into practice through full design cycles, converging and making sense of the sometimes fragmented nature of classroom learning."
A full list of teams and projects follows:
BeloDoc – Nicole Ulgado, Kaipeng Yu, Yueran Zhao
BeloDoc is an online skincare company offering personalized treatment plans and connecting users with board-certified dermatologists. The team created a hi-fi mockup of web and mobile apps, gathered data for usability tests, worked on creating a better user experience and conducted focus groups.
CSEG – Computer Science Experts Group – Sheetanshu Bhardwaj, Joy Yen-Chun Lin, Adrienne Royce, Marisa Xheka, Madalyn Purcell
CSEG provides engineering services consulting for the automobile industry. The team consulted on the user interface design for simulator software created by engineers to assist original equipment manufacturers in meeting fuel standards.
DEI Entrepreneurship Greenhouse – Anay Somvanshi, Chaitrali Gharat, Kanchi Bhawalkar, Swarnima Deshmukh
This team worked with a group of professors who wanted to create a library of FAQ videos to address questions from students who frequently approached them with ideas for startups. Members conducted eresearch and created low-fi and hi-fi prototypes.
FansRave – Brittany Hutson, Michelle Jackson, Betty Ku, Sheng-Yuan Liang
The design clinician worked on a subcomponent of an e-marketing tool their client provides that updates users on deals at restaurants. The team has worked to understand users and restaurants and what they want in order to improve the component, making it more noticeable and user-friendly.
My Fab 5 – Brandon Wong, Madeleine Chone, Rahul Sawn, Varun Joshi
My Fab 5 is a platform that helps people discover and recommend the best restaurants in any city. It hopes to expand into a platform that brings together influencers, businesses and enthusiasts, and the team conducted research and created sketches, prototypes and full-page designs for this next step.
Origin - Jeff Zhang, Madeleine Chone, Brandon Wong
Team members worked to transform a social deduction game created by a local indie game studio from a web-based platform to a fully mobile one.
Pix Up - Shuang Liang, Joy Yen-Chun Lin, Chaitrali Gharat, Colin Chen, Mu-Tsz Chen
Pix Up is a startup creating a peer-to-peer delivery service. The team designed a mobile app to connect drivers with residents and businesses that need delivery service.
Quik Order – Isabel Gao, Yidi Hong, Yi Yang, Shizhong Hu, Fernando Wang
Quik Order creates internet ordering systems for businesses, including Pizza Hut. Team members created and interaction map to track inefficient user flows, compared the system with other platforms, conducted user research and created paper prototypes and wireframes to help the company improve its product.
SmartPills – MacKenzie DeWitt, Wan-Ting Lin, Ella Qiongyu Meng, Dune Nguyen 
SmartPills is a startup that wants to design a mobile app that uses bluetooth to connect with pill boxes to help high-functioning brain injury patients remember to take their medicine, giving them increased independence. Students conducted interviews and user testing and created hi-fi mockups through design iteration.
UniVenture – Bing-Hsun Wu, Diyu Xiao, Molly Knight, Vishnu Kumaar Mahendran
UniVenture is a social networking sites that connects hopeful entrepreneurs with potential co-founders possessing needed skills. The team created a recommended roadmap for UniVenture by conducting research and creating a mock-ups of the website.
Xplor – Jaee Apte, Akshay Potnis, Namita Nisal, Varun Joshi
Xplor is an app providing democratic and collaborative group travel planning. The clinicians have worked to make it more interactive and improve its look, including creating a paper mockup and wireframe design.
- UMSI News Service