University of Michigan School of Information
Elle O'Brien awarded Sloan Foundation grant for machine learning research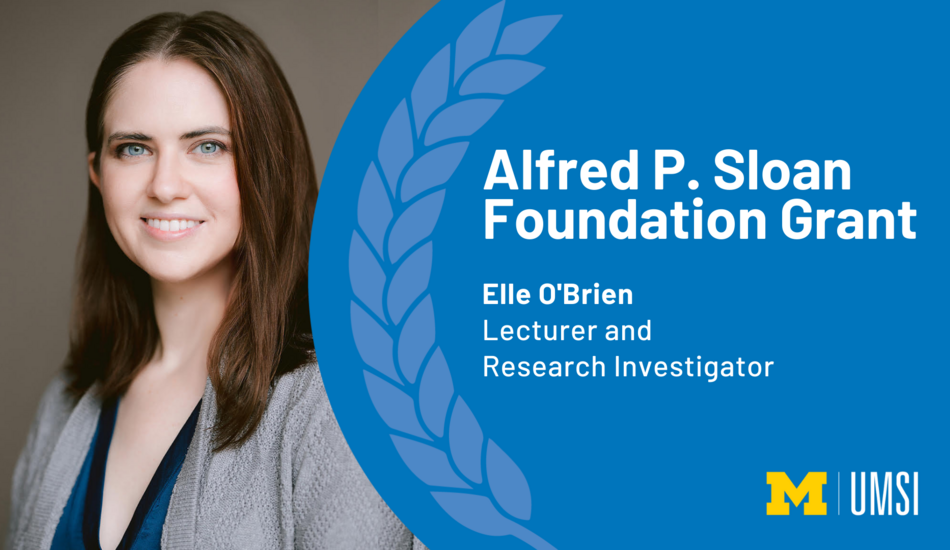 Thursday, 03/17/2022
University of Michigan School of Information lecturer and research investigator Elle O'Brien was awarded a grant from Alfred P. Sloan Foundation for her research "Understanding Barriers to Machine Learning for Scientific Discovery."
Machine learning technology can allow scientists to sift through huge datasets to identify potentially important patterns, from cultural trends in social media to diagnostic signals in medical imaging. "Almost any domain of scientific research can take advantage of these methods and there's a lot of excitement about the possibilities," says O'Brien. 
Despite the advantages of machine learning, there are many challenges to implementing the technology, says O'Brien. "​​I'd like to know how and why researchers become interested in adopting machine learning, what sort of training they're getting, and what they find most difficult," she says. 
The Sloan Foundation is a not-for-profit, mission-driven grantmaking institution dedicated to  improving the welfare of all through the advancement of scientific knowledge. The Foundation makes grants in four broad areas: direct support of research in science, technology,  engineering, mathematics, and economics; initiatives to increase the quality, equity, diversity, and  inclusiveness of scientific institutions and the science workforce; projects to develop or leverage technology  to empower research; and efforts to enhance and deepen public engagement with science and scientists. 
The grant has offset some of O'Brien's responsibilities, allowing her to get her research up and running. The award also allowed her to hire an "excellent research assistant to support the project."
O'Brien says she hopes this research will help inform scientists about better training opportunities, technologies, funding mechanisms, and principles for scientific project management. "It's also a cool case study in how a relatively new scientific method gets integrated into existing research," she adds.
"It is so validating to have your idea funded," she says, adding that the grant also allows her to expand her research into new avenues of data science. "I'm also thrilled to get paid to listen to scientists around the university talk about their research — that's about as cool as it gets."
This material is based upon work supported by the Alfred P. Sloan Foundation.
—Sarah Derouin, UMSI public relations specialist
People featured in this story
Lecturer III in Information and Research Investigator, School of Information