University of Michigan School of Information
Ellison: Should streaming services be allowed to edit content without explanation to users?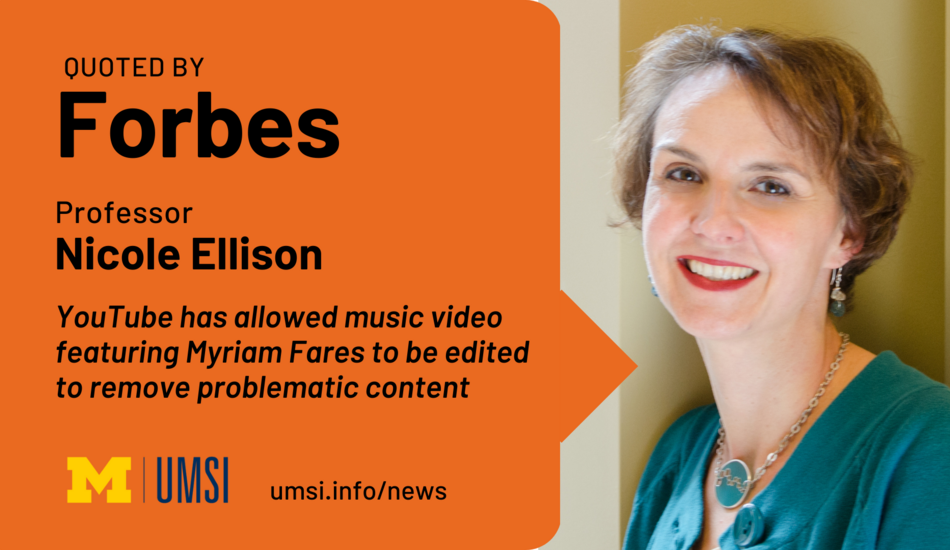 Friday, 03/17/2023
In 2018, a music video by Lebanese singer Myriam Fares created controversy after featuring the artist in blackface. Following months of requests to edit the video by Fares' record company, YouTube finally allowed the music video to be altered to remove the offensive content. 
The problem? YouTube doesn't tell users the content has been edited. 
An article by Forbes discusses the implications of allowing streaming services to edit — and remove — potentially offensive content without explanation to users. 
University of Michigan School of Information professor of information Nicole Ellison says users should be made aware of any edits made to a piece of media to prevent misinformation and confusion. Ellison is an expert in social media and user behavior. 
"If there isn't a public record that changes were made, that could be a problem," Ellison says. "We should be informed that an edit was made, and those changes should be documented and made public. Otherwise, we could see a situation where someone posts something fairly neutral – receives likes and support – and then that content is changed to something that perhaps wouldn't have been met with the same approval."
"This isn't the same as correcting a typo, as the context can change entirely," Ellison warns. "That is why it is important to have a record of the change, and perhaps even have it explained."
RELATED
Read "YouTube Has Allowed Music Video Featuring Myriam Fares To Be Edited To Remove Problematic Content" on Forbes. 
Learn more about Nicole Ellison's research by visiting her UMSI faculty profile.
— Noor Hindi, UMSI public relations specialist
People featured in this story
Karl E Weick Collegiate Professor of Information, Professor of Information, School of Information and Professor of Communication and Media, College of Literature, Science, and the Arts