University of Michigan School of Information
Faculty receive MIDAS grants supporting projects on equity and sustainability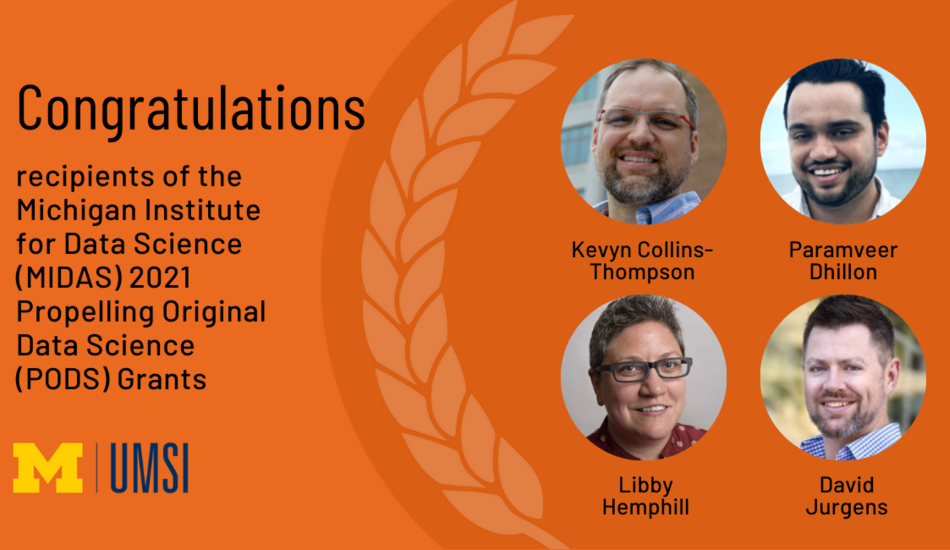 Thursday, 06/03/2021
Four University of Michigan School of Information faculty received competitive 2021 Propelling Original Data Science (PODS) Grants from The Michigan Institute for Data Science (MIDAS).
The grants support interdisciplinary data science and Artificial Intelligence (AI) projects across U-M's Ann Arbor, Flint and Dearborn campuses. The funding strongly encourages work that transforms research domains through data science and AI, improves the reproducibility of research and that promises major impact and potential for significant expansion.
"We are thrilled by the many brilliant research ideas in the large number of submitted proposals and wish that we could fund many more," said MIDAS Director Dr. H. V. Jagadish. "The diverse range of research that MIDAS is able to fund demonstrates the strength of data science and AI research at U-M. These projects will strengthen the data science and AI community at U-M, play a transformative role in a wide range of disciplines, and will have immediate and significant impact on our society."
UMSI Associate Professor of Information Kevyn Collins-Thompson and U-M Chemistry Librarian Yulia Sevryugina received a $69,996 grant for their work Exploring Attention-based Deep Learning Methods for Improving Students' Ability to Engage with Scientific Literature.
Paramveer Dhillon, an assistant professor of information at UMSI, received a $60,000 grant for his project Robust Machine Learning under Distribution Shifts and Shocks: Application to Sustainable Air Quality.
Libby Hemphill, an associate professor of information at UMSI and research associate professor with the Inter-University Consortium for Political and Social Research, Institute for Social Research received $41,215 for her project Ensuring FAIRness in Social Media Archives.
UMSI Assistant Professor David Jurgens along with collaborator Allison Earl, a U-M associate professor of psychology, received $29,628 for their work Measuring Racial Disparity in the Language of Physician-Patient Interactions.

For more information on the PODS grants read the MIDAS press release.
-Kate Cammell, Writer UMSI