University of Michigan School of Information
Hemphill: Can algorithms create healthier digital spaces without stifling online debates?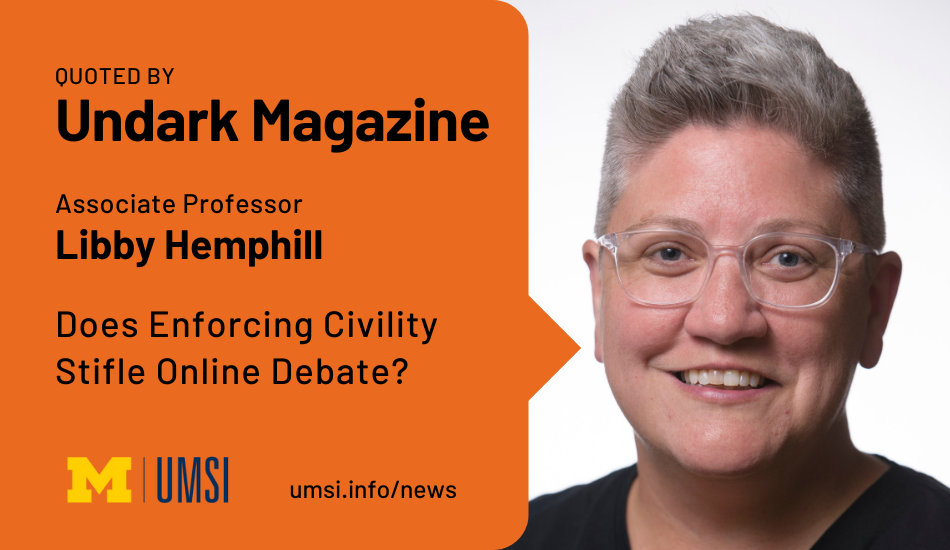 Monday, 08/15/2022
With more Americans expressing concerns about online hate speech, researchers are asking: What does it take to create a healthy, online commons? While users advocate for more civility, Libby Hemphill an expert on social media and hate speech at the University of Michigan School of Information, says over emphasizing civility in online conversations may be missing the point. 
In Undark Magazine, a media outlet that explores science and the intersections of technology, politics and culture, researchers weigh in on hate speech algorithms, the emphasis on "civility" and how to hold tech companies accountable. 
Associate professor of information Libby Hemphill suggests tech companies can balance the importance of robust conversations while limiting hate groups from spreading misinformation and targeted harassment at vulnerable populations. And that means moving beyond civility. 
Hemphill points out that civility policing doesn't work particularly well. "White supremacists evade moderation by avoiding profanity or direct attacks — but use distinctive speech to signal their identity to others in ways that are apparent to humans, if not algorithms." 
Tech companies "can remind people that they have the right to do what they want on their platforms," Hemphill says. "Once they do that, they can start to prioritize social health metrics instead of only eyeballs."
"We need to understand more than just civility to understand the spread of hatred," Hemphill says. 
Hemphill draws from her research as a Belfer Fellow for the Anti-Defamation League (ADL). She wrote a report on white supremacist speech and how it differs from non-extremist speech in online spaces. She also outlines how white supremacists evade moderation and discusses how social media companies can reduce hate speech by deprioritizing profit.  
RELATED:
Learn more about associate professor Libby Hemphill.
Read Hemphill's report "Very Fine People: What Social Media Platforms Miss About White Supremacist Speech."
People featured in this story
Associate Professor of Information, School of Information, Research Associate Professor, Inter-University Consortium for Political and Social Research, Institute for Social Research and Associate Professor of the Digital Studies Institute, College of Literature, Science, and the Arts