University of Michigan School of Information
Hickok: Voices of tech leaders can't be privileged over security of everyday people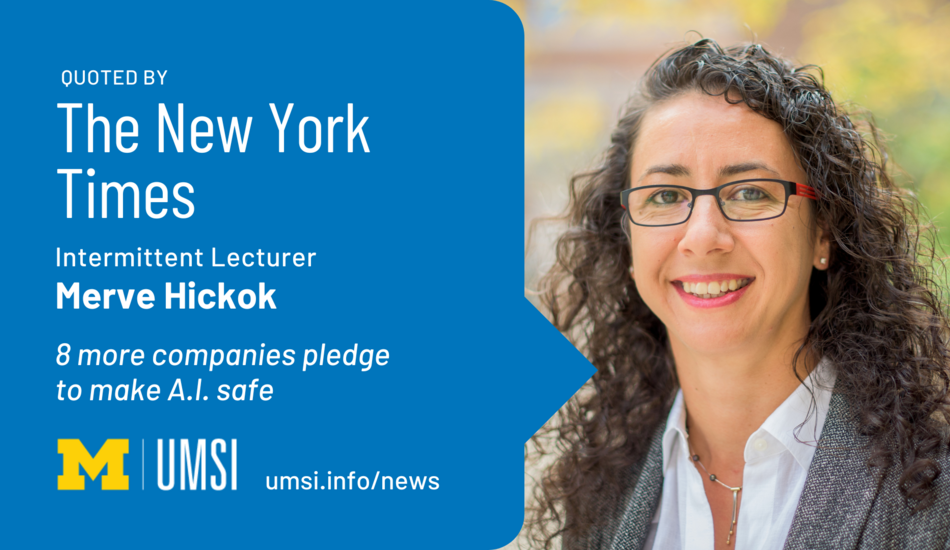 Monday, 09/18/2023
This month, more than a dozen tech companies have signed a pledge with the U.S government  to voluntarily follow standards for safety, security and trust with artificial intelligence technology. Companies like Google, Open AI, Microsoft and Amazon have committed to implementing safety measures. 
University of Michigan School of Information intermittent lecturer Merve Hickok, an expert on AI, bias and regulation, says these voluntary pledges are not enough. Hickok, the president of the Center for AI and Digital Policy, a nonprofit research group, spoke with The New York Times about the increasing power these companies have in influencing policymakers. 
"They have outsized resources and influence policymakers in multiple ways," says Hickok. "Their voices can't be privileged over civil society."
RELATED
Read "8 More Companies Pledge to Make A.I. Safe, White House Says" on The New York Times. 
Learn more about Merve Hickok's research on AI bias and regulation by visiting her UMSI faculty profile. 
— Noor Hindi, UMSI public relations specialist 
People featured in this story
Lecturer I in Information, School of Information