University of Michigan School of Information
Jeopardy is a family affair for UMSI grad Rebecca McNitt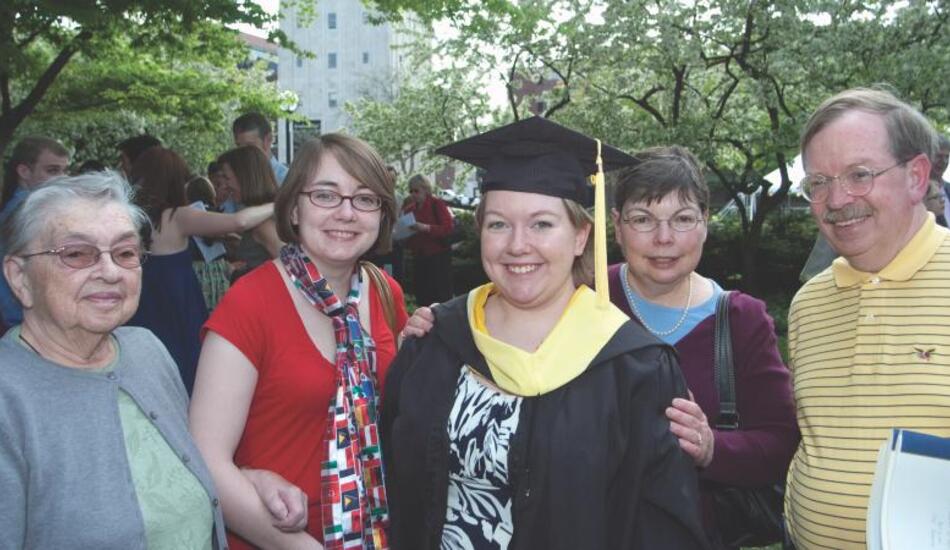 Monday, 04/22/2019
When UMSI grad Rebecca McNitt (MSI '10) stepped behind the podium on the Jeopardy set in Burbank, California in March, she was following in the footsteps of her sister Sarah, who won big on the game show in 2015. 
But the family's love for the show goes back a little further.
"Jeopardy is a tradition in my family," says Rebecca. "Our mother was a big fan of the show, and we would watch it every night when I was growing up. My mom and I would play against each other while we were watching."
Rebecca's mother passed away just two weeks before Sarah's Jeopardy run. 
"My father and I flew out to support Sarah during the taping," remembers Rebecca. "We wanted to be there for her, and we needed to do something that wasn't focused on our grief at the time. I think a lot of our focus on Jeopardy as a family since then has been in memory of Mom."
Jeopardy isn't the only thing the McNitt family has in common. Mother Marilyn (AMLS '76), father William (AMLS '70), and sister Sarah (MSI '05) all have degrees from the University of Michigan School of Information.
Rebecca, who puts her Master of Science in Information degree to work as an archivist for the Michigan conference of the United Methodist Church and a digitization contractor for the Gerald R. Ford Presidential Library, says her degree may have helped prepare her for Jeopardy.
"I think that studying library science to a large degree helped to magnify my general curiosity," she says. "When I hear a topic mentioned and it's something I don't know a lot about, I am always going to look it up. I think SI played a role in preparing me for Jeopardy."
The Jeopardy experience
When Rebecca arrived on set to film her Jeopardy appearance, she was already somewhat familiar with it after watching her sister's five-episode run and subsequent appearance on the Tournament of Champions.
"I was already used to the size of the studio, but it was a little different having the perspective of being onstage,"
says Rebecca. "When you're in the audience, you're seeing all this happening in front of you, but when you're on the stage yourself, suddenly Alex Trebek is talking directly to you, he's shaking your hand. You're learning how to use the buzzer. It's kind of surreal."
Something else Rebecca wasn't expecting: Returning champion James Holzhauer, who has won 12 consecutive games with his unconventional playing strategy and holds the second-highest winnings total in Jeopardy history. 
"We found out about him the morning of the filming," says Rebecca. "When you walk into the room, you have no idea who the returning champion is until one of the coordinators announces him. 'This is our returning champion. He's won 12 games.' Oh, wow. 'And this is how much money he has won.' Oh, wow!"
Rebecca's father and sister flew out to support her during the taping in March, and will be on hand to support her when it airs Monday night (April 22, 2019). 
"I've spent the day baking and cooking to prepare for the viewing party, and to help deal with my nerves," says Rebecca. "It's very surreal to think about the fact that when I watch TV tonight, I am going to be on it."
 - Jessica Webster, UMSI PR Specialist