University of Michigan School of Information
New collaboration translates HCI research into public policy actions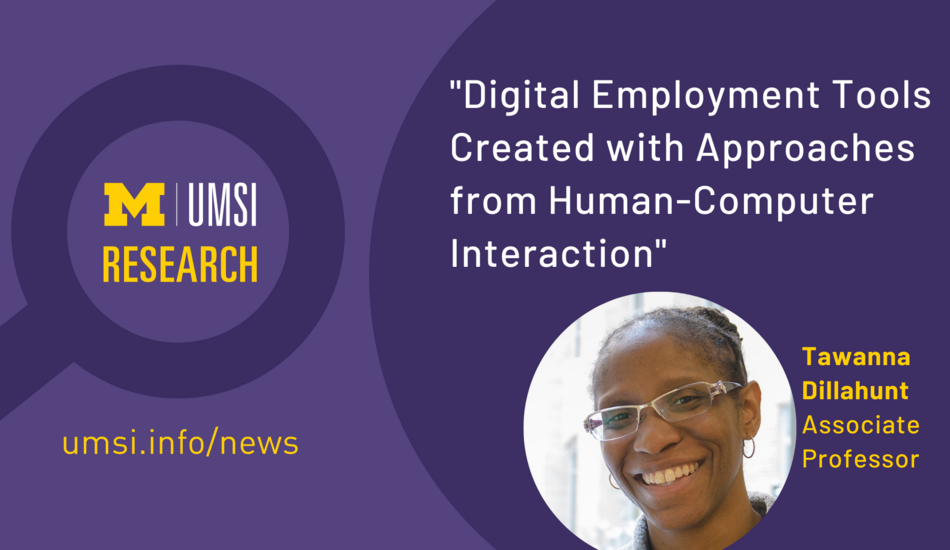 Tuesday, 03/29/2022
Digital employment tools and technology are embedded in the fabric of the modern labor market but often fail to meet the needs of historically underserved and marginalized communities.
A new collaboration between University of Michigan School of Information's Tawanna Dillahunt and social policy research firm MEF Associates explores these need gaps and suggests approaches to designing employment tools to make them more accessible for these populations.
MEF Associates and partners created a report and series of briefs and white papers that have been published by the federal Office of Planning, Research, and Evaluation.
A recent brief was led by MEF Associates in collaboration with Dillahunt, an associate professor at UMSI. MEF researchers Marisa Putnam and Asaph Glosser say they asked Dillahunt to collaborate after seeing her expertise in human-computer interaction (HCI) and participatory design research. 
"We identified Human-Computer Interaction as a promising academic discipline that offered new perspectives and approaches to the field of employment and training," says Putnam. "We had a conversation with Dr. Dillahunt to learn more about her research on the design and implementation of digital employment tools for historically excluded groups and we partnered with Dr. Dillahunt to author the brief."
Dillahunt and MEF Associates worked together on a brief focusing on digital employment tools through the "Next Steps for Employment and Training Research project." Their brief was part of a larger study that focused on identifying approaches to employment and training that originated from areas not typically used in current federally-funded programs and efforts. Other papers produced through the project included new ideas for designing effective employment training programs, and trends in the labor market for low-income populations over the next decade.   
"In the briefs, we identify approaches from fields not typically drawn on in employment and training that present opportunities to potentially strengthen the design, delivery, and effectiveness of employment and training programs through research and evaluation," says Putnam. "This approach can spur more interdisciplinary efforts to address income inequality and to increase economic mobility."
Dillahunt,Putnam, and Glosser's brief, "New Directions in Employment and Training Research and Evaluation: Digital Employment Tools Created with Approaches from Human-Computer Interaction," focused on digital employment tools that were created with approaches from HCI. 
"Overall, digital tools inherently rely on internet access, and — that alone can be prohibitive," says Dillahunt. "In addition, many of these tools, as designed, don't provide feedback, tips, or suggestions for job seekers and aren't reflective," says Dillahunt. 
"We focused on barriers experienced by historically underserved and marginalized populations related to digital employment tools. These barriers include access to the Internet and digital literacy, which might exacerbate existing inequities in the labor market."
Dillahunt explains that multiple challenges occur for job seekers during an online application process. For example, when she and her colleagues conducted a longitudinal study of a tool designed to give resume feedback, they found that job seekers faced challenges logging in, in addition to uploading a pdf of their resume. "Some were unsure how to create a pdf, others only had a physical copy of their resume, and once we walked them through creating a digital pdf version, some struggled to attach the file," Dillahunt says. 
"We must make the required infrastructure accessible, as well as offering a helping hand and direct support," says Dillahunt. "People are willing to learn and want to work, and I think my collaboration with Marisa could help inform the necessary policies and design efforts."
The research was sponsored by the Office of Planning, Research, and Evaluation. OPRE supports rigorous research and evaluation of human services programs that fall under the Administration for Children and Families (ACF). 
"Many of ACF's programs have components aimed at supporting employment among low-income populations, and, consequently, OPRE regularly supports numerous evaluations of employment and training programs for low-income populations," explains Putnam.
"This brief helps translate Dr. Dillahunt's theoretical and applied contributions to the HCI field to a new audience – namely policymakers, program administrators, and funders focused on employment and training," says Putnam. 
—Sarah Derouin, UMSI public relations specialist
Read more about the "Employment and Training Research project" supported by OPRE.
Learn more about associate professor Tawanna Dillahunt. 
People featured in this story
Associate Professor of Information, School of Information and Associate Professor of Electrical Engineering and Computer Science, College of Engineering