University of Michigan School of Information
New exhibition uses data visualizations by UMSI students to bring awareness to missing migrants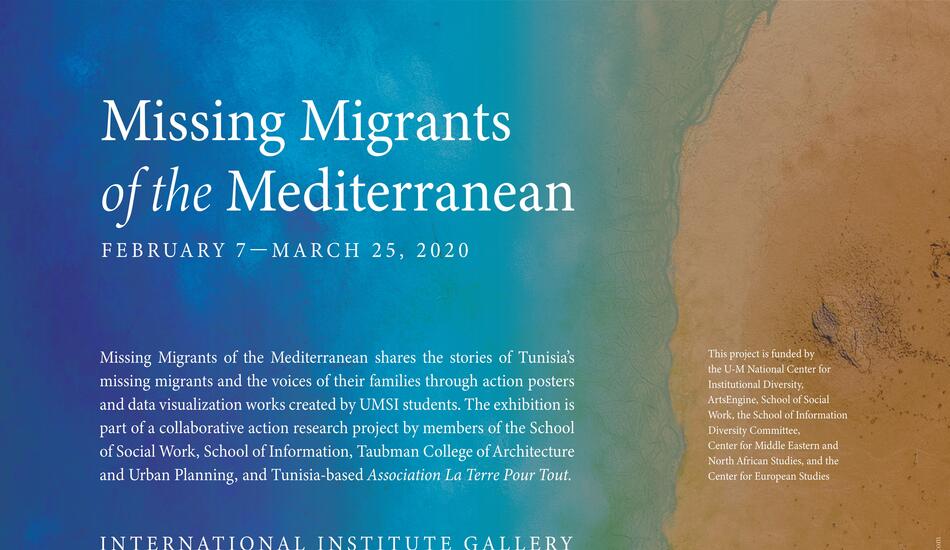 Thursday, 01/30/2020
Two UMSI faculty have collaborated with several partners on a new exhibition that shares stories, hopes, and advocacy of families of 'missing migrants', using graphic documentation and data visualization works created by students at the School of Information.
The exhibition, titled Missing Migrants of the Mediterranean, is presented by The University of Michigan's School of Information, School of Social Work, Taubman College of Urban Planning and Architecture, and the Tunisia-based Association La Terre Pour Tout.
In Fall 2018, students in "Advanced Topics in Visual Communication and Graphic Design," under the instruction of UMSI's Vadim Besprozvany and Elena Godin, narrated these families' stories through a set of posters which begin to raise awareness of this issue. Students continued to explore methods of visual storytelling with somber data from The Missing Migrants project, an initiative which tracks the deaths of migrants, refugees, and asylum-seekers who have gone missing around the world.
In addition to showcasing student work, the exhibition makes use of sound and touch in the hope of eliciting both cognitive and affective apprehension. Its organizers hope that the public, through this glimpse of an unimaginable plight, begins to relate to the yearning of those who simply want to be reunited with their lost loved ones.
The families' images and narratives are courtesy of La Terre, a migrant advocacy organization that works to generate awareness and action about the plight and injustices faced by refugees and migrants.
This project is funded by the U-M National Center for Institutional Diversity, School of Social Work, ArtsEngine, the School of Information Diversity Committee, Center for Middle Eastern and North African Studies, and the Center for European Studies.
The exhibition will be on display February 7, 2020–March 25, 2020 at the International Institute Gallery, Weiser Hall.
-UMSI News Service
People featured in this story
Lecturer IV in Information and Research Investigator, Information, School of Information
Lecturer IV in Information, School of Information