University of Michigan School of Information
Nicole Ellison named editor-in-chief of the Journal of Computer-Mediated Communication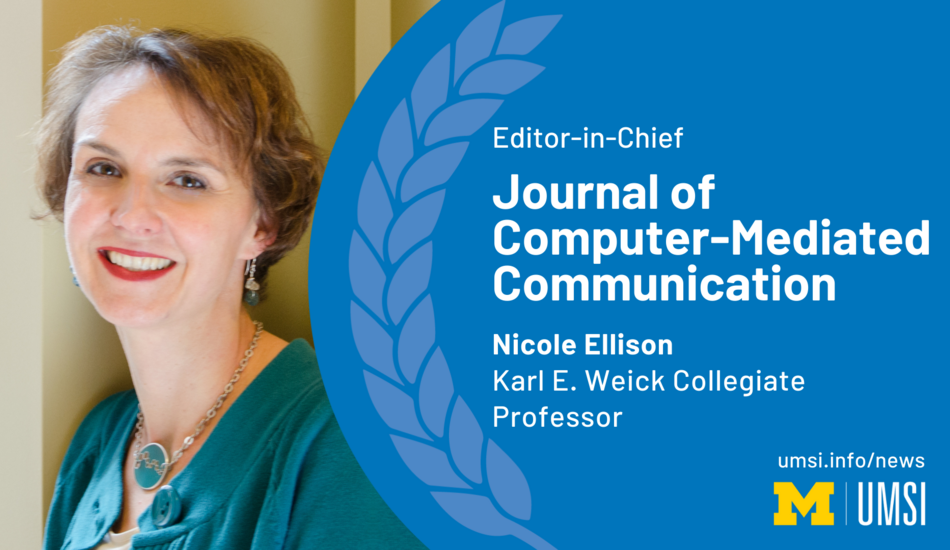 Monday, 04/18/2022
Professor of information, Nicole Ellison, was named the editor-in-chief of the Journal of Computer-Mediated Communication (JCMC). Her position will last for the next four years. 
JCMC is a fully open-access scholarly journal that focuses on social science research that uses computer-based media technologies. The journal is interdisciplinary, covering research on topics in communication, business, education, political science, and sociology, among others. It is highly ranked, with an impact factor of 5.41, and is a fully open access journal with no Article Processing Charges (APCs). 
"The Journal of Computer-Mediated Communication is very special to me, and I am honored to help shape the next generation of CMC scholarship as editor in chief," said Ellison. "In the 15 years since my first JCMC paper, I've remained involved in the journal as an author, reviewer, reader, and associate editor. 
"I'm especially excited to see the scholarship that emerges in the next few years given advancements in the availability of social media trace data, new methodological approaches, and advances in AI and computational extensions to human communication," she said. "I know CMC scholars will see new opportunities for theorizing once we have a chance to reflect on how the pandemic has shifted our relationship with mediated forms of communication."
One of Ellison's goals as editor is to solicit innovative, theoretically rich, interdisciplinary and CMC-focused scholarship. Reflecting on what makes a paper a good fit for the journal, Ellison said, "I believe the canonical JCMC paper is theoretically grounded yet innovative and creative; powered appropriately by diverse datasets, methods, and disciplinary traditions; and expressed in clear and compelling writing." 
"My editorial team and I welcome papers that tap into the mechanisms behind social, psychological, cultural, structural, and other phenomena as they relate to technology," Ellison said. "I'd like to solicit, curate, and publish more high-risk, high-reward papers in addition to the less risky but still critically important work that furthers technology-relevant theory." 
In addition to special issues focusing on the future of work and sensor-mediated communication, Ellison is actively soliciting manuscripts that further JCMC's mission and is committed to timely responses and feedback, but she points out that this has been a challenge for all journals given pandemic-related stressors.  
Nicole Ellison is the Karl E Weick Collegiate Professor of Information at the University of Michigan School of Information. Her research focuses on the fields of computer-mediated communication, social media, and social network sites.
—Sarah Derouin, UMSI public relations specialist
Learn more about JCMC. 
People featured in this story
Karl E Weick Collegiate Professor of Information and Professor of Information, School of Information