University of Michigan School of Information
Paul Conway announces retirement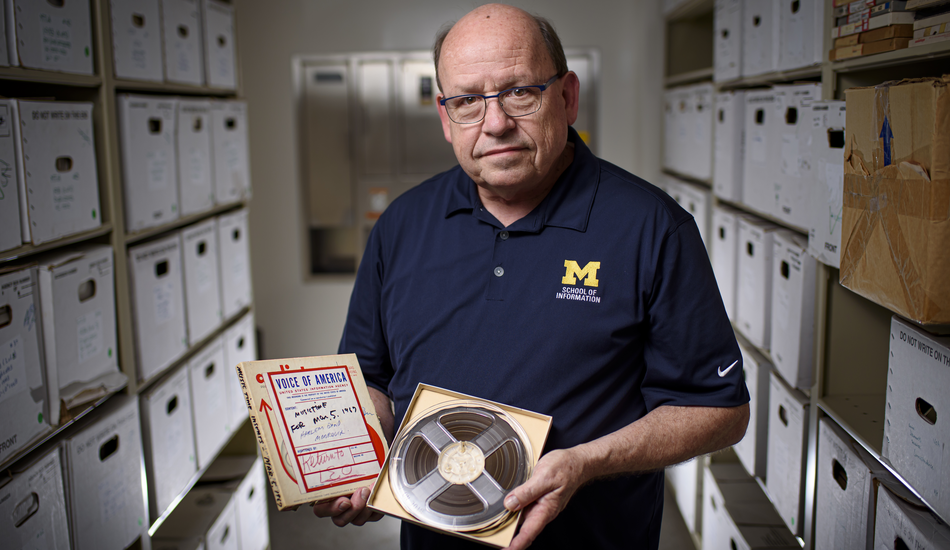 Tuesday, 01/12/2021
After a long and distinguished career as a professor, researcher and archivist, University of Michigan School of Information Associate Professor Paul Conway has announced his retirement, effective January 2021.
Professor Conway is known for his expertise in the preservation of cultural materials, particularly in the area of digitization. He was involved in standards setting activities for digitization best practices, and was one of the first to research their impact on users. His research explored quality assessment of digital surrogates and the prevalence of digitization error in the HathiTrust Digital Library.
More recently, in two funded projects, his scholarship focused on how to best digitize and make audio legacies accessible. In the first, he worked with the longstanding director of Ann Arbor's The Ark music venue to organize, preserve, and digitize live performances recorded over four decades. The second project involved digitizing and making available forty years of  "Music Time in Africa" radio shows created by Leo Sarkisian and broadcast by Voice of America. The Leo and Mary Sarkisian collection at Michigan contains unique and endangered recordings documenting sub-Saharan African musical traditions. The collection amounts to over 10,000 audio reels, LPs and 45 rpm singles, and cassette tapes. In his research, Professor Conway collaborated with Anthropology Professor Kelly Askew and with ethnomusicologists, archivists,  and copyright specialists to ensure that these  invaluable collections of music are described in a culturally appropriate manner and made available in a way that respects the rights of the musicians.
Prior to joining the University of Michigan School of Information (UMSI) faculty in 2006, he was an archivist at the National Archives and Records Administration and a senior administrator for the libraries at Yale and Duke universities.
Growing up in Ohio, Conway was molded by disparate parental influences. His father was a mechanical engineer who taught his five children practical, hands-on skills as the family built houses together. His mother instilled in Paul a love of history, a passion for politics, and the power of writing.
"And so I think my career as a researcher has been driven by wanting to get to the bottom of a problem, not scratch the surface but really, really dig," says Conway. "So, my mom gave me history and my dad gave me the manual dexterity needed to work with all sorts of recording media."
After receiving his BA in History from Indiana University, Conway headed directly to Washington, D.C. to work as a technician at the National Archives after his mother spotted a job listing and encouraged him to apply.
"It had never occurred to me until my mom saw a job where you can actually work with the stuff of history and get paid to do it," laughs Conway. "I never looked back."
Blue through and through.
What many people do not know about him, Conway says, is that "basically my whole career has been connected toAnn Arbor and the U-M campus."
After getting his feet wet in the vaults at the National Archives in the capital, Conway was recruited to Ann Arbor to work at the new Gerald R. Ford Presidential Library and Museum in 1977, where he worked for ten years as an archivist.
He earned his MA in history and administration of archives at U-M in 1980, and went on to work for the Society of American Archivists and the National Archives and Records Administration. Dean Robert Warner lured Conway to enter the PhD program at UMSI as Warner sought to train a new generation of archival scholars.
In hindsight, Conway says, it is easy to see a natural career progression. "But so much of life is about serendipity, being willing to take risks and seize opportunities as they come your way."
"I owe a huge debt of gratitude to Bob Warner for seeing a scholar inside a junior archivist and to Margaret Hedstrom for recognizing how I would fit in as a faculty member at Michigan," says Conway.
A lasting legacy
During his time at UMSI, Professor Conway's research and teaching focused on archival science, the digitization and preservation of cultural heritage resources, and the ethics of new information technologies.
He has published more than 30 peer-reviewed articles and conference papers, and has received more than $2.7 million in grants as a principal or co-principal investigator.
His funded research projects at Michigan have included developing a model of expert user interaction with large collections of digitized photographs, measuring the quality of large-scale digitization, and understanding the complexities of providing access to collections of original live audio recordings. His most cited works have been published in Archival Science, The American Archivist, and Library Quarterly.
Professor Conway used his research projects for engaged learning, and scores of University of Michigan School of Information graduate students have organized, prepared, digitized, and preserved archival materials through classes or co-curricular internships. 
His greatest legacy may be helping to form a generation of preservationists who can approach preservation problems with the same innovative and collaborative spirit that he embodied.
"I've been at this long enough to see some of my students rise to senior management positions in libraries and archives," he says. "It's so rewarding to help students find their professional careers."
Professor Conway and his wife Martha O'Hara Conway, Director of the Special Collections Research Center in Hatcher Library, intend to keep their home base in Ann Arbor, but Conway is eager to travel to see family and ocean beaches again after the pandemic abates.
And since history and archives are in his blood, he intends to keep a few of his favorite projects going, most notably Dig4E Digitization for Everybody, "Music Time in Africa," the Leo and Mary Sarkisian Collection in Special Collections, and The Ark, where he is a regular volunteer.
- Jessica Webster, UMSI PR Specialist