University of Michigan School of Information
PhD student Dan Delmonaco to receive Rackham Public Scholarship Grant award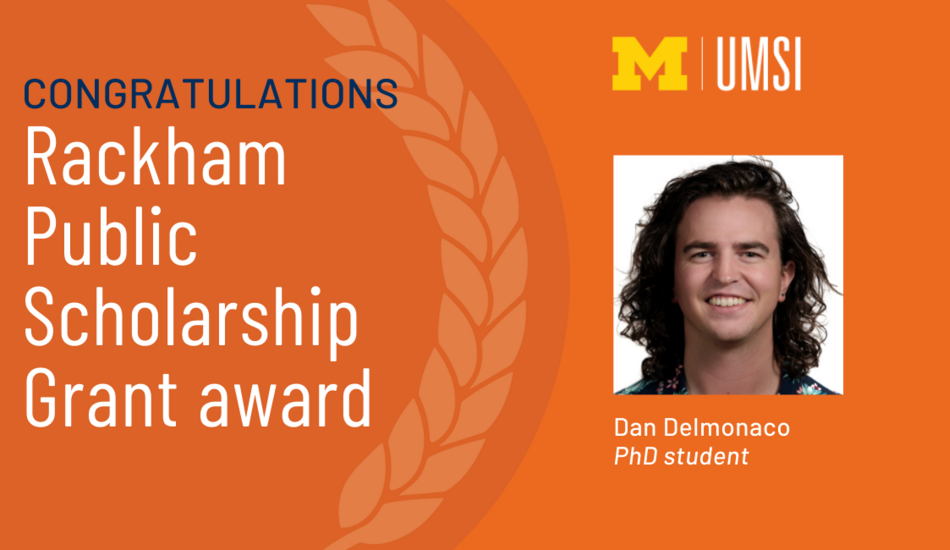 Thursday, 07/29/2021
University of Michigan PhD Student Daniel Delmonaco is one of six graduate students from across the University of Michigan campus to receive a 2021 Public Scholarship Grant award for graduate students from the Rackham Program in Public Scholarship. This year's Public Scholarship Grants will provide more than $47,000 in funding to support six mutually beneficial projects co-created by Rackham students in partnership with community organizations.
For his project, "Collaborative Design of Sex Education Zines," Delmonaco will work in partnership with the Michigan Organization on Adolescent Sexual Health (MOASH) to empower Michigan teenagers to identify gaps in their sex education experiences and to develop accessible, trustworthy, LGBTQ+ inclusive resources to help fill those gaps for peers. Fifteen participants will create zines (short-form booklets) with mentorship from sex educators and an established comic book artist to be circulated to other Michigan youth.
Each of the Public Scholarship Grant award projects brings graduate student scholarly interests and skills to bear in addressing a community identified need, and each collaboration will deliver a tangible public good. This year's funded projects reach a wide range of communities, both close to campus and across the globe. 
"These projects show how it is possible to make exciting connections between research, learning, and the public good," says Arthur Verhoogt, the Rackham associate dean for academic programs and initiatives in humanities and the arts, and a professor of papyrology and Greek in the U-M Department of Classical Studies. "This fits well with Rackham's vision for graduate education."
A review committee selected the awardees from an extremely competitive pool of proposals.
"The diversity and strength of the application pool and of the six funded projects demonstrates the scope, creativity, and quality of public engagement work graduate students are doing at U-M," says Rackham Program Lead Joe Cialdella.
By choosing to make public engagement a part of their graduate education, this year's cohort will be able to make distinct contributions to the community needs they serve, the practice of publicly engaged scholarship, and their research.
The Rackham Program in Public Scholarship has been supporting public scholarship on campus since 1998, when it began as the former Arts of Citizenship Program. Its mission is to support collaborative scholarly and creative endeavors that engage communities and co-create public goods while enhancing students' professional development around public engagement and community-based learning.
Read more about the 2021 Rackham Public Scholarship Grants.