University of Michigan School of Information
PhD student Yixin Zou awarded prestigious research award in privacy and security usability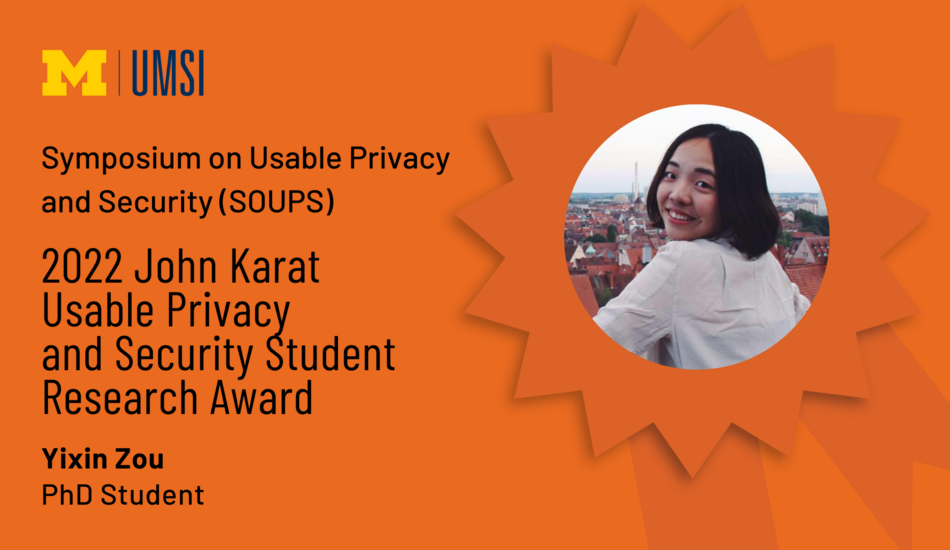 Monday, 08/08/2022
University of Michigan School of Information doctoral student Yixin Zou is the 2022 John Karat Usable Privacy and Security Student Research Award winner. 
The award, given annually by the Symposium on Usable Privacy and Security (SOUPS), is given to one student each year who demonstrates a commitment to research excellence, community service and mentorship in the areas of privacy and security. 
The winner is announced at the annual SOUPS conference. Florian Schaub, Zou's PhD faculty advisor, has been working with her since 2017. 
"One of the biggest joys as faculty is to help people grow into great researchers," Schaub says. "Yixin has developed tremendous skill and an ability to home in on important problems and find ways to understand and solve them. 
"I think we've long left the advisor/advisee relationship where I'm teaching her to a place where we're collaborators who are thinking about how we can solve problems together." 
Zou's research, and what she's most passionate about, is advocating for users and developing ways to engage them in thinking about privacy in their online spaces. In her work she's especially interested in solving two questions: What prevents people from adopting security and privacy behaviors; and  how can we develop solutions that help people adopt more secure and private behaviors?
"It's easy to feel doomed to security attacks," Zou says. "But what I find in my research is opportunities for people to feel empowered." 
The empowerment Zou is referencing is what makes her stand out as a researcher. During her time at UMSI, Zou has led workshops with older adults to help them develop online defense mechanisms against data breaches and scammers. Similarly, she's worked with companies like NortonLifeLock to help develop software to protect survivors of intimate partner violence. 
"When I work with older adults and they say 'I learned how to protect myself through your workshop,' that feels great because I'm interested in the societal impact of technology,'" she says. 
This fall, Zou will be defending her thesis, graduating and working as a post-doctoral research fellow at UMSI. In January 2023, she will be moving to Germany, where she has accepted a tenure-track position at the Max-Planck Institute for Security and Privacy. 
"An interesting little factoid is that Yixin received the distinguished paper award at SOUPS five years ago for her first paper," Schaub says. "So it's a nice book ending that five years later as she's about to defend her dissertation she's receiving the highest honor for junior scholars in the community. It makes me very proud." 
During her time at UMSI, Zou has most enjoyed connecting with other researchers. Her advice to future PhD candidates is to have a "mindset of resilience." 
"Embrace failure and know it's a regular component of research," she says. "I've experienced numerous failures throughout my PhD in applying for fellowships and getting papers published, but I've learned to incorporate feedback and adjust my expectations along the way."
People featured in this story
Associate Professor of Information, School of Information and Associate Professor of Electrical Engineering and Computer Science, College of Engineering