University of Michigan School of Information
Pierce: Should coworkers be friends on social media?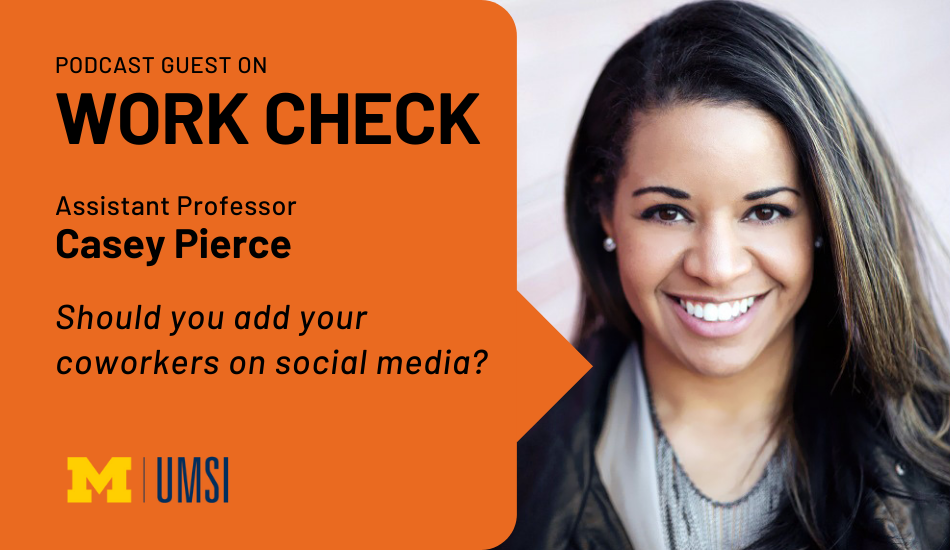 Wednesday, 07/06/2022
Are work friends the same as off-hours buddies? In these social media-focused times, the line between coworkers and friends can be blurry. 
On the Work Check podcast, assistant professor of information Casey Pierce joins three other panelists to discuss the benefits and risks of blurring the line between online and work personas. 
Pierce argues that maintaining boundaries in social media can help you have downtime away from work. "Much of the communication that we do on social media is a performance to some audience," she says. Pierce says people present their best professional self at work, and keeping that same energy on personal social media pages can feel like additional work. 
"As a Black woman I'm very conscious of how I'm viewed by others, especially those that might be afforded different privileges or power," says Pierce. "If I'm fully my true self online, how I would be with family and friends, would that be misinterpreted by some of my coworkers who don't necessarily have the same context into my values and culture?"
"People might think "I would never judge a coworker by how they celebrate holidays with their families or how they are spending time on the weekend,' but we are all guilty of having these different biases," she says. 
"For certain people, the effects of how these biases can be used against them, especially in the workplace, have far graver consequences."
Casey Pierce is an assistant professor at the University of Michigan School of Information where she is also part of the Social Media Research Lab. Her research focuses on how technology, especially social media, is used in home, school, work, and political settings. 
RELATED:
Listen to "Should you add your coworkers on social media?" on Work Check podcast. 
Learn more about assistant professor Casey Pierce. 
People featured in this story
Assistant Professor of Information, School of Information