University of Michigan School of Information
Privacy workshops to offer tips on securing personal data online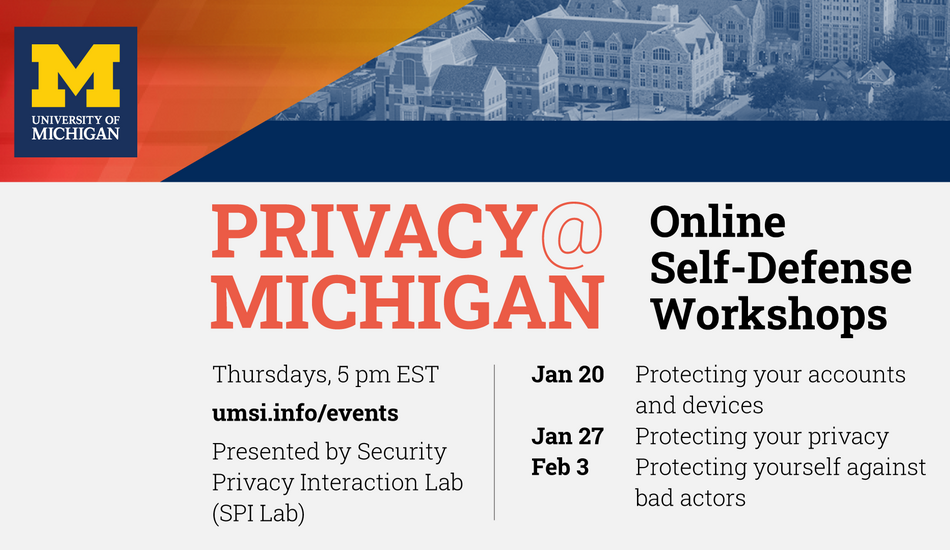 Wednesday, 01/19/2022
There are all kinds of steps people can take to protect their privacy online, from using strong and unique passwords to using a virtual private network (VPN) when connecting to public wi-fi. 
The actions you should take come down to a cost-benefit analysis based on individual needs, says University of Michigan School of Information (UMSI) PhD candidate Yixin Zou. She's part of a team of security and privacy researchers bringing actionable information to the University of Michigan community as part of the Privacy@Michigan series of virtual events centering data privacy. 
Three online self-defense workshops, which will take place via Zoom every Thursday from 5-6:30 p.m. EST Jan. 20 - Feb. 3, are open to students, faculty, staff and alumni of the U-M community (U-M login required). 
Zou is a member of UMSI's Security Privacy Interaction Lab (SPILab), a team of researchers studying privacy and security issues in today's digital world. The lab is headed by Zou's advisor, Florian Schaub, assistant professor of information and of electrical engineering and computer science.
"When we talk about educational efforts around privacy, different people have different needs," Zou says. "Older adults, for example, might be more concerned about scams because there is evidence that they're targeted. When talking to teens, they may be more concerned about maintaining agency while navigating the internet and interacting with parents, or making sure they don't encounter cyberbullying. To effectively educate specific populations about privacy, we need to understand their wants and needs." 
Zou and fellow SPILab researchers Allison McDonald and Byron Lowens are bringing this nuanced approach to the U-M community with virtual workshops discussing common risks and strategies for protecting your accounts and devices, your privacy, and yourself. 
"People should sign up for these workshops if they are interested in and motivated to improve their security and privacy practices," Zou says. "They'll get a broader perspective and greater knowledge of the tangible improvements they can make that will be relevant to how they use the internet." 
Attendees will not just receive relevant information about privacy, Zou says. They'll also receive accessible guidance on actions to take in their day-to-day lives. 
Zou says, "The benefit of attending these workshops is you get concrete, relevant and actionable information that can protect you in your everyday life." 
Security Privacy Interaction Lab Online Self-Defense Workshops
Week 1: Protecting your accounts and devices




Jan. 20, 2022 - 5-6:30 p.m EST




Learn about what makes a secure password, password management, software updates, and safely getting rid of old devices.

Week 2: Protecting your privacy




Jan. 27, 2022 - 5-6:30 p.m EST




Learn about how to control privacy settings on social media, how to change mobile app permissions, how to block advertisements, etc.

Week 3: Protecting yourself against bad actors




Feb. 3, 2022 - 5-6:30 p.m EST




Learn how to spot and avoid online scams, phishing emails, and identity theft.
Find out more about SPILab's online self-defense workshops and get Zoom links to join.
Topics
People featured in this story
Associate Professor of Information, School of Information and Associate Professor of Electrical Engineering and Computer Science, College of Engineering
Research Fellow, School of Information