University of Michigan School of Information
REMS application open until Feb. 15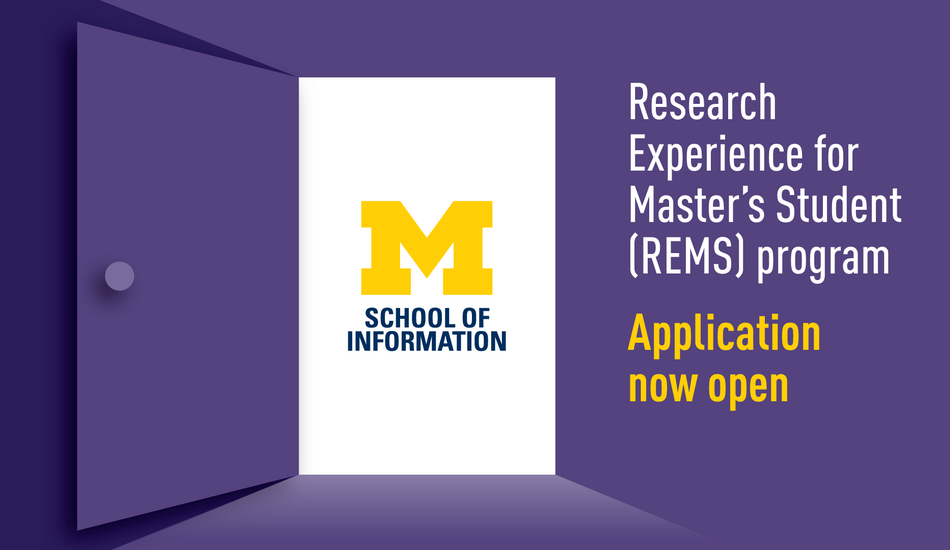 Friday, 02/05/2021
Applications are open through Monday, Feb. 15 for the Research Experience for Master's Student (REMS) Fellowship at UMSI. 
"The REMS Fellowship provides diverse graduate students with an opportunity to build a research portfolio, preparing them to be successful in their doctoral program application and research career endeavors," said Kelly Kowatch, director of UMSI's Engaged Learning Office and adjunct lecturer in information. 
Fellows receive a $10,000 stipend to spend 12 weeks during the summer conducting research under the guidance of UMSI faculty. The program is open to all information-related master's students attending a U.S institution.
Students have the opportunity to engage with a variety of research projects and investigate key issues in information science with UMSI faculty and practitioners. The REMS program supplements the experience in the research project with a broad range of educational and social activities that create a community of scholars among participating students. Students completing the program will be eligible to apply for funding to attend a conference to present their research project.
Nadia Karizat, MSI '21, was a REMS fellow during the 2020 summer cycle. She said the connection with her colleagues was her favorite part of the program: "The REMS fellowship was so intentional in providing opportunities for the fellows to connect and create a community of individuals passionate about information science. While we each were involved in our individual project, we also had sessions dedicated to learning the critical skills necessary for conducting research and reflecting on our own personal research philosophies and values."
There are no required or expected skills needed to apply to REMS. All interested applicants, including those from groups historically underrepresented in higher education, are encouraged to apply. Top priority is given to applicants from schools with limited research opportunities.
Karizat had limited research experience before her REMS fellowship, but after completing the program felt at home in the research community. "My experience with REMS really helped me figure out that human-centered research was something I wanted to do in the future. Through the mentorship I found at REMS, I've learned how to channel that curiosity and find answers to questions critical in information science. Because I loved REMS as much as I did and the community of scholars I met during the summer, I feel so much more certain that pursuing a PhD is the right path for me," she said.
Interested students can apply at umsi.info/mcompass.rems.
- Kate Cammell, Writer UMSI