University of Michigan School of Information
Technology takes a back seat on this bus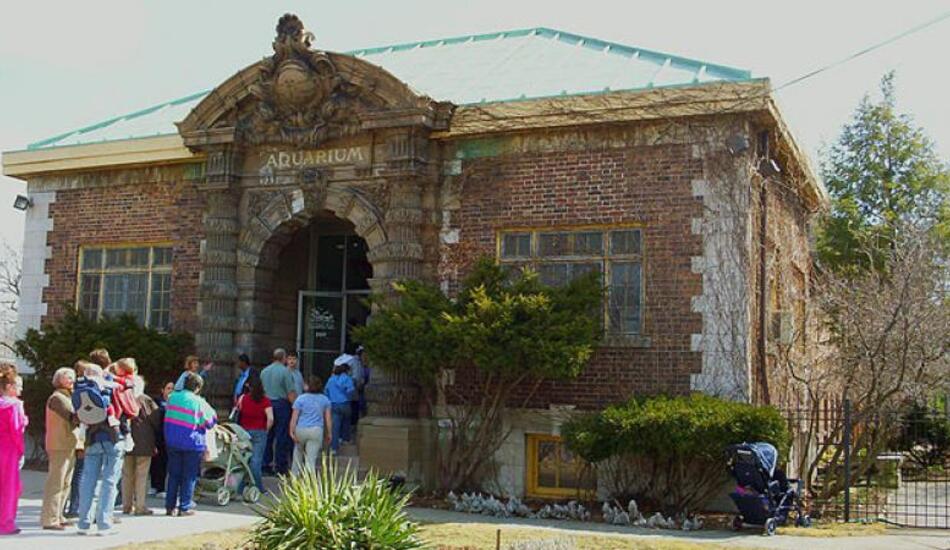 Friday, 04/27/2018
THE BELLE ISLE AQUARIUM IN DETROIT WAS ONE STOP ON THE BOOTLEGGERS BUS TOUR. DURING PROHIBITION, THE BASEMENT OF THE AQUARIUM SERVED AS A SPEAKEASY.
Entrepreneurs routinely employ the latest technology -- crowdfunding, websites, blogs and social media -- to increase their odds of success.  

But when it comes to entrepreneurs living in "lean economies" neighborhoods, all the technology in the world cannot compete with, or replace, the human touch.

This is the main takeaway of a University of Michigan School of Information study, "Entrepreneurship and the Socio-Technical Chasm in a Lean Economy." The resulting paper received an honorable mention at the recent ACM Computer-Human Interaction (CHI) international conference in Montreal in April. 

UMSI faculty members Tawanna Dillahunt and Kentaro Toyama led the research. Their co-authors are UMSI graduate students Vaishnav Kameswaran and Desiree McLain, and Minnie Lester and Delores Orr, members of the Eastside Community Network (ECN) of Detroit. 
In 2016, these UMSI researchers worked with ECN members to launch a new neighborhood bus tour on Detroit's East Side. The goal was to foster entrepreneurial experience and knowledge for these community residents.

"We also wanted to find opportunities to supplement people's income, and to do so in a way that would build on the community's strengths," says Dillahunt.

After several meetings, the group came up with a plan for their entrepreneurial enterprise: a new neighborhood bus tour business called the "Bootlegger's Tour." It focuses on Detroit's Prohibition Era history. Several other successful historic bus tours in the area provided good models. 

The idea also made sense because it required minimal startup costs and did not require special training. Dillahunt says, "Long-term Detroiters know a lot about the city's history first hand, so we thought that their giving neighborhood tours was a good fit."

The tour stops include a point on the Detroit River where alcohol smugglers crossed from Canada; a church whose expansion smugglers paid for to store alcohol; a house that served as a speakeasy with an underground tunnel to a neighboring house; and a bar adjacent to a creek known for bootlegging traffic.
The university team provided key assistance, but urged community participants to "undertake as much as they could on their own" in order to "pilot an entrepreneurial venture successfully," according to the study. 

After several organizational meetings and two rehearsal tours, the group conducted two pilot tours with paying customers. These two tours were deemed successful; busses were nearly full, reviews were positive and the financial return indicated that "the enterprise could comfortably break even as the tours are repeated," the study states.

But there were some rough patches during the project. 

Only two community participants, Lester and Orr, remained with the project through the pilot tours stage. Others dropped out for a variety of personal challenges, such as deaths in the family, health issues, physical limitations, discomfort in the meetings and transportation problems. 

All of these challenges would disrupt any entrepreneurial enterprise, the researchers noted, but they seemed more frequent in Detroit. 

Outside of university support, securing adequate financing was also a challenge.

Researchers had difficulties applying some technological tools in this lean economy context. Payment platforms did not accept cash payments, for instance. Most crucial, "very few forms of technology are capable of predicting, let alone supporting…the personal challenges of participants," the study noted.

This is where researchers saw the importance of human interaction, Dillahunt says. 

"The degree to which certain kinds of small human actions cannot be replaced by technology alone was surprising. For example, one of our participant entrepreneurs said that just the fact that we were willing to drive to Detroit -- about an hour's drive -- each month to meet them helped earn their trust." 

Human interaction such as one-on-one coaching also "is what had meaning," she says. "Automating any particular action would have devalued it, in the same way that a computer-generated thank-you note means much less than a handwritten one."

There were several positive outcomes, as exhibited in community participants and study co-authors Lester and Orr. 

Both showed considerable motivation throughout the project, a key entrepreneurial trait. This was fueled in part by opportunities for them to share positive stories about Detroit, which is often portrayed negatively in the media. 

Dillahunt and Toyama were surprised that even though participants had excellent access to the knowledge, resources, and relationships that they needed to succeed, they didn't always have the faith in themselves that they could pull it all together.

Lester and Orr both noted that project involvement had dramatic impacts on their self-image, confidence and sense of self-worth. They learned about small business, and felt more outgoing and independent, more willing to try new things, and more involved in their community.

Much of this resulted from the ongoing direct interaction with university team members. 

That, in essence, was the primary lesson of the study, Dillahunt says. 

"We found that person-to-person relationships and coaching mattered much more than all the technology support we provided. Our UMSI colleague, Mark Ackerman, once labeled the gap between what technology can deliver and what human institutions need as the 'social-technical gap.'"

"In our context," says Toyama, "we saw that that gap was a chasm. Any idea that technology by itself can address the needs of lean-economy entrepreneurs is misguided." 

- Sheryl James, UMSI PR Specialist
People featured in this story
Associate Professor of Information, School of Information and Associate Professor of Electrical Engineering and Computer Science, College of Engineering
W K Kellogg Professor of Community Information and Professor of Information, School of Information