University of Michigan School of Information
Third annual UMSI DEI awards announced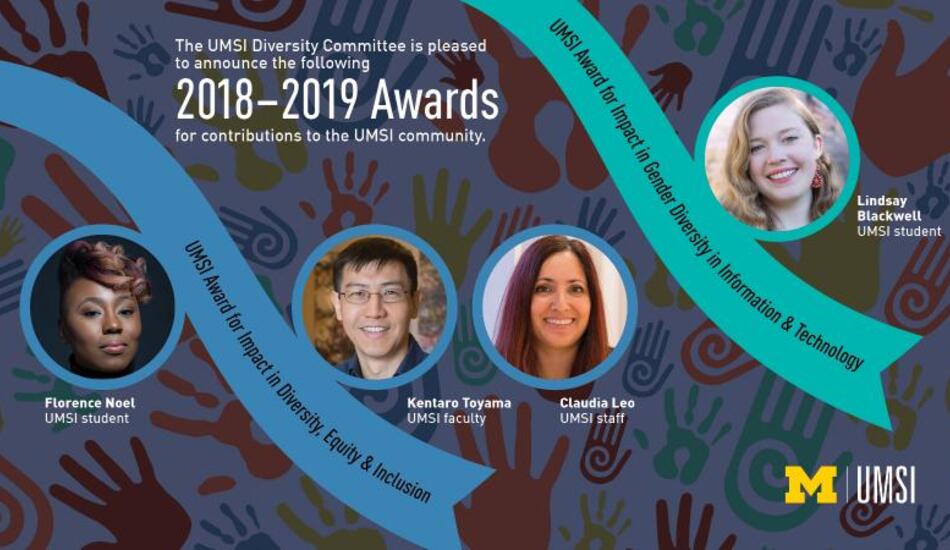 Wednesday, 03/27/2019
The UMSI Diversity Awards each year recognize a student, a staff member and a faculty member who have had a positive impact on the school's diversity, equity and inclusion [DEI] efforts. This year, the school's DEI committee has selected MSI student Florence Noel, UMSI programming and media coordinator Claudia Leo, and W.K. Kellogg Professor of Community Information Kentaro Toyama as award recipients. In addition, PhD student Lindsay Blackwell received the award for Gender and Diversity in Information and Technology.  
Florence Noel is working towards a dual Master of Science in Information/Master of Business Administration degree.  She is the founder of Dear Black Women (DBW), an affirmation movement for black women that operates via in-person circles and an active online community. Florence has managed to build a movement reaching 6,000 black women nationwide and 1,000+ in SE Michigan, with many coming from UMSI and the University of Michigan at large. Florence is a vibrant and charismatic force of energy who aims to uplift and affirm the experiences of black women across all walks of life.   
Florence was described as loving and dedicated to serving the needs of black women, who are often under-represented in a variety of spaces. Both in and outside of her classes, Florence works tirelessly to grow DBW; after graduating, she plans to dedicate her efforts full-time to expand DBW.  
Claudia Leo's everyday work involves creating and promoting opportunities to bring people from different backgrounds together in the school and the North Quad community. The shared spaces she manages, especially Space 2435, have had a long-standing mission to embrace international activities. Since taking on the job Claudia made it a point to expand that international edge to include a DEI mission. 
She is also an active member of Nourish, a group designed to empower women of color and create sisterhood around issues of identity, intercultural competency, health, and wellness in the most open, spirited atmosphere that she can create in Space 2435. 
Kentaro Toyama is W.K. Kellogg Professor of Community Information at UMSI.  His research and advocacy have improved the lives of marginalized groups and they contribute to further the understanding of the challenges faced by such groups. Some examples of his works include supporting entrepreneurship in east Detroit, women in computing (in India and the US), reducing prejudice against Muslim Arab Americans and using technology to improve health outcomes for low income women and children in Detroit, Lahore, and Cape Town.  In addition, Kentaro participates, creates and publicizes programs and events that promote diversity awareness, such as the recent From Prison to Paralegal.
Kentaro is genuinely interested in the stories (challenges, struggles, and needs) of people of different backgrounds. He clearly has a mission to empower and elevate marginalized groups.
Lindsay Blackwell is a fifth year PhD student at UMSI. Her research focuses on online harassment, specifically why people engage in online abuse and how we might design socio-technical systems to better support those who are abused and intervene in abusive behavior. Lindsay studies a variety of topics that address inclusivity in social media. In addition to her widely praised work on online harassment, she has also worked on projects related to LGBTQ people and their needs for social support. 
Beyond her research, Lindsay has been a tremendous public supporter for student causes through her work with DSO and GEO. Lindsay constantly performs mostly invisible labor supporting other women and LGBTQ PhD students.
This is the third year of the school's DEI awards, which were initiated by the 2015-2016 Diversity Committee. Nominations came from students, staff and faculty. The recipients receive a cash award, plus recognition on the UMSI flat screens, at staff and faculty meetings, and on a plaque displayed in the UMSI hallways.
- UMSI News Service
People featured in this story
W K Kellogg Professor of Community Information and Professor of Information, School of Information