University of Michigan School of Information
UMSI alumni JJ Pionke and Kathy Kosinski named among Library Journal's 2020 Movers & Shakers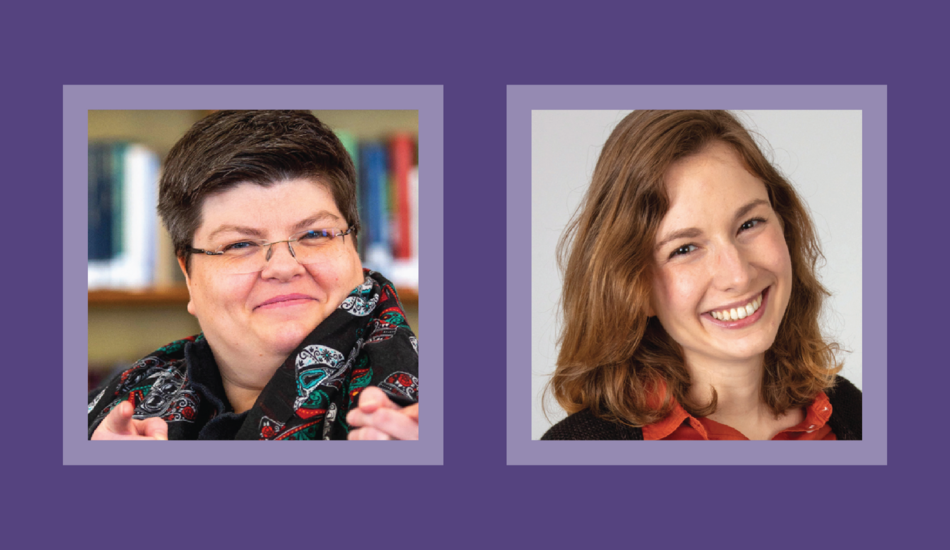 Thursday, 05/14/2020
JJ Pionke (MSI '13) and Kathy Kosinski (MSI '16) are named among Library Journal's Movers & Shakers for 2020. The award, which launched in 2002, honors individuals shaping the future of libraries. 
"The 2020 Movers, like so many librarians and library workers, are passionate about what they do," said Francine Fialkoff, manager and cofounder of the LJ Movers & Shakers project. "They're devising strategies to make libraries, and our society, more inclusive for everyone."
In fact, the work that both Pionke and Kosinski were honored for centers on inclusivity in libraries. 
Pionke, a disability and accessibility advocate, currently works as an applied health sciences librarian at the Social Sciences, Health, and Education Library at University of Illinois at Urbana-Champaign. Speaking to Library Journal, he says personal experience led him to focus his research on accessibility in libraries, and he campaigned hard to get all of the issues he found corrected.
He's written on disability and improving accessibility in libraries for both employees and patrons, and he recently used a $25,000 grant to study how well library professionals interact with people with disabilities and what kinds of training would help.
Pionke's nominee cites his empathy and ability to understand the needs of others among his best qualities.  
"The librarians at one of my schools consistently told me that they felt I would make a great librarian. It turned out to be one of the best moves I've ever made," he said. 
Driven by a similar mission, Kosinski is interested in making library governance more accessible. 
She and her team of fellow Emerging Leaders selected by the American Library Association (ALA) conducted a national survey to understand why millennials, though they visit libraries more often than older generations, don't participate in library governance at a comparable rate. 
Library Journal reports the number one barrier the team's survey turned up: millennials simply weren't asked. 
The team expanded their scope, creating toolkits and training programs for recruiting and retaining millennial board members, seeking to increase ethnic diversity in library governance as well. 
"It is especially apt … as each younger generation is becoming more and more ethnically diverse," said Kosinski. 
Kristin Fontichiaro, UMSI clinical associate professor and a 2012 Mover & Shaker herself, spoke on behalf of the school in a congratulatory message: 
"Kathy and JJ epitomize the contemporary librarianship we envision for all our UMSI grads: librarians who are inquisitive and unafraid of change. They scan the landscape for the big picture, identify gaps and needs they can address, and then apply their savvy skills and work ethic to achieve meaningful results.
"Their recognition by their peers is well-deserved. More importantly, it brings back good memories of past conversations about how we can leverage our skills to support and impact others."