University of Michigan School of Information
UMSI professor and PhD student awarded prestigious CUSP fellowship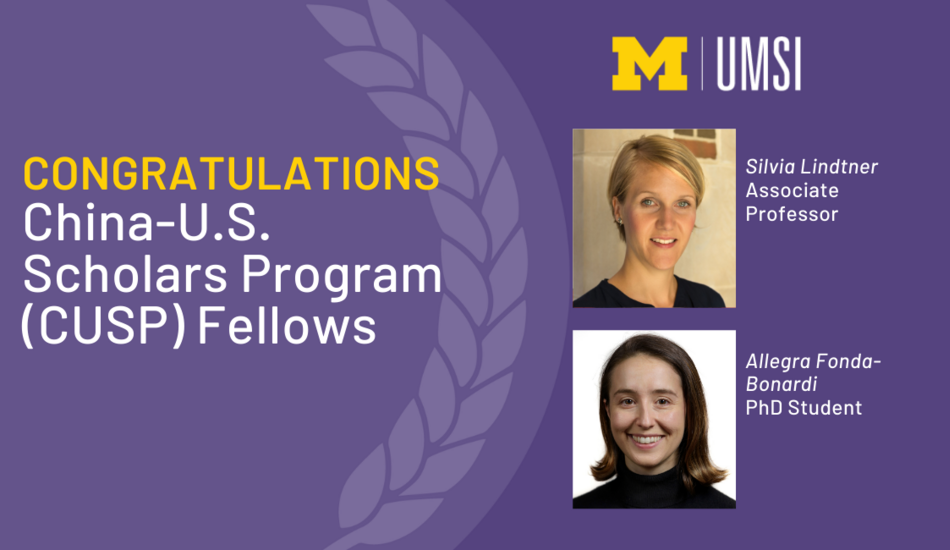 Thursday, 07/01/2021
Silvia Lindtner, associate professor of information and associate director of the Center for Ethics, Society, and Computing, and University of Michigan School of Information PhD student Allegra Fonda-Bonardi, are among a group of 48 scholars to be awarded the highly competitive 2021-2022 China-U.S. Scholars Program (CUSP) Fellowship.
The program is a one-time grant created to promote cross-cultural exchange in the arts, humanities and social sciences after the cancellation of the China and Hong Kong Fulbright programs under the Trump administration. 
Twenty-four fellows were chosen from the U.S. to spend a year researching, working or studying in China, while 24 fellows from China were selected to pursue projects in the United States. Applications were evaluated on their ability to foster positive collaboration between academics or professionals and their potential to create long-term engagement between the U.S. and China.
Silvia Lindtner will be conducting ethnographic research that builds on her long-term work in China over the last decade. Her previous study of China's shifting position in the global political economy of technology production, economic development and science and technology policy, led to the 2020 publication of her book "Prototype Nation: China and the Contested Promise of Innovation." 
During the CUSP fellowship, Lindtner will explore the ways in which technological experiments in data-driven innovation now extend into agriculture to provide perspective on how national geopolitical ambitions are shifting farming labor. Lindtner is interested in understanding the rise in agricultural technology as part of the country's Made in China 2025 initiative, which is a national strategic plan addressing manufacturing and food supply.
"In 2018, I was in Shenzhen to conduct research on transnational entrepreneurial supply chain networks. A lot of that has been tremendously impacted by the pandemic and the claims of inequality we are studying intensified, so I'm really interested in seeing what this looks like now," Lindtner said.
Her research centers around the promise of democratized entrepreneurial life, as proliferated by advocates of the maker movement, with a particular focus on its impact on governance. She merges ethnographic methods with critical sensibilities from feminist and postcolonial studies as well as the history and sociology of science and technology.
Allegra Fonda-Bonardi will use the fellowship period to begin her dissertation work at the nexus of the sociology of finance, China studies and critical computing. She will study the data and information Chinese companies are using to weigh their environmental, social and corporate governance performance, and will work to identify encoded values and perspectives in the data being collected.
"I've worked with Silvia on several projects in the United States and it's really exciting to be able to be do projects in China, and to work with a scholar who I really respect — and who also happens to be my advisor —who will be there at the same time," Fonda-Bonardi noted of the CUSP opportunity.
Fonda-Bonardi spent a year as a volunteer fellow doing water quality work in China before her Master's in Urban Planning from MIT. Most recently, she spent four years in China conducting research on green finance and ecological services as an independent consultant in Shanghai. As a PhD student at UMSI, Fonda-Bonardi is exploring her interdisciplinary interest in technology by pursuing a Science, Technology and Society (STS) Certificate through U-M's School of Literature Science and the Arts, as well as a Science, Technology and Public Policy Certificate (STPP) from U-M's Ford School of Public Policy.
After working domestically due the pandemic, both Lindtner and Fonda-Bonardi are looking forward to spending the upcoming year abroad.
"It feels almost surreal that it's possible to now travel internationally for research," said Lindtner. "I was just thinking about how much privilege is attached to international travel and how much of a privilege it is to do research abroad. It's something to really reflect on and to be very mindful of while doing it." 
CUSP is funded by the Carnegie Corporation of New York, Ford Foundation, Harvard-Yenching Institute, Henry Luce Foundation and the Rockefeller Brothers Fund. Scholars receive a living stipend, international airfare, medical insurance, professional and dependent allowance and tuition for U.S. students enrolled in an academic program.
Learn more about the China-U.S.Scholars Program (CUSP) Fellowships.
Learn more about Silvia Lindtner.
Learn more about Allegra Fonda-Bonardi.
- Kate Cammell, Writer UMSI
People featured in this story
Associate Professor of Information, School of Information, Associate Professor of Art and Design, Penny W Stamps School of Art and Design and Assistant Professor of Digital Studies Institute, College of Literature, Science, and the Arts