University of Michigan School of Information
UMSI students and alumni benefit from Alumni Career Connections program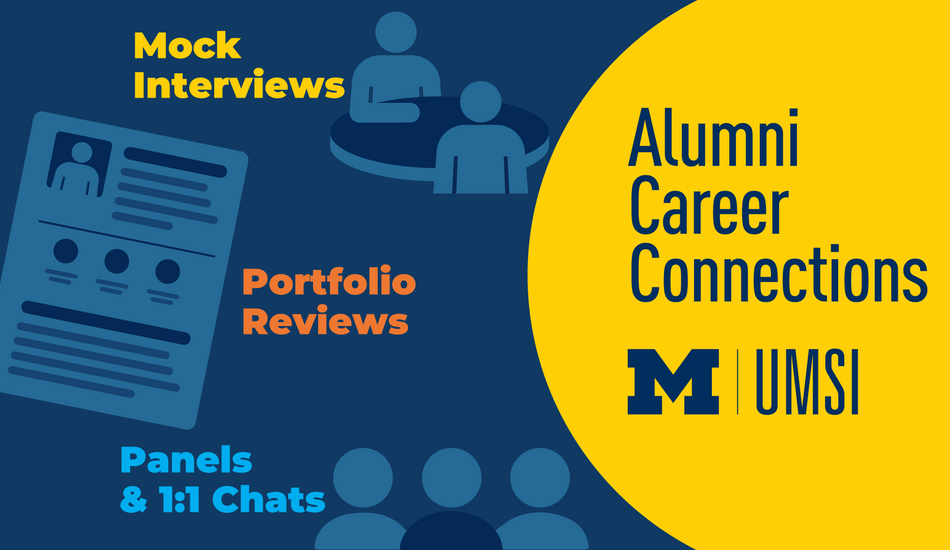 Monday, 10/02/2023
Last year, 243 University of Michigan School of Information students got career advice from UMSI alumni working in the real world of information science through the school's largest networking program, Alumni Career Connections.
Alumni Career Connections is a program offered through UMSI's Career Development Office designed to help students build professional relationships and prepare for the job market through "flash mentoring" meetings with alumni experts in all industries and fields. Flash mentoring is a one-time or short-term form of mentoring that provides engagement between students and alumni for brief, focused discussions. 
100% of participating students said the program was easy to engage with and expanded their professional networks, according to a recent survey by the CDO, and participating alumni say it helps them stay fresh and connected too. 
This year, even more students and alumni can look forward to making enriching connections through the launch of dedicated Alumni Career Connections Fridays at UMSI.
Find career help from UMSI alumni on Fridays
Networking is an essential part of finding and securing a job or internship, says UMSI employer relations coordinator Laura Marsh. In fact, UMSI bachelor's and master's students all rank networking among their most effective job search methods. 
Alumni Career Connections provides an easy way for students to build community and receive flash mentoring among more than 11,000 UMSI graduates working at some of the most high-profile companies in the world. Students can sign up on UMSI CareerLink to meet virtually with an alum for an informational coffee chat, a portfolio review or interview preparation. 
Now, even more students can gain from the popular program with the launch of Alumni Career Connections Fridays.
"The goal is to expand access for students and provide consistency," Marsh says. "Consolidating the program to Fridays creates consistency and efficiency so we'll be able to offer more sessions within that time, meaning greater access for students. Students are very busy, so this Fridays-only format will allow them to plan ahead to build these sessions into their week on a regular basis." 
Alumni Career Connections Fridays kick off on Oct. 6 with UMSI alumni working at Meta, IBM, Ernst & Young, Twitch and the FBI available for one-on-one chats throughout the day.
Meetings with alumni broaden students' career horizons 
UMSI students don't need to have an end goal in mind when signing up for one-on-one chats with alumni. Discussion topics vary based on students' individual goals: Students may ask questions about their own career decisions, the alum's career path, or what skills a company might be looking for in an intern or new hire. 
For example, Rosemary Jiaxi Chen wanted to explore her professional options as a dual master's student in information science and industrial and operations engineering. She signed up to chat with Dean Karavite (MSI '01), principal human computer interaction specialist at Children's Hospital of Philadelphia.
Karavite helped Chen identify areas in the job market where her information and engineering skills overlap, and he talked with her about healthcare work involving human factors and technology design. 
"It was a joyful conversation that broadened my horizons," Chen says.
And her horizons kept expanding. Chen is looking at global opportunities in automation, manufacturing and healthcare as she approaches graduation in Dec. 2023. 
"I don't want to limit myself," she says. "There are a lot of countries in the world that have different cultures and ways of working." 
Now as Chen considers all the moves open to her, one of the greatest lessons she is using from her conversations with UMSI alumni is how to talk about the value a UMSI degree brings to any role she might take on. 
"Employers might have questions about our School of Information degrees," Chen says. "We can learn from alumni how to build up the story of UMSI, because as future graduates, UMSI is part of our personal brand." 
Students can register for upcoming Alumni Career Connections sessions on UMSI CareerLink. 
Alumni inspire and get inspired by the next generation of information leaders 
Uuday Krishna (MSI '14) believes in the saying, "Be the person you needed when you were younger."
That's been a strong motivator for the service he's provided to current UMSI students through Alumni Career Connections. 
Krishna has shared insights about his path to becoming a business intelligence & analytics manager for Amazon Web Services and provided valuable portfolio reviews.
And as Krishna shows up for current UMSI students, their fresh perspectives on the information science field keep him sharp and evolving in his leadership role.
"When I talk to them, it changes my day and my thought process," he says. "As a people manager, it's helpful to hear their aspirations. Each student I talk with is memorable." 
It's easy for UMSI alumni to make a difference in students' lives while honing their skills as mentors and leaders. 
Signing up as a volunteer mentor just requires a two-hour minimum time commitment on a Friday through the alum's preferred video meeting platform. The only additional things alumni need to bring are their lived experience and industry expertise.
"There's no need to wait for an invitation. It's your university, your home," Krishna says. "Students, staff and faculty want all the great professionals who graduated from UMSI to come back and offer advice. 
"And we all have the next place we want to go — whether you're a student or an alum, who knows, the conversation you have could help you get there." 
Sign up to become a volunteer mentor for Alumni Career Connections. 
— Martha Spall, marketing and communications writer 
RELATED
Learn more about Alumni Career Connections.
People featured in this story
Employer Relations Coordinator