University of Michigan School of Information
Alumni Snapshot: Caitlin Endyke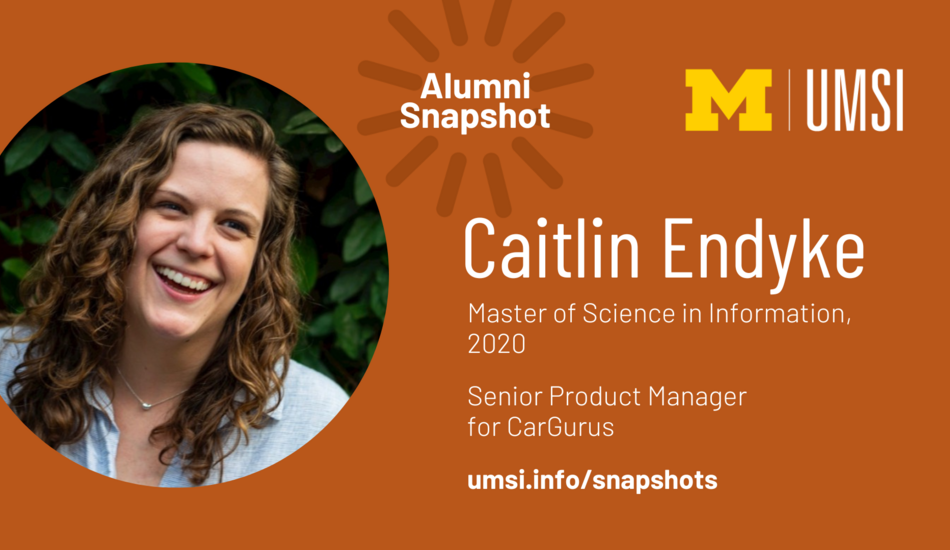 Caitlin Endyke
MSI 2020
What do you do in your current position?
I'm a senior product manager for CarGurus, a platform connecting car shoppers with sellers and facilitating car-buying transactions online. Here, I work with a team of designers, engineers, UX copywriters and other stakeholders to better serve both dealers and car shoppers. Our goal is to make digital car shopping more seamless, less daunting and ultimately foster connections between dealers and buyers. 
Where did you work before this? How was that experience compared to the experience you have at your current company?
Before this, I was a product manager at IBM, which is a huge, century-old company. Before grad school, I've never even worked for a place with more than five people. Going to IBM with around 500,000 employees, it was definitely a culture shock to navigate different business units and the level of hierarchy. Where I'm at now offers a middle ground between these two extremes — a sizable team, yet still agile and easy to navigate. 
What does a day in your life look like? 
In my day-to-day work, I usually start with a daily stand-up meeting with my engineering team. We go over what people worked on the day before, what people plan on tackling that day and identify any blockers. A lot of times, engineers will have questions about a piece of functionality they are building that wasn't clear in the design files that we handed over, or they'd update me about a deadline that were best-laid plans. I get a sense of where things are and make decisions to keep the team moving forward.
After that, I meet with my designers to discuss upcoming work and new features. We look at user research and business goals to determine what the feature should look like and how it should function. I'm pretty involved in that process. I think my UX background from UMSI enables me to really get deep with designers in this work. 
Then there'll be business-oriented meetings, with operational, legal and finance teams to talk about pricing and revenue targets for our projects. We discuss what we expect from the product and how we can meet those goals through the user experience. So yes, a lot of meetings.
How do you apply the skills you learned at UMSI in your career?
Delivering a great experience for our customers and driving business outcomes for us go hand in hand. Having a strong background in UX principles helps me put myself in the position of our customers and reinforces customer empathy. In developing scripts and determining what researchers should be testing, my research background from UMSI helps me dig into those insights. In product management work, even though I'm not a designer or researcher, it pays to understand the people I work with and their work.
Was there any way that you felt underprepared for the industry?
The benefit of my dual degree, I think, was to fill in some of those gaps. When you're in a design or a research role, you can deliver your ideal design file or amazing insights, but it can be hard to translate those into how they affect the product's business outcomes. 
Ultimately, we work for businesses, right? It's always good for folks in UX — and this is true for data analysts as well — to seek out business-oriented classes, get in a room with that large group of stakeholders, so you can learn to speak that language and advocate for the changes that you want in a product.
Was there a class or program at UMSI that was helpful for you?
I was a GSI for SI 588, which covers cognitive psychology and neurodevelopment that guides a lot of UX design principles. I think people sometimes find it dry because it's really academic. But I refer to a lot of the principles in this class when I'm working with my designers. 
How did you get your foot in the door? 
I always tell people not to do what I did. I did very little networking while I was in school. I mainly applied online to jobs and ended up getting a UX researcher internship at Amazon, which then opened a lot of doors. That experience gave me great stories to talk about in other interviews and pivoted into a second internship at IBM, where I went back full-time after graduation. Obviously, internships are a great way to gain experience, but just applying is not the best way to do that. I regret not leveraging the UMSI network more. It's easier to make connections while you're still in school and have close access to alumni. I'd say network as much as possible. It might make an easier road ultimately. 
Do you have networking tips for students who might be a bit more shy and unsure how to start that conversation?
Reach out to alumni about something specific and personal. I definitely respond more to folks who say, "Hey, I notice this piece of your experience is interesting to me for X reason," and that's more specific than just, "Hey, I'm interested in working in UX. Can we talk?" For example, if someone is interested in educational technology and sees that I worked in educational technology, reaching out to discuss that is more effective than a general request to chat.
Would you like to share some advice for UMSI students?
Number one: enjoy the time in school. There are a few opportunities in your life where you get to dig deep into what you're interested in and leverage a community of like-minded people. Interesting talks lead to interesting experiences and interesting connections. Take advantage of being in school, and being in Ann Arbor — I miss Ann Arbor so much. Enjoy it while you have it!
And then everything else. Explore those classes, clubs and experiences that you find interesting. Those are often, in interviews, the stories that you tell with the most authentic excitement. That gets future employers really excited about you. I've heard from my interviewers that, "you light up when you're talking about this project or this experience," and that has led to some doors being opened. The better stories you tell, the more doors open.
Try not to be so stressed out about what you're going to do afterwards. Because that stuff will come and will work out because you go to this great school, you're in this really cool program and I'm sure you are doing cool stuff.
What you think you're going to be doing now might not be what you end up doing. I was a history major in undergrad. Life is long, and careers are always changing. There might be a job you've never heard of that you end up doing ten years from now. That's what I'm doing now! I didn't know product management was a thing until well after I graduated college. That's the other perspective to take: you've got time to figure it out.
It's an uncertain time to get into the tech job market now. If you were a new graduate trying to get their foot in the door, how would you go about that?
I graduated undergrad in 2010, one of the worst years following the 2008 recession to be a new grad. So I understand that fear and anxiety around entering the workforce at a less-than-ideal time. I'd say: don't be afraid to take that first job.
If your first opportunity doesn't seem like it's your ideal job forever, well, it won't be. It'll be what you do for maybe a couple of years before you move on. My first job exposed me to things that I didn't know I was interested in. It's the first time that you're out in the world figuring out what you value, what you like in terms of work-life balance, the type of company you want to work for, the type of work that you'll be doing. Of course, go for the dream job if you can. But if you end up doing something that's a little less directly where you thought you'd be, don't stress out too much. Oftentimes, it's an opportunity to learn what you do want to do longer-term in the direction you do want to go in.
— Thursday, April 20, 2023